Joseph Gordon-Levitt's Mr. Corman: Premiere Date, Cast, And Other Quick Things We Know About The Apple TV+ Show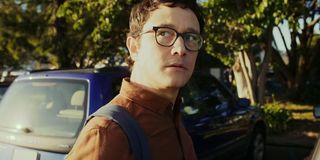 Joseph Gordon-Levitt is at an interesting mid-point in his career. The film/TV actor-turned-director has impressed in several outstanding movies over the years, including 50/50, Mysterious Skin, and Looper, while also showing his early confidence as an up-and-coming filmmaker with 2012's energetic debut, Don Jon. But the former child actor is grown up now, and he has kept a lower profile of late. Now, Gordon-Levitt is headed back to the small screen, with the help of Apple TV+.
Specifically, Jordan Gordon-Levitt created, wrote, directed, produced, and stars in Mr. Corman, an upcoming dramedy series centered around a musician-turned-unsatisfied teacher who wants to figure out the next stage of his life. Hmmm... perhaps there's a meta-narrative to follow here? No matter. As the streaming series nears closer to its August premiere date, we know a few key details, which we'll share with you right now.
Here's what we know about Apple TV +'s Mr. Corman, starring Joseph Gordon-Levitt.
Mr. Corman's First Two Episodes Premiere On August 6th, Exclusively On Apple TV+
We're less than a month away from meeting Mr. Corman. The Apple TV+ series, made in partnership with A24, will premiere its first two episodes on August 6th, exclusively on the burgeoning streaming series. From there, we should expect one episode weekly on Fridays. It should be noted that Mr. Corman will have 10 episodes in total. Fittingly enough, each episode of this 30-something-centric show is, you guessed it, 30 minutes.
Joseph Gordon-Levitt Is The Creator, Writer, Director, Executive Producer, And Lead Star Behind This New Apple TV+'s Series
Certainly, Joseph Gordon-Levitt isn't the type to sit on his laurels. The eager-to-please multi-hyphenate wrote, produced, directed, and starred in 2012's Don Jon, a flawed-but-charming debut that promised an explosive new phase in the star's blooming career. Alas, the actor hasn't jumped behind the camera since, though not for a lack of trying.
Now, Joseph Gordon-Levitt is jumping back into the director's chair with Apple TV+'s new dramedy series, Mr. Corman. Not one to take it easy on himself, JGL will serve as the creator, writer, director, executive producer, and lead actor of this upcoming show. That's a lot of hats! It's hard to believe that a decade has passed since Gordon-Levitt's directorial debut, but here's hoping that this show lives up to that first feature's promise.
Mr. Corman's Cast Also Includes Arturo Castro, Debra Winger, Juno Temple, And Jamie Chung
Along with Joseph Gordon-Levitt leading the brigade, Mr. Corman will also star Arturo Castro (Broad City), Debra Winger (Terms of Endearment), Juno Temple (Ted Lasso), and Jamie Chung (Lovecraft Country). Additionally, Bobby Hill, i.e. Logic, Alexander Jo, Hector Hernandez, and Shannon Woodward round out the ensemble. More specifically, Castro is signed on to play Victor, Josh Corman's high school friend-turned-roommate, Juno Temple is attached as Megan, Mr. Corman's ex-fiancé, and Debra Winger provides a supporting turn as Ruth Corman, Josh's mother. The rest of the roles are unconfirmed.
The Apple TV+'s Series Follows The Days And Nights Of A Failed Musician-Turned-Public High School Teacher In San Fernando Valley
As the show's title dutifully suggests, Mr. Corman follows none other than Josh Corman (Joseph Gordon-Levitt), an artist at heart who has failed to make a stable living off his passion. Teaching fifth graders in a public school in the San Fernando Valley to pay the bills, Corman becomes frustrated and dissatisfied with his unremarkable life and his inability to find contentment, either as a person or musician. As the narrative follows this jaded personality, Corman becomes increasingly burdened with anxiety, loneliness, and the sinking feeling that he, well, sucks as a human (in his words). From there, the freshman series follows the title character's unsettled days and nights, particularly as his ex-fiancé Megan (Juno Temple) moves out and Josh's high school friend Victor (Arturo Castro) moves in — much to the lead character's debilitating dissatisfaction.
Mr. Corman Is Joseph Gordon-Levitt's Return To Live-Action TV After 3rd Rock From The Sun
In 1996, when the actor was a fresh-faced teenager looking to take the world by storm, Joseph Gordon-Levitt co-starred in NBC's 3rd Rock from the Sun, in the role of Tommy Solomon, which paved the way for his career ascension. In the years to follow, Gordon-Levitt hasn't stepped away from the small screen entirely, particularly as he provided guest star appearances in Numb3rs, The Mindy Project, The Muppets, and Comedy Bang! Bang! He also lent his voice to Amazon Prime's Comrade Detective. That said, Gordon-Levitt has focused on film, bouncing between blockbusters and indies. But now, he's back on the small screen, in what the returning TV actor hopes is a return-to-form.
This 'Relatable' Series Attempts To Speak To The 'Contemporary Generation Of 30-Somethings'
In a series with the intent of being "darkly funny, oddly beautiful, and deeply heartfelt," Apple TV+'s Mr. Corman hopes to be a "relatable dramedy" that speaks "for our contemporary generation of 30-somethings," as the show's press release notes.
Specifically, the upcoming streaming series intends to grapple with the general sense of discomfort felt by this wayward age demographic, particularly in how it's filled with people who are "rich with good intentions, poor with student loans, and yearning to become real grown-ups sometime before they die." It's a mix of arrested development and general malaise, and it's about settling into the second chapter of your life while making peace with your first. Admittedly, that description sounds broad, but hopefully, Joseph Gordon-Levitt can say something personal with his hung-up titular character.
Mr. Corman's Production Moved To New Zealand To Feel More Comfortable
Like many productions from this past wretched year, Apple TV+'s Mr. Corman faced several delays due to the COVID-19 pandemic. Specifically, following three weeks of filming in Los Angeles, this Joseph Gordon-Levitt series had to shut everything down for months on end. It was only until the fall that production could resume. But when cameras were rolling again, there was one major change. In an interview with The Talk, the actor-director revealed that production moved to New Zealand, in order to make everyone feel safer. Following this October update, filming resumed until February of this year, when it was revealed that Mr. Corman was in its final weeks of production.
The First Trailer Centers Around A Teacher On The Verge Of An Early-Life Crisis
Recently, we got our first glimpse at Joseph Gordon-Levitt's directorial follow-up, Mr. Corman, as well as our first impression of the show's style and tone. Specifically, this character-driven new series, which is centered around a disgruntled musician who finds himself emotionally and spiritually unsatisfied with his current life predicament, shows us a woebegone man on the verge of an early-life crisis. Following a recent break-up and a general disinterest in the state of his life, this trailer shows our title character in psychological turmoil, particularly with some whimsical shots that promise at least a few dream-like sequences. For better or worse, it looks like a Sundance film circa 2009 for the streaming era. Whether that's enticing or alarming is a matter of personal taste.
You can watch the trailer for yourself below:
You can follow the rest of the 2021 Summer TV schedule right here at CinemaBlend.
Will is an entertainment writer based in Pittsburgh, PA. His writing can also be found in The Playlist, Cut Print Film, We Got This Covered, The Young Folks, Slate and other outlets. He also co-hosts the weekly film/TV podcast Cinemaholics with Jon Negroni and he likes to think he's a professional Garfield enthusiast.
Your Daily Blend of Entertainment News
Thank you for signing up to CinemaBlend. You will receive a verification email shortly.
There was a problem. Please refresh the page and try again.