Olivia Jade Calls Out Gossip Girl Reboot For Line Referencing Her And Fuller House's Lori Loughlin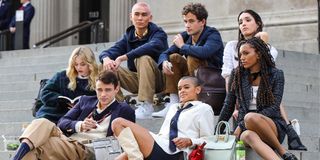 Nine years after Gossip Girl ended, a new reboot has premiered on HBO Max and a new Gossip Girl is out to carry the torch and ruin lives of Constance's elite. There are many updated references from what the original would deliver on The CW. While many fans have reveled in the many references, there is one influencer who is calling out the new series for a particular reference.
Influencer Olivia Jade is calling out Gossip Girl for a mistake they made while referencing her and her mother, Full House alum Lori Loughlin. Loughlin made headlines for the infamous College Admissions Scandal, and Jade felt the effects. She took time off social media but came back months later in full force. In one scene of the reboot of the CW series, Constance's elite Julien Calloway (Jordan Alexander) is talking to her friends about how her losing something just means that she's winning, bringing up the fact that Jade gained followers when her mom went to jail. The YouTuber responded in a TikTok. Take a look:
Since her mother's arrest, Olivia Jade has kept up her posts on social media. With Gossip Girl being centered around social media, specifically Instagram, it's not surprising that they would bring up Jade and Lori Loughlin. However, it's probably very tiring for Jade to constantly hear about what her famous mother did and have lies be told about herself. Being in the limelight is never easy but Jade seems to be taking it in stride, while calling out where she should.
Meanwhile, Olivia Jade isn't the only one being brutal to Gossip Girl. The first reviews for the reboot came out very recently and most were not very pleasant. USA Today said it was a "cringe-worthy slog," while Decider basically said that it will be impossible for the show to live up to the OG GG. Even if the new series may never have the power of the original, at least it's trying, while also trying to be its own show. Plus, the occasional Easter eggs to the original Gossip Girl bring some fun nostalgia.
Gossip Girl may not have everyone's love but it's definitely getting attention. Olivia Jade doesn't seem to like the new series but just one episode has released so far, so that could change. Since she is a pretty big influencer with such a public life, this may not be the last time she's mentioned in the series. It will be interesting to see what happens next. New episodes of Gossip Girl drop on HBO Max every Thursday!
Passionate writer. Obsessed with anything and everything entertainment, specifically movies and television. Can get easily attached to fictional characters.
Your Daily Blend of Entertainment News
Thank you for signing up to CinemaBlend. You will receive a verification email shortly.
There was a problem. Please refresh the page and try again.