Gossip Girl: 7 Quick Things We Know About The HBO Max Reboot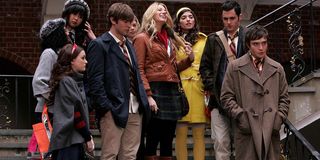 Gossip Girl was a cult favorite for The CW fans. It brought the Upper East Side to homes on a weekly basis. It gave its fans glamour with a side of major drama and intrigue. Now HBO Max is bringing Gossip Girl back. The Gossip Girl reboot will bring a new set of prep school kids into our lives, filled with their own set of unique issues, struggles, and juicy gossip.
A Gossip Girl reboot or cast reunion has been discussed for a while, but the reboot didn't officially go into production until 2019. Now, we're edging closer to HBO Max's Gossip Girl reboot premiere. Before it kicks off, let's look at what we already know about the upcoming series.
Gossip Girl Takes Place 8 years After The Series Finale
Gossip Girl screenwriter and showrunner of the new series Joshua Safran wants to make it known that this isn't a Gossip Girl reboot. Instead, it's a continuation of the Gossip Girl legacy. This new Gossip Girl exists in the same world as the original series, and it's been confirmed that the series will take place eight years after the original Gossip Girl series finale.
Because eight years doesn't equal teenager, most likely, none of the current main characters of the new Gossip Girl will be children of the original characters, but they could always be distant or secret relatives. Gossip Girl reboot or not, the show is still an evolved version of the original concept.
Gossip Girl Premieres In 2021
Gossip Girl was originally set to premiere in fall 2020 but due to the COVID-19 pandemic, its premiere was delayed. In September 2020, Variety reported that the new Gossip Girl would begin production in October 2020. By January 2021, Safran told OK Magazine that the series had only filmed two episodes of the Gossip Girl reboot/continuation. There are still a lot more episodes to film, but the series's crew seems to be working tirelessly to finish it soon.
According to On Location Vacation, the new Gossip Girl was filming as recently as March 24, 2021. If production really picks up in the next few months, it is possible for the Gossip Girl reboot to premiere in late summer 2021. HBO Max has a pretty exciting movie lineup for the Summer of 2021, so we're sure it would want to keep that momentum with its TV lineup, and the highly anticipated Gossip Girl reboot would definitely add to HBO Max's summer content excitement.
However, I think it's more likely that the new Gossip Girl airs early Fall 2021, possibly around September. I think it may also depend on how HBO Max decides to release the episodes. If they're released weekly, then a sooner, especially summer, release date is possible. If all the episodes are released at once, then the new Gossip Girl probably won't hit the streaming service until the latter half of 2021.
Kristen Bell Returns As The Voice Of Gossip Girl
Further hitting it home that this is not a Gossip Girl reboot, the series made sure to add one familiar face, or should I say familiar voice, to the new cast. Kristen Bell, who voiced Gossip Girl in the original series, will be back for this new one. She again will be adding her own Xs and Os to the series as the voice of Gossip Girl.
We don't know much yet about how Gossip Girl's voice and tone will change to reflect a new author, unless Dan Humphery (Penn Badgley) is still hanging around the school somewhere, but I'm intrigued to hear what the new Gossip Girl has to reveal.
The New Gossip Girl Has Nine Main Characters
The official Gossip Girl Instagram revealed the nine new main characters with one word to describe each. Some of the words used were perspective, innocence, privilege, and influence. Jordan Alexander plays Julien Calloway, Eli Brown plays Otto "Obie" Bergmann IV, Thomas Doherty plays Max Wolfe, Tavi Gevinson plays Kate Keller, Evan Mock plays Aki Menzies, Zion Moreno plays Luna La, Savannah Smith plays Monet de Haan, Emily Alyn Lind plays Audrey Hope, and Whitney Peak plays Zoya Lott.
Besides their names, not much is known about these new Gossip Girl characters. Despite this not being a Gossip Girl reboot, fans are bound to draw comparisons to some of the original characters. Based on some of the behind-the-scenes photos, it seems like Zoya will be the new girl in town, and may end up in a romance with Obie. It also seems like the other eight characters already have a long history of friendship. Just looking at the cast, it's easy to see that this Gossip Girl will be a lot more racially diverse than the original one. It will also have a lot more queer character representation.
In a Dazed interview, the new Gossip Girl cast wanted it to be known that these characters will very much have their own identities separate from the original characters. Emily Alyn Lind added this:
Other new Gossip Girl characters include Tony Award winner Donna Murphy as the headmistress along with Laura Benanti and You's Elizabeth Lail as currently unknown characters.
Gossip Girl Season 1 Will Have 12 Episodes
Originally, it was being reported that the new Gossip Girl's first season would have 10 episodes, but in the same OK Magazine interview where Joshua Safran revealed that only two episodes had been filmed, he also shared that Gossip Girl would have 12 episodes. This was in January 2021.
The plan could have changed back to 10 episodes, but for now, we're going to assume a 12-episode first season of the Gossip Girl reboot/continuation.
Gossip Girl Will Reference The Original Characters
Since this is not a Gossip Girl reboot, but a continuation, it makes sense for the original characters to be referenced. And any former cast member making a cameo is highly likely. US Magazine made a collection of former cast and crew mentioning whether they are open to returning to the new Gossip Girl series. Most spoke positively about potentially revising their roles for the HBO Max series.
Gossip Girl executive producer Josh Schwartz told E! Online that he reached out to the reps of the entire former cast and the door was open for their return. Joshua Safran also shared with OK Magazine that he wants every episode of the new Gossip Girl series to have a cameo. Some of those cameos may include former Upper East Side faces. It may be a good time to remind yourself of how every character's story ended on the Gossip Girl series finale.
Gossip Girl Will Use More Social Media
The new Gossip Girl will follow Generation Z and what's Gen-Z without social media, Tik-Tok, Instagram, and making us Millennials feel old. The new series plans to embrace the new generation by having social media, the good and bad aspects of it, play a major role in the series. This could also mean a complete reboot of the Gossip Girl blog by turning it into an app, some Tik-Toks, or even an Instagram gossip page.
Gossip Girl will definitely show an evolution of how gossip and news spread, especially to a Gen-Z teen growing up in this era.
The new Gossip Girl premiere date is still unknown but we'll be checking the 2021 TV schedule often for a premiere date announcement. You can currently revisit your old Gossip Girl friends before the new series by streaming it on HBO Max. Stream it here (opens in new tab).
Spent most of my life in various parts of Illinois, including attending college in Evanston. I have been a life long lover of pop culture, especially television, turned that passion into writing about all things entertainment related. When I'm not writing about pop culture, I can be found channeling Gordon Ramsay by kicking people out the kitchen.
Your Daily Blend of Entertainment News
Thank you for signing up to CinemaBlend. You will receive a verification email shortly.
There was a problem. Please refresh the page and try again.