Servant Season 3: 7 Quick Things We Know About The Apple TV+ Series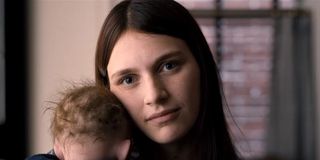 Servant is one of the best Apple TV+ shows. M. Night Shyamalan directs the original AppleTV+ series that stars Lauren Ambrose, Toby Kebbell, Nell Tiger Free, and Rupert Grint. As Servant continues to build a fanbase, Apple TV+ made the existing fans super happy with an announcement that Servant Season 3 is in production.
Servant follows a Philadelphia couple Dorothy (Lauren Ambrose) and Sean Turner (Toby Kebbell) as they cope with a major and tragic loss. Dorothy isn't handling the loss well, so Leanne (Nell Tiger Free) is hired to assist Dorothy. Once Leanne enters their lives, things quickly start to shift in a strange and unexplainable way.
Servant Season 3 is already becoming one of AppleTV+'s most anticipated returns. Let's explore what we already know about M.Night Shyamalan's Servant Season 3.
Apple TV+ Renewed Servant For Season 3 In December 2020
Ahead of the January 2021 Season 2 premiere, Apple TV+ announced that Servant would return for Season 3 in December 2020. M. Night Shyamalan seemed confident about Servant's future tweeting all the way back in July 2020 that he was working on developing the scripts for Seasons 3 and 4.
In November 2019, Servant was renewed for Season 2 ahead of the series premiere, so Apple TV+ seems to be making a habit of renewing Servant at least a few days before the season premieres.
Since Shyamalan was already preparing for Servant Seasons 3 and 4, he seemed sure of the possibility of Apple TV+ renewing it for future seasons. We aren't sure if Servant Season 4 will be the last, but if history repeats itself, we'll hopefully know before the Servant Season 3 premiere if it makes it to Season 4 and beyond.
Rupert Grint, Lauren Ambrose, And The Servant Main Cast Are Expected To Return For Season 3
No official announcement about the main Servant cast's return has been made, but the official Servant Instagram page has shown photos with Lauren Ambrose and Neil Tiger Free filming with Shyamalan. Some paparazzi pictures have also shown Rupert Grint filming with Ambrose, and Toby Kebbell filming with Free in Philadelphia.
So it may be too soon to know for sure who's coming back for Season 3, however the main cast is expected to return.
M. Night Shyamalan Returns To Direct Servant Season 3
Like previous Servant seasons, M. Night Shyamalan will be one of the directors and the executive producer. He won't be directing the entire season but will direct some of the upcoming episodes. In prior seasons, Shyamalan has directed at least one episode of each season. He has already announced that he will direct the Servant Season 3 premiere episode.
Other Servant directors include Nimród Antal, Alexis Ostrander, and Daniel Sackheim.
Servant Season 3 Wrapped Filming In June 2021
Servant Season 3 wrapped filming of the first episode in March. By the end of June, the Season 3 finale had wrapped. This film schedule is about on par with previous seasons. Though Servant has finished filming Season 3, there is still a lot of post-production work to be done. We still may have to wait quite a while before Servant Season 3 premieres on Apple TV+. But hopefully we'll hear word of a premiere date soon.
Ishana Night Shyamalan Directs The Servant Season 3 Finale
M. Night Shyamalan's daughter Ishana Night Shyamalan has been a major part of the Servant production team. According to IMDB, she wrote several episodes of Servant Season 2, including "Josephine" and "Marino." She will also be writing the second episode of Servant Season 3.
M. Night Shyamalan acted like a proud papa when he mentioned that Ishana will be directing the Servant Season 3 finale. Ishana also took to her Instagram page to state how much she has learned from directing episodes of Servant. Ishana also mentioned that the Servant Season 3 finale would be the fourth episode that she directed of the series.
IMDB lists the Servant Season 3 finale and two episodes from Servant Season 2 under her directing credits, including "Josephine" and "Pizza." This presumably means that she will also direct at least two episodes in Servant Season 3, but it just hasn't been announced yet which other one besides the finale.
Servant Season 3 Will Likely Have Ten Episodes
Apple TV+ and M. Night Shyamalan have not confirmed the number of Servant Season 3 episodes. However, the first two seasons of the series had ten episodes. Additionally, many of the Apple TV+ series fall within the ten-episode range. This seems to be Apple TV+'s strategy to help build an audience over a ten-week period.
Servant Season 1 released the first three episodes all at once, then the rest weekly. For Season 2, Servant only released one episode a week. That strategy seems to have helped the show because Deadline reports that the Servant Season 2 premiere almost doubled in viewership from the series premiere.
I expect Servant Season 3 to have ten episodes and IMDB already lists ten untitled episodes for the upcoming season.
Servant Season 3 Doesn't Have An Official Release Date Yet
Apple TV+ has not yet announced an official release date for Servant Season 3. It's also hard to predict when we may see the upcoming season. The first season premiered in November 2019. It began filming in November 2018 and concluded in March 2019. This means about a four-month filming process and then about eight months before it landed on Apple TV+.
However, Apple TV+ didn't officially launch until November 2019, so the delay could have been due to Apple TV+ not being launched yet. Servant Season 2 premiered in January 2021, and it began filming in January 2020. It was expected to conclude filming sometime in the spring, but like many other productions, it had to shut down due to the pandemic.
Production resumed on Servant in fall 2020. This means there was likely only a few months between the premiere and the end of filming. As little as three to four months could have passed between filming the final episode and the premiere streaming on Apple TV+.
We probably shouldn't expect Servant Season 3 to premiere until at the earliest January 2022, but with production being wrapped already, M. Night Shyamalan and the Servant team may be aiming to premiere Season 3 in fall 2021, potentially in October or November. We can only speculate at this point.
Servant is a series that keeps getting better, so I would love for it to premiere before the year ends.
The first two seasons of M. Night Shyamalan's Servant are available to watch on Apple TV+. Make sure to follow CinemaBlend's 2021 fall tv schedule for any updates on the Servant Season 3 premiere date.
Spent most of my life in various parts of Illinois, including attending college in Evanston. I have been a life long lover of pop culture, especially television, turned that passion into writing about all things entertainment related. When I'm not writing about pop culture, I can be found channeling Gordon Ramsay by kicking people out the kitchen.
Your Daily Blend of Entertainment News
Thank you for signing up to CinemaBlend. You will receive a verification email shortly.
There was a problem. Please refresh the page and try again.