Britney Spears Calls Out 'People Closest' To Her For Only Now Just Showing Support Amid Conservatorship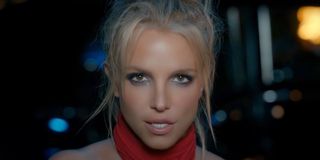 (Image credit: Britney Spears YouTube)
Until the release of the Framing Britney Spears documentary back in February, very few knew or considered the iconic pop star's experience under her 14 year-long conservatorship. But thanks in part to dedicated fans and Spears herself becoming more vocal about the situation, the details are coming out, and they've been shocking. She claimed the conservatorship is similar to "sex trafficking" and has undermined her personal autonomy beyond the scope of reason. Now, Spears has taken to social media to call out the "people closest" to her for neglecting to support her all these years.
The Grammy Award-winning singer recently bared all of her grievances on Instagram. In the lengthy post, Britney Spears only addresses the "people closest" to her and those she "loves the most," saying that they left her "drowning" under the conservatorship. She also wrote that those who were seemingly showing public support now only wanted to "save face." See her full post below:
The damning post comes only a few days after a judge ruled in Britney Spears' favor that she could hire her own lawyer in the fight to end the conservatorship. Last month, the singer had spoken out directly that she suffered from a relentless work schedule at the hands of her conservator and father, who she said wanted to "control" her. She even stated that she had IUD against her will, so she wouldn't be able to have children with her boyfriend.
Though Britney Spears didn't name any names in her post, there are several people she could be referring to. One of these is her father, Jamie Spears, who is currently serving as co-conservator over her financial matters – and makes a lot of money doing it. Mr. Spears had also recently feuded over money with co-conservator Jodi Montgomery, who is charge of his daughter's personal matters, in court. Montgomery's response had language that was similar to Britney's, where she implied that Mr. Spears' desire for the conservatorship to "reflect [Britney's] wishes" was "ironic."
Many spectators online, however, seemed to be under the belief that Britney Spears's latest blunt comments were calling out her little sister Jamie Lynn Spears. Her sister had previously shared that she was "only concerned about [Britney's] happiness" and had "nothing to gain or lose" from the conservatorship. Britney's words could potentially be a response to that statement, considering Jamie has never publicly discussed the conservatorship in the past.
Britney Spears' mother, Lynne Spears, could also be who she's referring to in the post. Lynne has long been thought to be uninvolved in the mechanisms of the conservatorship, and some have even gone so far as to call it neglect. But following the news of Britney's lawyer win, she seemed to cryptically refer to it on Instagram with a Bible quote about light and overcoming darkness.
It's hard to say who exactly Britney Spears is calling out for not supporting her. She could, in fact, be speaking to a whole host of people who benefited from the conservatorship over the last 14 years. What is abundantly clear, though, is that, at least in Spears's mind, the people she loves contributed to the situation she's currently in.
Your Daily Blend of Entertainment News
Movies and TV News Writer
Freelance writer. Favs: film history, reality TV, astronomy, French fries.