See Selena Gomez Totally Roast Her Younger Self In Hilarious Video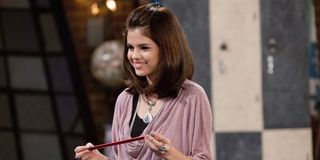 One of the great things about the Internet is that we can look back at old videos and pictures from our lives and cringe at them. And with celebrities, it's no different at all. Selena Gomez, who has been in the limelight since her Barney days, recently took to social media to roast her younger self in truly hilarious fashion.
After coming across a TikTok video of herself from her Disney days, the singer decided to playfully make fun of her younger counterpart. The original video is taken from an interview that Selena Gomez did during her teen years and, in that clip, she gleefully showed off a blue streak in her hair. She also said she wanted to look edgy for the Teen Vogue party. Check out how the present-day Gomez responded in her recent TikTok video:
Gomez's playful caption and recreation with a wig shows that she can still have a sense of humor as she fondly looks back on her younger days. This isn't the first time the actress has stumbled upon an older video of herself, either. A couple of months ago, she posted a video that shows an even younger Selena Gomez singing along to Britney Spears' "Don't Go Knocking On My Door," with the help of some retro special effects.
The early/mid-2000's was as cringey as ever, between the fashion choices, which are admittedly still iconic, and everyone trying to adapt "edgy" styles, much like how Selena Gomez was. It's always refreshing and nostalgic to see celebrities looking back on their youth, whether it's reminiscing or poking fun at themselves.
While Gomez has been in the industry since she was very young, she didn't truly enter the public consciousness until she landed a starring role on Disney Channel's Wizards of Waverly Place. Considering that celebrities had their fair share of cringey moments in their youth, growing up and having your actions captured on camera can't be easy for some, which makes it refreshing when you see positive posts like Gomez's.
While Gomez is looking back on her youth, she is also taking her time working on her next album. Although much of the live promo for her latest two albums -- Rare and Spanish EP Revelación -- had to take a backseat partially due to lockdown, things seem to be moving along. She's also focusing on her beauty line, Rare Beauty, which recently went international. And on the acting side, she's gearing up to star in new Hulu series Only Murders in the Building alongside Steve Martin and Martin Short. She also once again lent her voice to vampire Mavis in the final installment of the Hotel Transylvania franchise, which arrives later this year.
Selena Gomez isn't on TikTok much but when she is, it's pretty great. Hopefully, this won't be the last time she looks back on her younger days, as there are surely other parts of her early life that she can lampoon.
Passionate writer. Obsessed with anything and everything entertainment, specifically movies and television. Can get easily attached to fictional characters.
Your Daily Blend of Entertainment News
Thank you for signing up to CinemaBlend. You will receive a verification email shortly.
There was a problem. Please refresh the page and try again.