Why Selena Gomez Calls Her Disney-fied First Kiss With Dylan Sprouse 'One Of The Worst Days' Of Her Life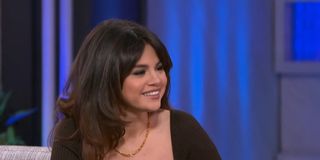 Being a child actor means that there's a chance their first kiss will take place in front of other cast and crew members and on-camera for the whole world to see. While the Disney Channel stars from the early aughts are all grown-up now, singer and actress Selena Gomez recently recalled why her first kiss with The Suite Life of Zack & Cody's Dylan Sprouse was "one of the worst days" of her life. The reason is rather surprising.
Before landing her breakout role as Alex Russo on Disney's Wizards of Waverly Place, Selena Gomez guest-starred in an episode of The Suite Life of Zack & Cody, which starred Dylan and Cole Sprouse. During an appearance on The Kelly Clarkson Show, Gomez revealed that she'd had a huge crush on Cole Sprouse at the time, going so far as to write how in love she was with the actor on a closet wall inside her childhood home. Suffice it to say that Gomez was pretty mortified after landing a guest spot on the show, only to have to kiss Sprouse's twin brother Dylan. Here's what she said:
Oh, to have to deal with crushing disappointment at such a young age. Kelly Clarkson was appalled that Selena Gomez's first kiss had to be with a "stranger and an actor." To make Gomez feel a bit better, Kelly Clarkson regaled her and the audience with the "horrible" story of her very own first kiss, which ended with the host spitting in his bathroom afterward. These sound like fairly traumatic first kiss experiences.
The episode in question, called "A Midsummer's Nightmare," saw Selena Gomez and Dylan Sprouse's characters have to kiss while rehearsing for a school play. After Gomez recites her lines, she and Sprouse grasp hands and lean in to share a kiss, one that their schoolmates actually start timing. For what it's worth, Cole Sprouse looks incredulous in the background. Check out the clip from The Kelly Clarkson Show below!
Ironically, Ashley Tisdale also described her on-screen kiss with her High School Musical co-star Zac Efron as being "the worst" when he guest-starred on The Suite Life of Zack & Cody. While Tisdale's reasoning for why she disliked her kissing experience was much different than Selena Gomez's, it seems the Disney Channel show was the hot spot for awkward kisses.
The Suite Life of Zack & Cody is currently available to stream on Disney+. For more on what to watch, be sure to check out our 2020 midseason schedule.
Your Daily Blend of Entertainment News
Thank you for signing up to CinemaBlend. You will receive a verification email shortly.
There was a problem. Please refresh the page and try again.