The Friends Reunion Helped Courteney Cox Achieve A Milestone, But Honestly, It's Not What She Was 'Looking For'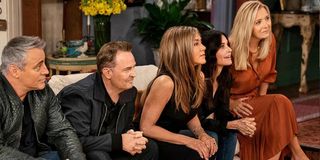 Friends: The Reunion was one of the best parts of 2021 so far for sitcom fans, as the cast of the beloved series came together after 17 years for a once-in-a-lifetime special on HBO Max. It took place on the Warner Bros. backlot, with the core Friends cast gathered together on a recreated version of the set, and the iconic fountain as the backdrop. Mega-fans filled out the audience, and there were surprise guests from the series, as well as cameos from superstar fans. The recent 2021 Emmy nomination announcements brought the great news that Friends: The Reunion received a total of four nominations, though star Courteney Cox still isn't completely satisfied.
Courteney Cox has had a long television career, going all the way back to 1984, a decade before Friends started its iconic run on NBC. While the actress is undoubtedly grateful that Friends: The Reunion snagged multiple Emmy nominations, for its hardworking crew as much as anyone, she revealed to Entertainment Weekly what else she's been feeling about earning her first Emmy nod after all these years:
Out of all 10 seasons of Friends, Courteney Cox never once received a nomination for her portrayal of Monica Geller, and was in fact the only star on the show to not be nominated. So while she's hyped about the nomination, notably for the special's mastermind director Ben Winston, she is still hurting over the fact that the Emmys never recognized her when the show was airing. It's a surprise that Cox was never nominated, considering Monica had some of the show's most memorable moments through the years. So even if this isn't some gigantic grudge she has against the TV Academy, some stings are felt forever.
I'm sure Courteney Cox is still shocked in the first place for anything Friends-related to get an Emmy nomination this long after the series ended. But the nomination is, unsurprisingly, leaving some lingering feelings over what could have been in the past. It's hard to imagine Friends without Monica, and impossible to imagine anyone but Cox in the role, which is why it's such a shock that this is her first nomination for the series, and it's technically still not even for playing Monica. Hopefully Friends: The Reunion will win for Outstanding Variety Special (Pre-Recorded) so Cox can finally get that Emmy she so rightfully deserves, even if it's not the one she quite hoped for. And maybe her speech will be amazing enough so that IT gets nominated for its own Emmy.
Friends: The Reunion brought fans back to the Must See TV era and made them nostalgic for classic TV. It was a long waiting game to see if the reunion would actually happen, given the pandemic, and when it finally did, it was thankfully nothing but feels, emotions and laughs. Friends is still constantly being streamed, now on HBO Max, even if some fans are still upset about the Netflix move. To find out if the reunion special will win the big prizes, be sure to tune into the 2021 Emmy Awards on Sunday, September 19, at 8:00 p.m. ET.
Passionate writer. Obsessed with anything and everything entertainment, specifically movies and television. Can get easily attached to fictional characters.
Your Daily Blend of Entertainment News
Thank you for signing up to CinemaBlend. You will receive a verification email shortly.
There was a problem. Please refresh the page and try again.