Brooklyn Nine-Nine Season 8: Premiere Date, Cast And Other Quick things We Know About The Final Season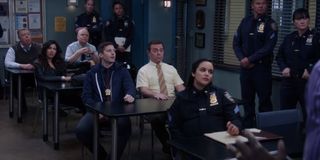 It's hard to believe that it's been nearly 8 years since the original pilot of Brooklyn Nine-Nine premiered on Fox. The comedy quickly shot to popularity with its excellent ensemble cast, impeccable cold opens, and surprisingly heartfelt stories. Alas, all good things must come to an end: NBC has announced that Brooklyn Nine-Nine Season 8 will be the last season of the beloved sitcom and will air as part of the 2021 summer TV schedule. With the premiere date swiftly approaching, let's check up on what we know so far.
The Brooklyn Nine-Nine Season 8 Premiere Date Is Set For August
The premiere episodes of Season 8 will air on Thursday, August 12th on NBC at 8 p.m. EST. While the season will kick off with two back-to-back episodes, the rest of it will air one episode at a time on Thursday nights. The timing is a bit odd, but NBC is probably counting on the Olympics to advertise the new season and draw in more viewers. Not that Brooklyn Nine-Nine needs the help: 24 million viewers watched the most recent season, per Variety.
The Brooklyn Nine-Nine Core Cast Is Set To Return For The Final Season
Also according to Variety, the main cast members are all set to return to say goodbye to Precinct 99. The ensemble consists of Andy Samberg (Jake Peralta), Andre Braugher (Captain Raymond Holt), Melissa Fumero (Amy Santiago), Stephanie Beatriz (Rosa Diaz), Joe Lo Truglio (Charles Boyle), Terry Crews (Terry Jeffords), Joel McKinnon Miller (Scully), and Dirk Blocker (Hitchcock). Miller and Blocker were promoted to series regulars in Season 6 following the departure of Chelsea Peretti (Gina Linetti).
Brooklyn Nine-Nine Season 8 Will Consist Of Ten Episodes
The final season will also be the shortest: Season 8 consists of just 10 half-hour episodes, even fewer than Season 7's 13 episodes. Better 10 than nothing, right? According to The Hollywood Reporter, Season 8 was originally scheduled to premiere a year earlier, but COVID significantly delayed production. Filming for Season 8 finally concluded in early June 2021, as confirmed by executive producer Dan Goor.
Jake And Amy Will Have To Solve Crime AND Raise A Baby
Jake and Amy's son, McClane, is born during the Season 7 finale and will feature heavily in Season 8, according to Dan Goor. He told The Hollywood Reporter:
Viewers are more than familiar with Amy's intense career ambitions, so it will be interesting to see how she handles dealing with a newborn that needs 24/7 attention. In addition, Jake and Amy approach life in very different ways, so they will probably have differing ideas when it comes to parenting as well. Amy's the type to have color-coded binders on feeding schedules, while Jake... isn't, to say the least. He's done a fair amount of growing up since Season 1, but is he mature enough to raise a child? Either way, hilarity will no doubt ensue.
Yes, They're Addressing Last Season's Criticisms
The seventh season of Brooklyn Nine-Nine faced significant backlash for its positive portrayal of the police force during the Black Lives Matter protests of 2020. While the show has addressed racial inequality in the past (including an episode where Sgt. Terry Jeffords is profiled in his own neighborhood), Brooklyn Nine-Nine generally depicts cops in a positive way. Many viewers were less than thrilled to see police painted in a sympathetic light. Dan Goor confirmed to Variety that Season 8 would address those concerns head-on. The writing team had even scrapped four episodes, according to Terry Crews, that were already written to work on new material. Will Season 8 deliver? Only time will tell.
Will Chelsea Peretti's Gina Return For Brooklyn Nine-Nine's Last Season?
Chelsea Peretti as Gina Linetti was delusional, narcissistic perfection, and her exit from the show disappointed many fans. Gina Linetti was a series regular in Seasons 1-5 and a guest star in Season 6. However, she might be visiting the 99th Precinct for Season 8. Chelsea Peretti hinted on Twitter last year that she might make an appearance in the final season, but nothing has been confirmed. Many Brooklyn Nine-Nine castmates tweeted their support, including Stephanie Beatriz, who joked that she was already writing a part for Gina.
Around the same time, executive producer Dan Goor told TV Line he regretted not being able to feature Gina in Season 7 and wanted to "make sure" she was in Season 8. However, all of this happened before the writing team scrapped a few episodes in the wake of BLM, so a possible Gina episode might have been cut in favor of a more conscientious storyline. Not that a better sense of social responsibility is a bad thing, just something to keep in mind when it comes to extraneous plots and guest stars.
How Brooklyn Nine-Nine Season 7 Ended
The Season 7 finale aired in 2019, so it's understandable if you need a quick refresher. Raymond Holt was back as captain of the 99 after a few short-lived replacements. Amy's water broke while Jake was stuck in the middle of Brooklyn during a blackout. Luckily, with the help of Charles Boyle and Lieutenant Peanut Butter the horse, Jake made it to the hospital before Amy gave birth to their son, who they named McClane Peralta (Mac for short) after the lead in Jake's oft-referenced favorite movie Die Hard.
Me: I'm Excited For Season 8. The Cast: Hold My Beer.
I'm pretty pumped for Season 8, but that's nothing compared to how the Brooklyn Nine-Nine cast feels. When NBC announced it had ordered an eighth season, the cast celebrated via Twitter. Of course, there were also some tears. In a recent interview with Seth Meyers, Terry Crews shared that the cast had gotten super emotional over the show ending. Me too, Terry Crews. Me too. That being said, we still have an entire season to go before the lights go out in the 99th Precinct. There will be plenty of laughs to go around before we have to cue the waterworks. In the meantime, you can check out other 2021 fall TV premiere dates here.
Your Daily Blend of Entertainment News
Actor, singer, and occasional dancer. Likes: fashion, books, old buildings. Dislikes: cilantro, the NJ Turnpike, sneaker wedges.