How Avatar: The Last Airbender's Jack DeSena Feels About Sokka Not Having Bending Abilities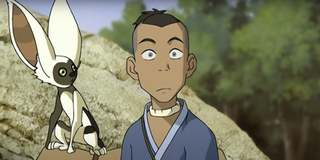 Avatar: The Last Airbender is the Nickelodeon TV show that has taken the world by storm more than once thanks to its arrival on Netflix back in May 2020, when it began reaching a whole new audience more than a decade after its original run from 2005-2008. While the Avatar universe is named for a hero who can master all four elements and packed full of benders skilled in water, air, earth, and fire, there are also some notable main characters with no bending abilities at all, and none more notable than Sokka, voiced by Jack DeSena. The actor spoke with CinemaBlend and shared his feelings about Sokka never having bending abilities.
It was clear from the very first episode of Avatar: The Last Airbender that, as far as anybody knew, Katara was the only one in the family born with bending abilities, and there was never a reveal that Sokka had suppressed bending abilities all along, and no energybending to grant him some bending abilities. And there were no radioactive saber-tooth moose lion cubs to give him powers with a bite, a la Spiderman. Nevertheless, he was an essential part of Team Avatar, and Jack DeSena opened up ahead of his upcoming appearance on the Avatar: Braving the Elements podcast about how he feels with Sokka as a non-bender:
Sokka's status as a non-bender did open him up to deliver a lot of the physical comedy of the series, but he also definitely wasn't just comic relief, especially as the seasons passed and the stakes of Team Avatar's journey began to get exponentially higher. As somebody who could never just rely on the elements for offense or defense, he was the thinker and strategist of the group, and as essential to their eventual victory as any of the others in his own way. When I commented that Sokka being the non-bender in a group of bending heroes kind of made him the Batman of the group, Jack DeSena responded:
Okay, so maybe Sokka isn't exactly interchangeable with the brooding Dark Knight of DC Comics history, but Team Avatar isn't exactly the Justice League, and Avatar: The Last Airbender was unlike anything that had come to television before. Even now, more than 15 years after the series originally premiered on Nickelodeon, the only series that can hold equal ground with The Last Airbender is its own sequel show, The Legend of Korra.
And as much as all the benders might have viewers debating what kind of element they'd want to master, Sokka is a valuable example of a person becoming a hero without some of the natural advantages that others had. Jack DeSena weighed in on whether he thinks it's important for viewers to have Sokka as an example in that core group of heroes:
Sokka certainly had some remarkable tools at his disposal at times during the series, like his "space sword," but even that was something he had to work very hard to get rather than anything he was born with. And even though he wasn't a perfect example from start to finish, nobody on Avatar: The Last Airbender was. And would the show have been as much fun if none of them had the space to grow?
Jack DeSena was an important piece of the Avatar: The Last AIrbender puzzle from the very first episode, and fans can hear more from him about playing Sokka and the show as a whole with his appearance in the next episode of the Avatar: Braving the Elements podcast, hosted by The Last Airbender's Dante Basco and Legend of Korra's Janet Varney.
Be sure to check out Avatar: Braving the Elements for Jack DeSena's episode, as well as all the others so far as Dante Basco and Janet Varney guide viewers through a Last Airbender rewatch and host special guests from the franchise. For a rewatch of your own, you can find the full series of Avatar: The Last Airbender (as well as Legend of Korra) streaming on both Netflix and Paramount+. If you're in the market for some additional viewing options now and in the coming weeks, check out our 2021 summer TV premiere schedule for what to watch and when to tune in.
Resident of One Chicago, Bachelor Nation, and Cleveland. Has opinions about crossovers, Star Wars, and superheroes. Will not time travel.
Your Daily Blend of Entertainment News
Thank you for signing up to CinemaBlend. You will receive a verification email shortly.
There was a problem. Please refresh the page and try again.