Kevin Hart And Snoop Dogg Interviewing Tonga's Shirtless Flag Bearer Is Everything I Needed Today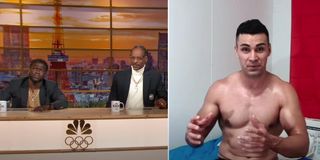 The Summer Olympics Games are currently underway in Tokyo, and viewers across the world find themselves engrossed in the various competitions and storylines surrounding them. Plenty of athletes are getting buzz across the internet, but the one who's arguably making the biggest impression is Tonga's Pita Taufatofua. The shirtless flag bearer and veteran olympian took the internet by storm with his oiled up body, so it was only a matter of time before he was interviewed about his latest Olympic entrance. Luckily for us, Kevin Hart and Snoop Dogg were the two tasked with speaking with him. And trust me when I say their conversation is everything you need today.
The two celebrities are currently hosting Olympic Highlights With Kevin Hart and Snoop Dogg, which airs on Peacock. It was honestly only a matter of time before the highly entertaining duo got a chance to speak with Pita Taufatofua, and it did not disappoint. Even before the interview began, Snoop Dogg set the tone for the entire segment when he joked that Taufatofua's oily body was as "greasy as a bag of chicken."
Jokes aside, Kevin Hart and Snoop Dogg showed plenty of love to Pita Taufatofua, who explained the purpose of his body oil -- which is much different from what it's used for here in the states. The group also discussed a range of other topics, including the impact Hart and Snoop's work has had on the country of Tonga. Check out funny and sweet conversation for yourself down below:
As mentioned during the interview, this is Pita Taufatofua's second Summer Olympic Games, and he's competed in the Winter Olympics as well. During the summer competition, Taufatofua has competed in taekwondo while, in the winter, he's a cross country skier. Unfortunately, the fan-favorite Olympian has yet to secure a medal, but he's still making Olympic history in other ways.
Pita Taufatofua's appearance in this year's Summer Olympic Games makes him the first athlete to ever compete in three straight Olympics. That's quite an accomplishment given the significant amount of training an athlete must endure before each of the international, multi-sport events. In addition to his training regimen, Taufatofua is also a bit of an academic, as he has a degree in engineering and is currently working on his Master's.
While the Tonga native doesn't seem to mind the attention he's getting, he seems to be mainly focused on representing his country in a positive way. And based on the poise that he's shown, many would probably agree that he's succeeded in that regard.
Many across the world will certainly be rooting for Pita Taufatofua as he continues to compete, and this includes Kevin Hart and Snoop Dogg. It's sure to be exciting to see how things pan out for the athletes, but I'm also just as excited to see what kind of other fun interviews the duo have before this year's Olympics end.
Covering superheroes, sci-fi, comedy, and almost anything else in film and TV. I eat more pizza than the Teenage Mutant Ninja Turtles.
Your Daily Blend of Entertainment News
Thank you for signing up to CinemaBlend. You will receive a verification email shortly.
There was a problem. Please refresh the page and try again.