Hulu's Only Murders In The Building: Premiere Date, Cast, And Other Quick Things We Know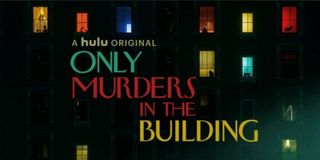 Three big stars, one dead body, and a bunch of suspects in one exclusive New York City residence. That's the premise at the (stabbed) heart of Only Murders in the Building, Hulu's darkly comedic mystery starring Steve Martin, Selena Gomez, and Martin Short.
Created by Steve Martin and John Hoffman (Grace and Frankie), this streaming show seems like a must-watch for comedy lovers, and we're discovering more information as we near closer to its August 31st premiere date. If you're itching for more clues about this true crime parody series, we're here to help! Here's what we know about this show.
Hulu's Only Murders In The Building Will Stream On Hulu On Tuesdays Starting On August 31, 2021
Soon, the mysteries behind Only Murders in the Building will reveal themselves to us. More specifically, the streaming show will premiere its first three episodes on August 31, 2021 on Hulu. From there, we should expect a new episode from this 10-episode season every Tuesday — allowing the suspense to be drawn out over the next month (or two).
The 10-Episode Series Comes From The Minds Of Star And Co-Creator Steve Martin And Grace And Frankie's John Hoffman
Perhaps the most exciting part of Hulu's Only Murders in the Building is knowing that it's not simply another acting gig for Steve Martin; rather, it's his creative baby. Along with playing Charles, one of our central three true-crime-loving would-be case-solvers, Martin created Murders with John Hoffman, an Emmy-nominated writer behind Netflix's Grace and Frankie and HBO's Looking. He also wrote and directed 2003's Good Boy! Moreover, Hoffman co-wrote Disney Channel's Northern Lights, based on his 1988 play.
As for Steve Martin, the actor/writer's involvement is particularly notable as it's the first show that he co-created since 1984's Domestic Life. It's also his first starring TV role in decades, too; he hasn't been a series regular since 1972's The Sonny and Cher Comedy Hour. Unless, of course, you count the comedian's recurring presence on SNL. Suffice it to say, though, Only Murders in the Building is one of Martin's biggest projects in years.
The Only Murders In The Building Cast Also Includes Selena Gomez And Martin Short, Who Will Executive Produce
Alongside Steve Martin, Hulu's Only Murders in the Building will also star Selena Gomez and Martin Short. The former is playing Mabel Mora, a young, mysterious neighbor who winds up pairing with two older, weirder fellow true-crime obsessives, while the latter plays Oliver, an energetic podcast host who attempts to bridge his home life with his auditory aspirations when a shocking murder happens in his own resistance. Gomez's involvement is particularly notable (and headline-grabbing); it's the actress-singer's first scripted show since her teen years as the star of Disney Channel's Wizards of Waverly Place.
Only Murders In The Building Follows Three True Crime-Loving Strangers Who Suddenly Find Themselves Wrapped In A Murder
There's no shortage of true crime lovers out there. In an internet age overstuffed with podcasts, in-depth video essays, blogging, and other extra-dutiful means of finding the truth, especially with surveillance, it's easier than ever for fans of the genre to connect with others in their (admittedly morbid) need to know the answers behind some ghastly crimes.
Steve Martin and John Hoffman's Only Murders in the Building will take that premise to the extreme by following three true crime lovers (Selena Gomez, Martin Short, Martin) who wind up in the center of a brutal murder when a grisly death takes place in their exclusive Upper West Side apartment building. Through their expertise in the genre (if not their knowledge in human behavior), this unlikely trio will follow the clues and try to get to the bottom of this ghastly death, all while they document their findings. As they unravel secrets, they may not like what they discover — or uncover.
The Supporting Cast Includes Amy Ryan, Nathan Lane, Jane Lynch, And Aaron Dominguez
Additionally, the supporting cast of Hulu's Only Murders in the Building will include a number of famous and familiar faces, including (but not limited to) Amy Ryan, Nathan Lane, Jane Lynch, and Aaron Dominguez. Furthermore, the trailer promises a cameo from Sting, who'll play a fictionalized version of himself. It's known that Dominguez will play Oscar, the son of building's super who's in a relationship (or was in a relationship) with Gomez's Mabel (per The Los Angeles Times). The rest of the characters remain unconfirmed for the time being, outside of being potential suspects for our sleuthing leads, but we'll surely learn all about them when this new show premieres in August.
Only Murders In The Building Started Filming In December And Wrapped Production In April
Over the course of the past year-and-a-half, Hollywood has struggled to figure out how they should move forward in our COVID age. Productions are big, taxing, heavily-populated areas, filled with bustling energy and a lot of working hands. It's not easy to film a movie during a pandemic — let alone a show. Nevertheless, throughout this troublesome year, productions around the globe have worked against the challenges presented to them in order to film new and exciting movies and shows, including Hulu's Only Murders in the Building. As noted by Steve Martin's Twitter account, the series started shooting in December of last year and continued through April. That's quite an extensive production, but thankfully, filming seemingly went smoothly and, more importantly, safely.
The Pilot Is Directed By Jamie Babbit
We know a good deal about who's involved with Only Murders in the Building in front of the camera, but we're still learning more details about who's working on the upcoming show in a creative fashion. That said, we do know that the pilot is directed by executive producer Jamie Babbit, an indie filmmaker who has built an impressive TV resume for herself throughout the past decade. Most notably, Babbit is Emmy-nominated for her directorial work on HBO's Silicon Valley. Additionally, the director called the shots on episodes of HBO's Girls, Netflix's Russian Doll, Amazon Prime's The Marvelous Mrs. Maisel, Fox/NBC's Brooklyn Nine-Nine, FXX's It's Always Sunny in Philadelphia, HBO's Looking, The WB/The CW's Gilmore Girls, Lifetime's Drop Dead Diva, Fox's The Orville, and Comedy Central's Awkwafina is Nora from Queens, to name a few of her shows.
Additionally, as a filmmaker, Jamie Babbit is best known for her cult-favorite coming-of-age dramedy, But I'm a Cheerleader. She was also at the helm of The Quiet, Itty Bitty Titty Committee, Breaking the Girls, Addicted to Fresno, and last year's The Stand-In.
The Only Murders In The Building Trailer Promises Crime And Comedy (And Podcasting)
There's danger afoot in the first official trailer for Hulu's Only Murders in the Building. Granted, mixing crime and comedy together isn't especially novel, but this first promo does amusingly harken back to the darkly humorous shenanigans of '80s and '90s favorites like Clue or Manhattan Murder Mystery. Also, quite thankfully, this preview gives us a lot of moments shared between our two Martins: Martin Short and Steve Martin, more precisely. Based on this teaser alone, this high-stakes material doesn't have quite the same wit as a few other Steve Martin classics (podcasting hijinks are a bit stale, comedy-wise), but here's hoping that Hulu saves the best stuff for the show.
Check out the official trailer here.
Only Murders in the Building premieres on Hulu on August 31, 2021. To read all the latest updates to this year's Summer and Fall TV schedule, be sure to follow CinemaBlend!
Will is an entertainment writer based in Pittsburgh, PA. His writing can also be found in The Playlist, Cut Print Film, We Got This Covered, The Young Folks, Slate and other outlets. He also co-hosts the weekly film/TV podcast Cinemaholics with Jon Negroni and he likes to think he's a professional Garfield enthusiast.
Your Daily Blend of Entertainment News
Thank you for signing up to CinemaBlend. You will receive a verification email shortly.
There was a problem. Please refresh the page and try again.