8 Shows Like Virgin River To Watch Right Now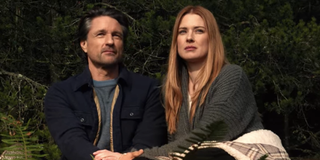 CinemaBlend participates in affiliate programs with various companies. We may earn a commission when you click on or make purchases via links.
While Virgin River might not quite be a Bridgerton-sized hit for Netflix, the show certainly got a jump on its streaming sibling when it comes to romantic dramas based on loooong novel series. When Virgin River debuted on December 6, 2019, it was a bit ahead of the curve with regards to providing audiences with romance, twisty plots, and just enough drama to make the whole package even more entertaining (but still less potentially traumatizing than, say, Outlander). And, as you might imagine, folks ate it up.
But, this doesn't mean that Virgin River is anywhere near being the only show to deliver those kinds of benefits to fans who enjoy a romantic series with some bite. Here, for you now, are eight shows like Virgin River that you can watch right away, while we wait on a Virgin River Season 4 renewal!
Jane The Virgin (Netflix)
Jane the Virgin focuses on Jane Villanueva (Gina Rodriguez), a young woman whose life is totally on track, until what's supposed to be a routine doctor's visit sees her accidentally inseminated with a sample from her boss, Rafael Solano (Justin Baldoni). Jane then has to figure out how to handle being a pregnant virgin while juggling college, being engaged, and the rest of the future she had planned for herself.
Why it's a good option for Virgin River fans: No, I didn't just choose this show because the word "virgin" is in the title. Instead, know that this play on Latin American telenovela tropes should be right up the alley of anyone who loves to follow a central love story (or more), with several other romances on the margins, and lots of good, twist-filled plots. Some of the events in Jane the Virgin are far more bonkers than what we've seen in Virgin River, but that just makes it extra appealing for a good binge watch.
Stream Jane the Virgin on Netflix. (opens in new tab)
Hart Of Dixie (Amazon)
When New York City doctor Zoe Hart (Rachel Bilson) gets an invitation from a stranger in tiny Bluebell, Alabama to work with him at his medical practice, she accepts, needing a change in her life. But, when she arrives, Zoe realizes that the stranger has actually died and left her his half of the practice in his will, putting her in the cross hairs of her new partner, Dr. Breeland (Tim Matheson) and his snooty daughter Lemon (Jaime King), and leading her to several love connections and a whole new life.
Why it's a good option for Virgin River fans: I can't lie, Hart of Dixie is far sillier than Virgin River, but in the best ways. When you still want a small town romance, but with unexpected plot twists and lots of nosy townies in a fish out of water story, this is your show. Plus, Tim Matheson plays a role here which is not entirely dissimilar to his part as Doc Mullins on the Netflix staple.
Stream Hart of Dixie on Amazon. (opens in new tab)
Last Tango In Halifax (Netflix)
This BBC One dramedy follows two 70-something widowed people, Alan (Derek Jacobi) and Celia (Anne Reid), who reconnect after many decades when their respective grandsons put their information on social media. The former young almost-lovers then begin a new romance, and have to merge their (extremely) complicated families, to hilarious, disastrous, and surprising results.
Why it's a good option for Virgin River fans: Listen clearly; you have never known small town family-based drama like the small town family-based drama on Last Tango in Halifax, OK? There are several storylines in this series that I defy anyone to see coming as they watch the first episode, and I guarantee that these complex relationships and plot twists will have you at least considering staying up all night to watch all five seasons.
Stream Last Tango in Halifax on Netflix. (opens in new tab)
Sweet Magnolias (Netflix)
Now for a show which is a very natural option for anyone missing Virgin River. Sweet Magnolias focuses on the lives and loves of three lifelong friends, Dana Sue (Brooke Elliott), Helen (Heather Headley), and Maddie (JoAnna Garcia Swisher) as they deal with family, career, and romantic troubles (and sure, some big wins, too) in their small hometown of Serenity, South Carolina.
Why it's a good option for Virgin River fans: Again, we have the small town factor working for us, but viewers will also get a show filled with some complex relationship statuses (both romantic and not), lots of steamy chemistry between the leading ladies and their hot love interests, and a cast of characters who have to make some big decisions (and do make some major mistakes) along the way. It's Virgin River with fancier clothes and southern accents, y'all. Watch it!
Stream Sweet Magnolias on Netflix. (opens in new tab)
Gilmore Girls (Netflix)
Gilmore Girls is the story of the titular Gilmores, former teen mom Lorelai (Lauren Graham) and her now teen daughter Rory (Alexis Bledel), as they endure all of the trials and triumphs associated with finding your path in life, falling in love, and growing up, while reconnecting with Lorelai's strict and frequently disapproving parents, who are going to help Rory get into the college of her dreams whether they overstep their bounds or not.
Why it's a good option for Virgin River fans: While definitely more humorous than Virgin River and dramatic in a less twisty / soap opera way, Gilmore Girls absolutely delivers the goods. You'll get teen angst, plenty of adult romance, more than one love triangle, roughly a metric ton of family drama, adorable romances for several side characters, and lots of laughs, coffee, and Pop Tarts for good measure. The show is a treat that will warm your heart in several ways.
Stream Gilmore Girls on Netflix. (opens in new tab)
Sanditon (Amazon)
Sanditon is a Regency-set historical romance, which follows young Charlotte (Rose Williams) as she leaves her family behind to spend the summer with new friends in the eponymous seaside resort town. While she's embraced by several members of the community, spirited Charlotte also notices how scheming and ambitious many of those in the seemingly tranquil town truly are as she tries to make friends and find her place in this new home.
Why it's a good option for Virgin River fans: Remember when Mel and Jack were silently pining for one another because he was still attached to dumb ol' Charmaine? Well, as Charlotte and Sidney (Theo James) start their enemies to lovers transition, there is a lot of solid pining to be had. There are also several juicy stories involving things like forbidden love, an unfortunate fish out of water plot, double-crossing deals, and more than a few instances of unrequited love.
Stream Sanditon on Amazon. (opens in new tab)
Everwood (HBO Max)
When world famous Manhattan brain surgeon Andy Brown (Treat Williams) is widowed, he moves himself and his two kids to the idyllic mountain town of Everwood, Colorado for a fresh start. Once they arrive, Andy and his teen son, Ephram (Gregory Smith) begin to learn how to open up and either love again, or for the first time, and have to navigate all of the ups and downs that come along with that.
Why it's a good option for Virgin River fans: Are you seeing a theme among these choices, yet? Everwood will give Virgin River fans more folksy townspeople, medical subplots (one of which involves Ephram's romantic life in a big way), difficult family /community dynamics, forbidden romance, and all of the charm and ooey gooey love stuff you find in a typical episode of the Netflix hit.
Stream Everwood on HBO Max. (opens in new tab)
Five Bedrooms (Peacock)
When five singles - Ainsley (Katie Robertson), Ben (Stephen Peacocke), Liz (Kat Stewart), Harry (Roy Joseph), and Heather (Doris Younane) - who are all desperate to buy a home, but can't afford it on their own, decide to pool their funds and buy a five-bedroom house to share, their relationships with each other, and their lives as a whole, change in new and surprising ways. And, yes, some of those ways involve sexytimes.
Why it's a good option for Virgin River fans: You guys! I know it probably sounds like Five Bedrooms will be a raunch fest, but this Australian dramedy manages to be sweet and sexy, just like a little Netflix gem we all know and love. All of the main characters have to deal with some serious crossroads and / or changes to their lives over the course of eight episodes, and each of them will either surprise or delight you, and oftentimes, both. It's perfect for when you want to settle in with some relationship drama.
Stream Five Bedrooms on Peacock. (opens in new tab)
Now, if these options don't keep you busy while we await word on Virgin River Season 4, nothing will! In the meantime, be sure to check out our guide of upcoming romantic TV shows and to take a look at the 2021 fall TV schedule for even more viewing options!
Yennefer's apprentice, Gilmore Girl; will Vulcan nerve pinch pretty much anyone if prompted with cheese...Yes, even Jamie Fraser.
Your Daily Blend of Entertainment News
Thank you for signing up to CinemaBlend. You will receive a verification email shortly.
There was a problem. Please refresh the page and try again.