What WWE Legend John Cena Thinks About The Rock's Potential Return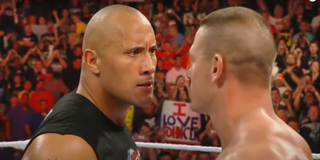 The WWE universe is swirling with excitement regarding the possible return of ten-time world heavyweight champion Dwayne "The Rock" Johnson, and fans aren't the only ones getting hyped over the idea of the current A-list actor and major Disney star making a wrestling comeback. Fellow WWE-to-Hollywood import John Cena, who has had a pretty substantial WWE feud with The Rock over the years, took the time to address the Jungle Cruise star's potential return to the ring, and he honestly seems super positive about it!
In a socially distanced video interview with ET, John Cena sounds like he is all for The Rock returning to the WWE in whatever capacity it could happen. Cena recently returned to the ring himself, and didn't hold back talking about how positive it would be for everyone involved if The Rock would do the same and bring his talents back to the wrestling ring. According to Cena, a return to WWE for The Rock would be a "gracious" move that not only would be good for WWE, but for The Rock as well. Here it is in his own praise-filled words:
While John Cena "the fan" may be hopeful that The Rock returns to the ring as a fan, you'll notice he doesn't mention anything about what he thinks as a fellow professional wrestler, as the two have been at each other's throats a number of times in and out of the ring. The Rock returning to WWE would make for incredible TV, though, even if he only returned specifically to chide Cena as he builds up a quick rivalry with Roman Reigns going into SummerSlam 2021. Having the two back at WWE at the same time, even if they aren't both actively brawling each other, could only mean great things for fans and WWE's numbers.
As great as it would be to see the return of The Rock, especially while John Cena is back in the ring as well, Dwayne Johnson doesn't seem to have much to say on the matter. When ET caught Johnson at the world premiere of Jungle Cruise to ask the star about those WWE return rumors, Johnson simply stated there was "nothing" he can tease about the matter. Which isn't exactly proof.
It may just be that he didn't want the interview focus to shift from Jungle Cruise's release, although his co-star Emily Blunt quickly swooped in to save Dwayne Johnson from speaking much more about the rumors by joking that she would be joining him. It's also possible that Johnson didn't want to allude to a return at all, so that no plans were spoiled for fans. Of course, it's also a possibility that there are just no merits to the rumors, although fans continue to think otherwise, and would do so even if Johnson swore on a Bible that he wasn't returning.
Whatever the case may be, John Cena is still showing his support and hopes for The Rock to make a big return. Dwayne Johnson is plenty of busy with his film career at the moment, of course, but Cena also has his own big projects coming out, with F9 recently released and The Suicide Squad soon following suit, not to mention his upcoming spinoff series The Peacemaker. And still he found the time suitable to make a return. Only time will tell if Johnson does end up back in the squared circle to ask everyone if they can smell what he's cooking.
Constantly thinking about books, coffee, and the existential dread I feel from Bo Burnham's Inside. While writing I'm also raising a chaotic toddler, who may or may not have picked up personality traits from watching one too many episodes of Trailer Park Boys.
Your Daily Blend of Entertainment News
Thank you for signing up to CinemaBlend. You will receive a verification email shortly.
There was a problem. Please refresh the page and try again.