Watch Zooey Deschanel Recreate The Iconic New Girl Opening For Her TikTok Debut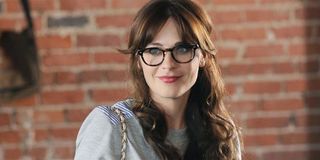 More and more celebrities are joining and creating a presence on TikTok, which can give fans a closer look into the private lives of their favorite stars. And of course, there's even the occasional cool throwback. Zooey Deschanel recently climbed on the TikTok train as well and made a pretty cool video to kick things off. For her debut on the video social media platform, Deschanel recreated the iconic intro to her fan-favorite show, New Girl.
New Girl wrapped up its seven-season run three years ago, but it's still pretty fresh in fans' minds. Leading lady Zooey Deschanel's recent TikTok is unmistakable as an ode to the show, though it also includes a small little twist at the end that allows her to introduce herself on the platform. You can check the video out down below, but be warned because the nostalgia of the post will have you wanting to binge the series for sure:
Okay, so there are a number of differences between Zooey Deschanel's TikTok and the real intro to New Girl, and the most glaring has got to be the absence of her three roomies. It would have been epic if Jake Johnson, Max Greenfield, and Lamorne Morris had made appearances in the video for a little New Girl reunion. It's honestly just not the same without them.
In the original opening for New Girl, Jess' (Zooey Deschanel's character) roommates are going through the motions of the choreography apathetically, with Jess as the central focus. Despite this, you just can't help but feel there's just something (rather, three people) missing from Deschanel's recreation. Sure, Jess' roommates may not be acting super into the intro, or really any of Jess' quirky shenanigans, but fans know that deep down, they really do care for their roommate and have fun with her.
It's awesome to see Zooey Deschanel throwing it back to her New Girl days and, honestly, it's a pretty perfect intro to TikTok as well, but I do miss the boys! I miss their epic Los Angeles art district apartment, too. In the TikTok, their brick laden, Nick-fixed apartment is replaced by a beautifully designed and decorated home, probably one that belongs to Deschanel herself.
While the apartment was cool, it's also interesting to see the blatant differences between Zooey Deschanel and her character. Worth noting, it totally makes sense that she's got a beautiful home, considering thatt she's now dating one of the Property Brothers and has probably gained some major reno skills herself since the relationship has bloomed.
Other than getting some remodeling work in with her handy boyfriend and doing a little voice acting, Zooey Deschanel hasn't been super active in Hollywood since her time on New Girl ended other a few appearances as herself on segments like Carpool Karaoke. But while it looks like she's just been mostly chilling, she is heading a new TV matchmaker project that would make Jessica Day proud. And we may get some more sneak peeks into what she's up to now that she's made her TikTok debut. We'll just have to wait and see!
Constantly thinking about books, coffee, and the existential dread I feel from Bo Burnham's Inside. While writing I'm also raising a chaotic toddler, who may or may not have picked up personality traits from watching one too many episodes of Trailer Park Boys.
Your Daily Blend of Entertainment News
Thank you for signing up to CinemaBlend. You will receive a verification email shortly.
There was a problem. Please refresh the page and try again.