Remember Andy Milonakis? The Waiting Star Is On TikTok Now And Sharing Great Throwbacks, Like How He Got Cast In The Classic Ryan Reynolds Film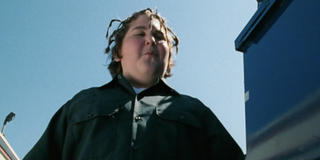 There are plenty of celebrities who have taken the plunge and started their own TikTok, some even meshing fandoms with some A+ content. In a blast from MTV past, Andy Milonakis is now on TikTok too, remember him? The bizarre video creator made home video skits before it was cool and landed his own show because of it before going on to appear alongside Ryan Reynolds in Waiting. Amid his signature almost fever dream videos, Milonakis shares awesome throw backs, like the story behind his Waiting casting.
Andy Milonakis is basically the perfect celebrity to have a TikTok; it's almost like the platform was made for him, even though he is in his 40s these days. Age hasn't really changed him much, though, because he's still slinging sweet raps and living exactly how he wants to live. TikTok gives him a simple platform to answer fan questions, though, and he does just that when one fan asks him to go into depth about how he ended up on Waiting, and it's kind of an interesting story.
Apparently the Andy Milonakis Show star got the part on Ryan Reynold's Waiting after the casting director saw him rapping in one of his viral videos and thought it he would be good to audition. It's worth noting that Milonakis' viral video days started well before the time of Youtube, so the idea of casting someone based on videos they put on the internet was a way newer idea than it is now, or even 10 years ago. You can check out the TikTok below, where the rapper/comedian/actor explains his role on Waiting:
Andy Milonakis explains that he actually had already been found on the internet by some pretty big names, and already had been on Jimmy Kimmel and had his own show on MTV by the time the Waiting casting director found him. So it's fair to say that Milonakis got "discovered" twice. This is honestly a pretty amazing feat, seeing as most people who want to make it in Hollywood spend their whole lives trying.
The comments of Andy Milonakis' TikTok are full of fans reminiscing to the time they would watch his show or Waiting, saying how much the two projects meant to them and how funny they still are, almost 20 years later. There are plenty of fans quoting the film, which is bringing out more nostalgia for those who watched the film, and other commenters are asking more questions in hopes that Milonakis will go more in depth about his Hollywood experience.
Andy Milonakis is still active in Hollywood, although not as much as back when Waiting was brand new. He is set to appear in the comedy King Knight alongside Matthew Gubler; Aubrey Plaza also has a voice acting part. It's awesome to see someone with such a unique Hollywood start still finding success in the brutal word, and it's even cooler that Milonakis still making weird videos for all his fans on TikTok.
Constantly thinking about books, coffee, and the existential dread I feel from Bo Burnham's Inside. While writing I'm also raising a chaotic toddler, who may or may not have picked up personality traits from watching one too many episodes of Trailer Park Boys.
Your Daily Blend of Entertainment News
Thank you for signing up to CinemaBlend. You will receive a verification email shortly.
There was a problem. Please refresh the page and try again.