Kylie Jenner Is Celebrating Her Upcoming Birthday By Going Topless And Covering Herself In Gold Dust, As A Kardashian Does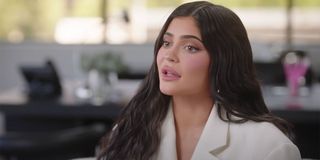 Kylie Jenner is a billionaire, so it's easy to forget the former Keeping up with the Kardashians star is still in her early twenties. Next week, however, she will officially turn 24 and Jenner is getting into the celebrations early by going topless and covering her body in gold dust, as many a Kardashian has done before her.
This week, Kylie Jenner took to Instagram to share a new look at her birthday collection for Kylie Cosmetics, which will be launching on her actual birthday. That event will fall a few days from now on August 10. The new post has her topless and covered in gold, and she's taking a page from Kim Kardashian and Kourtney Kardashian.
I don't deny a Kardashian/Jenner always looks good in gold from head to toe, but I'm not sure Kylie Jenner even needs the added boost from the post to sell her wares. Kylie Cosmetics is a wildly popular brand and product availability has led it to sell out in the past just via the marketing Kylie's team is willing to put together. Meanwhile, if she is going to advertise, she might as well take a page from the book of her older half sisters.
We have, in fact, seen the gold trick in the past. Back in 2017, Kim Kardashian (naturally) broke the Internet by using gold dust to cover her naked form -- also for her own makeup line. If you've never seen the striking image, you can check it out below.
It's a move she might have actually taken from her older sister Kourtney Kardashian, who also debuted a gold-covered look as part of her work with Manuka Honey back in 2016. Since then, it seems the other Kardashians have gone a little harder with how much gold dust they are willing to use.
Khloe Kardashian has already seen the post and commented a couple of times, shooting Kylie Jenner some heart emojis as well as a comment that reads "Oh my soul." The other members of the Kardashian clan haven't yet commented, but Kylie Cosmetics' own social media feed cheekily stated "birthday behavior" on the post.
Obviously covering oneself in gold dust or paint certainly leads to attention; however, what I'm really interested in knowing is just how viral this post goes. At the time of this writing, it's already been liked by nearly 10 million Instagram users. though I'm personally wondering if this post will be as memorable as the pic Kylie Jenner used of herself in a bikini to ask people to vote. That post led to thousands of voter registrations -- like 48,000 -- and while it wasn't her most liked post ever, it's certainly the image that sticks out to me when I think of Kylie Jenner, her famous family, and how much of an impact they can have on her fans.
Regardless, here's wishing a happy birthday to Ms. Jenner and here's also hoping all that gold stuff washes off fully before her birthday hits. If there's one thing I know about shimmer, it tends to stick in the nooks and crannies.
Reality TV fan with a pinch of Disney fairy dust thrown in. Theme park junkie. If you've created a rom-com I've probably watched it.
Your Daily Blend of Entertainment News
Thank you for signing up to CinemaBlend. You will receive a verification email shortly.
There was a problem. Please refresh the page and try again.