How Much Money Kylie Jenner's Cosmetic Business Made In 18 Months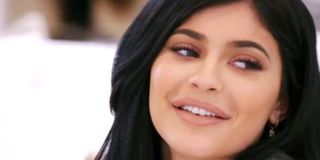 Kylie Jenner knows a thing or two about business. In fact, she apparently knows 420 million things, as recent reports suggest her makeup brand, Kylie Cosmetics, earned that much in USD in just a year and a half. Kylie Jenner's mom, Kris Jenner, recently gave an interview at CNBC's Squawk Alley at the Women's Wear Daily CEO Summit and confirmed the news. The KUWTK matriarch and "momager" praised her daughter, suggested they have big ideas in the works, and said Kylie Cosmetics earned $420 million in its first 18 months. Jenner said,
But the excitement could be even more significant by the end of this year. For example, People says Kylie Cosmetics could see a 25% increase in revenue this year and land at around $386 million for 2017 alone. Plus, without naming specific companies, Kris Jenner said Kylie Jenner and Kylie Cosmetics have spoken with representatives from cosmetics conglomerates who have reached out to discuss the possibility of creating a partnership. Kris Jenner said such a deal could be a step in the right direction, but she cannot see her daughter stepping out of the driver's seat. She said,
Kris Jenner also talked about the early days when she and Kylie Jenner hooked up with a creative team to make the lip kits that they used as an exploratory product to gauge the success of the company. Of course, the KUWTK cameras documented much of the exciting event when Kylie Jenner's website crashed three times because of the amount of online activity and the lip kits sold out in a matter of moments. It's fun to think that all of this is happening fast for Kris Jenner, too.
Yes, Kylie Jenner's wealth is the sum of many efforts. For example, many people know Kylie Jenner as a reality television personality thanks to Keeping Up with the Kardashians and Life of Kylie. (Other people know her as the KUWTK celebrity who got a lip-augmentation procedure and supposedly has a baby on the way.) However, the most incredible trait of Kylie Jenner's might be her business savvy.
Even without Kylie Cosmetics, Kylie Jenner already had a successful fashion line with her supermodel sister, Kendall Jenner. But in the past couple of years, Kylie Jenner has cemented herself as the one to watch when it comes to marketplace prowess. In fact, new reports say Jenner is on track to become a billionaire by the time she is 25. It sounds entirely believable, too. After all, Jenner was the youngest person on Forbes' list of the highest-earning celebrities for last year.
It is fascinating to see Kylie Jenner's astronomical success happening in real time. Of course, we'll be here to give you the scoop if and when she ever crosses that billion-dollar mark.
Your Daily Blend of Entertainment News