After American Pickers' Danielle Colby Shares Candid Message, Mike Wolfe Likes Post Related To Frank Fritz's Exit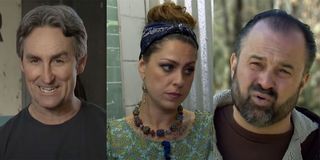 By now, two things are becoming clear: the first is that History is bringing back American Pickers and soon. The second is that Frank Fritz, despite stating he has a clear desire to return to his role on the longtime series, has not been asked back. This week, co-star Danielle Colby took to social media to share her complicated feelings on what happened leading to Fritz's exit, also sharing her support of star Mike Wolfe. Now, Wolfe has reportedly shared his own support for Colby by liking her post on Instagram.
This is all very complex, but the rub is that this week Danielle Colby wanted to share her point of view about what happened with Frank Fritz leading to his exit, following comments Fritz himself had made. Fritz had admitted to a slew of health problems and a battle with alcohol (that led to rehab) as the main causes behind his self-imposed lieu of absence on the series last week. (His last American Pickers episode aired in March of 2020.) However, according to the reality star, he's back in shape and would have liked to return to the show.
Following his comments, series lead Mike Wolfe made a statement confirming that Frank Fritz had not been asked back. That seemed to be the end of things, but then Frank Fritz made some further comments about having to work through an alcohol problem that fed the conversation again. So, this is where Daniell Colby came in. The burlesque dancer and frequent TV personality broke her silence on the casting change, noting that she didn't want to speak ill of someone on Instagram. Regardless, she also was honest about her feelings on the matter, and that it needed to be said "Frank caused so much pain for himself that it has been hard to watch."
With me so far? For his part, Frank Fritz has said he's sober now and ready to work, but the problem is that he left the series of his own accord, forcing American Pickers to pivot without him. Unfortunately, the show did great without the dynamics between Frank and Mike Wolfe. Given the history there, it seemed like History felt parting ways longterm was the better path.
After Colby penned her post, The Sun reports that Mike Wolfe himself liked the post on Instagram. Mike Wolfe has been relatively quiet since he made his official statement on the matter, so it's nice to hear he shared support for Colby, who is also a longtime friend. It's also worth noting that Danielle Colby shared a separate post regarding her feelings on social media in general that could easily tie in with what has happened with this whole Frank Fritz saga. She advised:
When Is American Pickers Returning And What Do We Know?
So, it's worth noting there's been no official press release confirming American Pickers is renewed for Season 23; however, new episodes are 100% coming. History's own website says the next set of episodes will be hitting the schedule on August 9 at 9 p.m. ET. To note, the fact Mike Wolfe did confirm Frank Fritz was not asked back to the show was our first hint that the show's new season or new episodes were already being planned. Then, in a post earlier this week, Danielle Colby also revealed the show is moving forward with filming additional new episodes. American Pickers has run split seasons before with episodes spaced apart, so this could all be work for the current season (22) or it could be new work (for 23), but it's at the very least an indication that American Pickers shows no signs of slowing down. She posted:
You can see what else is hitting TV in the coming weeks with our full fall TV premiere schedule. Meanwhile, here's hoping we get more details about the upcoming season soon. I'm sure we could all do with a little positive news on the American Pickers front.
Reality TV fan with a pinch of Disney fairy dust thrown in. Theme park junkie. If you've created a rom-com I've probably watched it.
Your Daily Blend of Entertainment News
Thank you for signing up to CinemaBlend. You will receive a verification email shortly.
There was a problem. Please refresh the page and try again.