Jackass 4's Johnny Knoxville Has Found His Follow-Up And The Modern Family Co-Creator Is Involved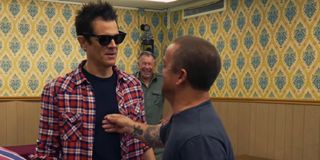 It looks like Johnny Knoxville has found a new project following Jackass 4. Given the star has done more than enough for the franchise, which started out as an MTV reality stunt show in the early 2000s, it now looks like his next project will not be Jackass-related. Instead, he'll be teaming up with one of the Modern Family co-creators for a brand new streaming series.
Johnny Knoxville has starred in a total of six Jackass movies on top of the Jackass series, plus some extended cuts. The most recent in the franchise was Bad Grandpa, which came out in 2013; aka not particularly recently. Since the OG Jackass guys, including Knoxville, are getting a little old (no offense), none of them were planning on making another movie before the idea for Jackass Forever was born. I mean, you gotta consider all of the stunts they will be doing. However, with some added, younger, cast members, Jackass Forever moved forward in all its beautiful Jackass glory. But this time, it really could be the last time, at least for Knoxville and co.
With Jackass Forever releasing later this year, it was only just a matter of time before Knoxville and the others started looking for new projects. According to THR, Johnny Knoxville has been tapped to star in new Hulu comedy Reboot opposite none other than Keegan-Michael Key, with Modern Family co-creator Steve Levitan at the helm, which will be his first follow-up to the Emmy-winning series, which came to an end last year. Hulu did only give Reboot a pilot order, meaning that it has yet to be picked up as a series.
Per the outlet, the synopsis actually sounds a little meta:
It's definitely an interesting concept and seems like it's one to look forward to. Currently Johnny Knoxville and Keegan-Michael Key's roles are unknown, so it's hard to tell whether or not they will play either the cast or an old or new showrunner for the series within a series or something else entirely. With two big names already attached to the show, as well as the co-creator of arguably one of the best sitcoms of our time, it wouldn't be surprising if Hulu did choose to move forward with Reboot. At least I'm hoping.
Johnny Knoxville is known for more than just the Jackass franchise, as he's been in a number of movies. If Hulu gives Reboot a series order, it will mark one of Knoxville's first actual TV roles outside of brief appearances including Drunk History and in SpongeBob. Hopefully it will be greenlighted.
Meanwhile, Steve Levitan, who serves as creator and executive producer, co-wrote the pilot alongside John Enbomb. Enbomb and Danielle Stokdyk also executive produce Reboot, which is from 20th Television. It's interesting to point out that Levitan extended his deal with 20th in 2019 aka the studio behind Modern Family, which ran on ABC for 11 seasons.
Stay on the lookout for any more updates on Reboot and check out what's coming to Hulu soon, since it may be awhile before we hear about Reboot.
Passionate writer. Obsessed with anything and everything entertainment, specifically movies and television. Can get easily attached to fictional characters.
Your Daily Blend of Entertainment News
Thank you for signing up to CinemaBlend. You will receive a verification email shortly.
There was a problem. Please refresh the page and try again.