4 Lessons Law And Order: SVU Should Learn From Organized Crime For Season 23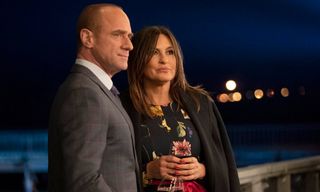 Law & Order: SVU changed things up in Season 22 by bringing back Elliot Stabler and swiftly launching the Law & Order: Organized Crime spinoff. The SVU backdoor pilot followed by the Organized Crime series premiere delivered some killer ratings for NBC, and it quickly became clear that fans are still invested Mariska Hargitay's Benson and Christopher Meloni's Stabler despite all the years apart. The two shows had some obvious similarities, but also enough differences that I think there are some lessons that they could learn from each other with SVU heading into Season 23 and Organized Crime looking ahead to Season 2.
Now, SVU wouldn't be approaching 500 episodes after more than two decades on the air if it hadn't found a winning recipe for primetime programming, so there aren't really many shows that could teach SVU much of anything about longevity. In fact, other shows even outside of the genre could probably look to SVU for some ideas of how to keep on going for years on end. But Law & Order: Organized Crime actually has some things that could make SVU better, as a younger and fresher series set in the same universe. Read on for some ways SVU could and should follow Organized Crime's example!
Serialized Stories Are Good
Law & Order: SVU puts the "procedure" in procedural by almost exclusively pitting Benson and Co. against a new bad guy in each episode, with the occasional multi-parter and/or criminal returning well after making their original debut. And that has obviously worked for SVU since it has run 22 seasons and is already guaranteed another two, but Organized Crime proved some that some serialization is a good thing.
The first season of Organized Crime ran for eight connected episodes that built up the tension and danger to a breaking point by the finale, so there was a kind of suspense that rarely lasts beyond a single episode of SVU. That's not to say that SVU should go serialized for a full season or even for eight episodes at a time, but I'd be on board with more two- and three-parters in Season 23 for more layered stories, more suspense, and less of a predictable format each week.
Relationship Development Raises Stakes
Law & Order: SVU has developed some strong relationships over the years, but the show is generally more about the cases than the characters, which may be why some fans have latched so hard onto dynamics like Benson/Stabler and Rollins/Carisi. Mostly, though, viewers get to know the characters via how they investigate, whereas Organized Crime spent some more time developing relationships. Some were romantic, while others were platonic, while still others were antagonistic. And then whatever is going on between Benson and Stabler, which even they don't seem to really understand!
Some of the bonds and relationships on Law & Order: Organized Crime were pretty messy by the end of Season 1, but they helped me invest in a fair amount of characters, particularly Bell as we got to see both her home life with her wife and her cautious work dynamic with Stabler. And as much as I was crying out for justice for Kathy when Stabler locked lips with Angela Wheatley, that dynamic still hooked me into Angela's story.
And honestly, I would watch a full web series of Richard Wheatley just dropping gossip to try and cause problems like when he made his announcement about the love of Stabler's life. Admittedly, it's possible that I was just more invested in characters and relationships because the Organized Crime plot wasn't the most engaging for me, but they were what mostly pulled me in. And there was arguably development on Organized Crime for SVU characters that didn't carry over to SVU.
Crossovers Can Be Frequent If They're Small
Law & Order: Organized Crime launched with a two-part crossover with SVU, and the two shows delivered a couple other big crossovers before the seasons came to an end in June. And that was probably enough of the big crossovers, since both shows need to be able to stand on their own without borrowing characters for major arcs on a weekly basis. That said, there were some smaller crossovers that prove the shows can include connections without sharing a primetime storyline over two hours every week, with SVU stars Peter Scanavino and Demore Barnes joining Mariska Hargitay in making smaller appearances.
Those smaller crossover appearances not only delivered treats for fans who watch both shows, but also allowed SVU and Organized Crime to feel like they truly share a universe rather than just coexist for the occasional crossover. It made sense for Carisi to show up in his position as an ADA. It made sense for Barnes to have a part to play as somebody higher up the NYPD ladder. And of course it made sense for Benson to show up fairly frequently for character beats with Stabler.
If anything, it would have been weird if SVU and Organized Crime didn't establish that Benson and Stabler weren't in contact considering all their history and how much they still mean to each other despite how Stabler left. The smaller crossovers of Mariska Hargitay over to Organized Crime really worked from a character standpoint (and didn't hurt in establishing the SVU spinoff). Unfortunately, SVU doesn't feature Organized Crime players quite like Organized Crime brings over SVU stars, and more mini crossovers on the SVU end could be great in Season 23.
Trying New Things Pays Off
Law & Order: Organized Crime brought some big changes to the Law & Order corner of the Dick Wolf universe, and another show is on the way in the 2021-2022 TV season to continue mixing things up and create Law & Order Thursdays to follow One Chicago Wednesdays on NBC. Ties between the upcoming Law & Order: For the Defense to either of the other shows are inevitably not going to be as strong as between SVU and Organized Crime thanks to the bond between Benson and Stabler, but there is going to be room for change. And that's a good thing.
If SVU bends a bit to include elements of both of its spinoffs, then it could rejuvenate a show that has gotten fairly formulaic in its long run, for better or worse. SVU is certainly strong enough to try some new things without losing hold of the premise that has kept it going with a loyal fanbase for more than two decades. Plus, even though it will air in the middle slot on Thursday nights, SVU is the anchor of an unprecedented primetime lineup.
Unlike One Chicago, all three Law & Order series will center on law enforcement, which hasn't even been done over on CBS with the long-running NCIS franchise, and won't be done quite the same with the FBI corner of the Dick Wolf franchise even when it gets its second spinoff in the next season. SVU can and should try new things after its successful launch of Organized Crime as a show that stands alone but still can deliver close, emotional connections.
Whether or not Law & Order: SVU takes any of these lessons from the success of Organized Crime remains to be seen, and neither show will be back with new episodes on NBC until the fall. Still, there are plenty of TV options between now and then to pass the time, and you can also find the full runs of both SVU and Organized Crime streaming on Hulu (opens in new tab) now.
Resident of One Chicago, Bachelor Nation, and Cleveland. Has opinions about crossovers, Star Wars, and superheroes. Will not time travel.
Your Daily Blend of Entertainment News
Thank you for signing up to CinemaBlend. You will receive a verification email shortly.
There was a problem. Please refresh the page and try again.