Real Housewives Of Beverly Hills' Lisa Rinna Says 'Epic' Screaming Fight Involving Erika Jayne Was Cut From Latest Episode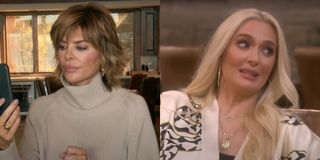 (Image credit: Bravo)
On this season of The Real Housewives of Beverly Hills, it's all about Erika Jayne, her divorce to Tom Girardi and their ongoing legal troubles. The reality star has been very frank, or as much as she can legally be, about the relationship with all of her castmates, even recently sharing that Girardi had cheated on her in the past. But according to co-star Lisa Rinna, who has gone to bat for Erika Jayne in the past, we still might not be getting the whole picture. In fact, an "epic" screaming fight apparently took place and was cut from the latest episode.
Things definitely got heated in the August 4 episode of The Real Housewives of Beverly Hills. Series star Garcelle Beauvais brought up some personal information about Erika Jayne to the entire group, which ultimately sent Jayne into a sobbing wreck. Somewhere amidst it all, though, a screaming match ensued between Jayne and a Bravo producer, a situation that apparently got left on the cutting room floor. Lisa Rinna made the allegation on her Instagram stories and said that she was going to "get in trouble" for sharing. She wrote (via US Weekly):
Now, why was Erika Jayne screaming at Bravo producers, you might ask? An insider for Page Six claims it was all over a private conversation caught on a hot mic, which Bravo then had to manufacture into a seamless storyline. Essentially, Erika Jayne had spoken to co-star Crystal Kung Minkoff privately about getting phone calls from ex Tom Girardi. The producers then asked Kung Minkoff to bring it up on camera and then Beauvais as well later on. Supposedly, Jayne was upset that she "took the bait."
If true, the screaming fight with the producer obviously got cut from the latest episode because it would disrupt their hard-fought illusion that there is no influence on the storylines. Typically on The Real Housewives, fans will never actually see a producer unless things get physical (as it did recently between Sonja Morgan and Bershan Shaw). But nevertheless, the actual information that created all of the drama on Real Housewives of Beverly Hills is seemingly over something very small regardinng Tom Girardi. Erika Jayne had revealed in the episode:
Prior to that, while on the hike in La Quinta, Garcelle Beauvais had point-blank asked Erika Jayne if she had a heads up about the lawsuits against Tom Girardi that made her want to file for divorce. Jayne has been accused of as much publicly by prosecutors, who have insinuated that the divorce was a sham to further hide assets from victims in the cases. However, she flat-out denied the assumption to Beauvais. About the divorce, she said it was "a long time coming" and that Girardi's personality had "completely changed."
Tom Girardi's cognitive decline is reportedly due to dementia. He has since been put under a conservatorship, with his brother as the conservator. The embezzlement and Chapter 7 bankruptcy cases are still ongoing, though, and Radar Online has reported that producers will be handing over Erika Jayne's unaired footage from The Real Housewives of Beverly Hills to the court soon.
A lot more dramatic arguments are expected in the last few episodes of The Real Housewives of Beverly Hills. Supposedly, something huge happens between Erika Jayne and co-star Sutton Stracke – and it sounds a lot worse than Stracke walking in on Crystal Kung Minkoff while naked.
I am a vegan feminist. I'm fascinated by all things space/stars. I love film history, reality television, and my cat Bubbe.
Your Daily Blend of Entertainment News
Thank you for signing up to CinemaBlend. You will receive a verification email shortly.
There was a problem. Please refresh the page and try again.