9-1-1 Star John Harlan Kim Shares Bruised And Bloodied First Look At Season 5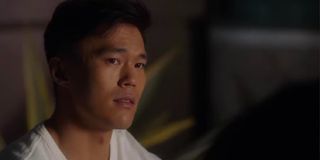 Fox's flagship first responder drama 9-1-1 is gearing up for Season 5's premiere on September 20, and fans are starting to get very excited for what's to come. Star John Harlan Kim, who portrays Chimney's half-brother Albert Han, recently shared a first look at the upcoming season, previewing just what his character will be getting into.
John Harlan Kim took to Instagram during the first week of filming for Season 5 to provide fans a glimpse of at least one apparently painful situation that Albert will be dealing with in Season 5. At the end of the fourth season, fans will recall Albert officially becoming a firefighter like his brother, and from the looks of his post, he will be diving completely into his new responsibilities face-first.
The actor was upped to series regular status for 9-1-1's fourth season, and like most of the show's main characters, Albert quickly found himself on the brink of death when he got into a car accident due to a drunk driver. While he was fighting for his life, Kenneth Choi's Chimney and Jennifer Love Hewitt's Maddie were welcoming a new one into the world. Thankfully, he made it through everything Season 4 threw at him, and now that Albert is a full-blown firefighter, it's not so surprising to see John Harlan Kim all bruised and scratched up. Or at least made up to look that way.
9-1-1 Season 5 is going to kick things off in a big way, as it was recently teased that a citywide blackout will be the new season's inciting incident. Fans have shared some pretty bonkers photos and videos from who watched the filming go down in Los Angeles show, with wild animals like camels, emus and alpacas running around the city. The series is known for going even bigger than normal for its season premieres and finales, and the upcoming return will be no exception. Maybe Albert gets his face all busted up while trying to save people in the dark.
Beyond the blackout, fans still don't know too much yet about what will happen with the 118 in Season 5. The show will definitely further explore Maddie's postpartum depression, which wasn't addressed very heavily in Season 4. And fans of both 9-1-1 and spinoff 9-1-1: Lone Star can definitely expect another mega-crossover sometime next year when the spinoff is set to return. Creator and showrunner Tim Minear revealed that he plans for the next crossover to be a two-parter, rather than have the majority take place in just one episode of one show, as it has gone before.
It will be interesting just what will happen in the upcoming season of 9-1-1, since the series has a knack for upping its own ante. First there was an earthquake, then a tsunami, then a mudslide and now there's a blackout that will surely put the City of Angels into a chaotic frenzy. Seeing Albert finally get more spotlight will be something to look forward to in the upcoming season, but will he be with the 118 or a different firehouse? Only time will tell.
Season 5 of 9-1-1 will premiere on Fox on Monday, September 20 at 8 p.m. EST.
Passionate writer. Obsessed with anything and everything entertainment, specifically movies and television. Can get easily attached to fictional characters.