The Office: Every Christmas Episode, Ranked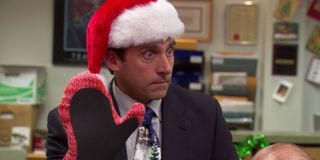 The Office has its fair share of amazing episodes, filled with awesome moments. We could watch how Michael can be a good boss sometimes, or we can see the most heartwarming moments that the series has to offer. However, some of my favorite episodes that the show has aired are the Christmas episodes.
However, certain Christmas episodes rank above the rest. While it's always fun to watch The Office cast mess around and have fun, there's nothing quite like Christmas shenanigans. So today, we're going to rank all of The Office Christmas episodes, from meh to the very best.
7. Christmas Wishes (Season 8, Episode 10)
Season 8 of The Office, overall, was very bland. The season before, Michael (played by Steve Carell) had left Dunder Mifflin and the show just didn't feel the same, at least in my opinion, which was the case for the episode, "Christmas Wishes." Andy tries his hardest to make everyone happy but it seems an impossible challenge, and even Jim and Dwight are chastised for their constant pranks on each other - which is one of the best recurring bits of the series.
The episode feels a lot more dull than cheerful like a normal Christmas episode would have. Also, when Erin gets a little too drunk and goes off with Robert California, it's extremely uncomfortable - probably the most uncomfortable a Christmas episode could get. Definitely not the best that The Office can offer.
6. Dwight Christmas (Season 9, Episode 9)
Season 9 of The Office was full of ups and downs throughout the final season of the show. Michael was, again, not in this episode, and neither was Ryan or Kelly (played by Mindy Kaling), two characters that were very prominent on the show for years. When the party planning committee for the Christmas party drops the ball, the titular man of the episode springs into action to make the best party ever.
He plans out a whole entire event that is themed around a traditional Dutch Christmas, and even dresses up like Belsnickel who is actually a real Saint Nicholas-type figure across the world. Because of this, the party is saved. However, the reason why I put this so low is because Jim and Pam aren't their normal selves in this episode, with Pam less than thrilled about Jim's new job in Philadelphia. However, Dwight still saves the day in the end, making this at least a better Christmas episode than the prior.
5. Secret Santa (Season 6, Episode 13)
Oh, "Secret Santa." Season 6 of The Office is filled with plenty of fun moments, but this Christmas episode also brings out the baby in Michael Scott. When Phyllis is given the chance to dress up as Santa (which Michael has always done), this makes him extremely upset and he dresses up as Santa as well, trying to get people to sit on his lap. He even sinks his hat in the punch bowl in protest.
I don't know, man. Some people might not love this episode but I personally loved Michael's antics. While it's not the most cheerful Christmas episode, it still delivers great jokes along with a Christmas atmosphere that makes it enjoyable to watch. It's ridiculous and fun and that's exactly what I would want in a Christmas episode.
4. Classy Christmas (Season 7, Episodes 11 & 12)
In one of the many two-parters The Office has, if "Secret Santa" was Michael at his worst, "Classy Christmas" in Season 7 is Michael at some of his best. In this Christmas episode, Michael finds out that Holly will be returning to Dunder Mifflin, and in learning this, he ends up freaking out and cancels the whole Christmas party that Pam had set up, wanting to instead plan a 'Classy Christmas' party to impress her, ditching the Santa suit all together for a red-velvet jacket, only to find out that Holly is still with A.J.
As a shipper of Holly and Michael, I must admit this is one of my favorite episodes. Watching Michael go all out for Holly really shows him at his best, but when he's not with her, he's so sad and depressed. You'd think for a Christmas episode that wouldn't work but somehow, it's perfect here, and I wouldn't want it any other way.
3. Christmas Party (Season 2, Episode 10)
Season 2 of The Office is really where things started to make sense, and "Christmas Party" was one of those amazing episodes. Here, everyone is excited for Secret Santa, but when Michael opens his gift from Phyllis, he's upset that it's a homemade oven mitt and angered that Phyllis didn't go through the same financial issues that he did with getting a $400 video-iPod. So his solution was to turn the Secret Santa into a White Elephant.
This episode is pure chaos. From everyone wanting to somehow get the video-iPod, to Jim wanting to somehow get his teapot filled with mementos to Pam, even to Michael buying several bottles of vodka so he can make up for the mess that he caused - but somehow, this chaos melds together beautifully, and creates a pretty hysterical Christmas episode.
2. Moroccan Christmas (Season 5, Episode 11)
While I know that some people would rank "Christmas Party" above "Moroccan Christmas," I just can't get over this episode and the jokes that it gave. In Season 5, Episode 11, Meredith ends up getting so drunk at the Christmas party that she sets her hair on fire, and Michael ends up tricking her into going to a rehab center, creating a truly awkward Christmas moment.
But for me, this episode combines awkwardness with some of the best jokes I've heard on the show. The cold open to this episode and the prank featured had me rolling on the floor, laughing my head off when Dwight fell through a gift-wrapped "desk" that Jim had wrapped up, and the B-plot is one of the best in the show too - Dwight reselling hot Christmas toys at a ridiculous markup. I feel that this Christmas episode in particular is a great example of how to combine a serious topic as well as funny storylines into one, and they did that very well here.
1. A Benihana Christmas (Season 3, Episodes 10 & 11)
I still laugh just as hard as the first time I watched "A Benihana Christmas" to this day. Season 3 of The Office is, I personally think, the best season of the show, and this episode is one of the best of the season. Here, Michael is upset over his break-up with Carol, so Andy decides to take him out and get him happy again by drinking "Nog-a-sakes," which is one part egg nog, three parts sake.
Once they are good and drunk, Michael and Andy end up bringing new "girlfriends" back to the Christmas party, realizing he can't tell either one apart. Michael is truly the star of this episode, from listening to "Goodbye, My Lover" over and over again as a preview without buying it, to Michael literally putting a photo of his face over Carol's ex-husband's family ski trip and sending that as his Christmas card - you just can't beat it.
While Pam and Karen (played by Rashida Jones) forming a friendship is a sweet B-plot, and I do like how their conflict is resolved with Angela, I must say that Michael won this episode for me, and therefore, it needs to be the best.
Gosh, writing this makes me want to watch some fun Christmas movies on Netflix or get into the holiday feeling. Maybe even re-watch the Christmas episodes again for The Office. All I know is that when that time of the year comes around, I'll be ready to watch some of my favorite office workers celebrate the holidays again. Now, all we need is a Christmas reunion.
Your Daily Blend of Entertainment News
Big nerd and lover of Game of Thrones/A Song of Ice and Fire. Will forever hate season eight. Superhero and horror geek. And please don't debate me on The Last of Us 2, it was amazing!
Your Daily Blend of Entertainment News
Thank you for signing up to CinemaBlend. You will receive a verification email shortly.
There was a problem. Please refresh the page and try again.