Why Real Housewives Of Beverly Hills' Lisa Rinna Doesn't Think Erika Jayne Knew About Tom Girardi's Alleged Crimes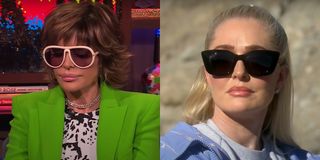 (Image credit: Bravo)
The Real Housewives of Beverly Hills' timeline is finally catching up to the severity of Erika Jayne's legal troubles with husband Tom Girardi. Specifically, the castmates have all just learned on the show about Girardi's involuntary Chapter 7 bankruptcy and how he allegedly embezzled funds meant for the victims of a plane crash. Erika Jayne's secrecy and exact involvement in the situation was openly discussed by her co-stars, but Lisa Rinna claims she doesn't actually think her longtime friend knew anything about the supposed crimes until they went public, and she has her reasons.
Lisa Rinna has been going to bat for Erika Jayne for some time, and has been seen consoling Jayne on this season of the Real Housewives of Beverly Hills, as well as defending her against snarky comments made by ex-Housewives. Now, Rinna is claiming that there is no way Erika Jayne could have known about the alleged criminal activity if you take into account her marriage's dynamics. Here's what she told Andy Cohen on Watch What Happens Live:
In recent Real Housewives of Beverly Hills episodes, Erika Jayne shared that lawyers at Tom Girardi's firm were calling her frantically and confused about her husband's apparent actions during that time period. Jayne had also alluded to witnessing a decline in Girardi's mental state, following a car accident four years ago, which was later reflected in Girardi's eventual dementia diagnosis, as well as the decision to establish a conservatorship over him. Lisa Rinna is apparently leaning into the hope that if the couple's legal teams weren't aware of what was going on, then neither was Erika Jayne.
However, fans (and even certain ex-Housewives) have questioned why Erika Jayne's Real Housewives of Beverly Hills co-stars have been treating her with white gloves – instead of the normal boxing gloves – about matters so serious. Most notably, many wonder why Lisa Rinna (the queen of "just own it" interrogations) isn't digging into Erika Jayne's story further. In fact, in the most recent episode, she even admonished co-star Garcelle Beauvais for questioning the situation at all. But Rinna took a little time at Andy Cohen's Clubhouse to set people straight in regards to their criticisms of her. She said,
Interestingly enough, Sutton Stracke has led the lone charge in the opposite direction by stating she wanted to distance herself from Erika Jayne and Tom Girardi's alleged crimes. She is also the only one vocalizing any hint of Erika Jayne's potential guilt. More recently, she even insinuated that she would have done things differently than Erika Jayne, but on the latest episode, Stracke said:
Legal doc signature are definitely where things go from anecdotal to highly litigious, and that legal situation has only intensified in recent months. A judge ruled that the victims in the class-action lawsuit can actually sue Erika Jayne for funds owed to them, on the basis that her companies received loans and luxury items from Tom Girardi's law firm. Now, according to Page Six, Girardi pled the Fifth in the lawsuit last week, so we'll have to wait and see where things will go next.
There are only a few episodes left in Season 11 of the Real Housewives of Beverly Hills, which airs Wednesday nights on Bravo. But as we all know, the reunion specials end up way more heated. Who knows how Erika Jayne will react to those like Lisa Rinna, who are in her corner, versus those like Sutton Stracke, who are hedging their bets more carefully…
I am a vegan feminist. I'm fascinated by all things space/stars. I love film history, reality television, and my cat Bubbe.
Your Daily Blend of Entertainment News
Thank you for signing up to CinemaBlend. You will receive a verification email shortly.
There was a problem. Please refresh the page and try again.