Amazon's I Know What You Did Last Summer TV Show: Premiere Date, Cast, And Other Quick Things We Know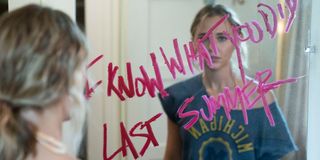 There's a good chance that you know about I Know What You Did Last Summer. The 1997 slasher flick was a bit of an unlikely success, battling mixed reviews and a familiar premise to become a fan favorite, one that established its young lead actors, including Jennifer Love Hewitt, Sarah Michelle Gellar, Freddie Prinze Jr., and Ryan Phillippe, as up-and-coming movie stars for the new millennium. Written by Scream's Kevin Williamson, based on the novel by Lois Duncan, its winning mix of slasher tropes and cheeky humor resulted in an endearing hit. Now, the legacy will continue with Amazon Prime's I Know What You Did Last Summer, the newest take on the "one night gone horribly wrong" tale.
We're still learning more details about this new adaptation, but we do know this: the TV show promises to be something different than what fans might expect based on the original film. Here's what we know about I Know What You Did Last Summer Season 1.
Amazon Prime's I Know What You Did Last Summer Season 1 Will Premiere On October 15, 2021
Though the title evokes the balmy days of the warmest season, I Know What You Did Last Summer was always a fall property. The original came out on October 17th, 1997, i.e. in time for Halloween, and the sequel, I Still Know What You Did Last Summer, was released on November 13th, 1998, a.k.a. Friday the 13th. The only exception is 2006's direct-to-video follow-up, I'll Always Know What You Did Last Summer, which came out on August 15th, and, well, look how that turned out. (Alright, I'll admit, I haven't seen it.)
Suffice to say, I Know What You Did Last Summer recounts the summer but it doesn't actually take place in the summertime (well, mostly), and Amazon Prime's upcoming series will follow suit. The horror show will premiere its first four episodes on October 15, 2021, with one installment from the eight-episode season set to premiere every Friday until its "suspenseful, can't-miss" finale, as the press release teases, on November 12th. Fittingly, this new show will premiere between the release dates of the first two movies.
The Cast Includes Madison Iseman, Ashley Moore, Bill Heck, Brianne Tju, Ezekiel Goodman, And More
1997's I Know What You Did Last Summer was quite a star-studded affair, particularly as it featured Jennifer Lover Hewitt, Sarah Michelle Gellar, Ryan Phillippe, and Freddie Prinze Jr. on the verge of fame or at their peak. While Amazon Prime's reboot isn't quite as distinguished — at least, not yet — there are several familiar faces in this ensemble.
Specifically, Amazon Prime's I Know What You Did Last Summer will star Madison Iseman, who's best known for Jumanji: Welcome to the Jungle and The Next Level. She also starred in Annabelle Comes Home, Goosebumps 2: Haunted Halloween, and Fear of Rain. Additionally, the cast includes Brianne Tju (Scream), Ashley Moore (Popstar: Never Stop Never Stopping), Ezekiel Goodman (Dragonfly), Bill Heck (The Leftovers), and Brooke Bloom (Marriage Story). Sebastian Amoruso, Fiona Rene, Cassie Beck, Sonya Balmores, Spencer Sutherland, and Chrissie Fit are also signed onto the show.
Amazon Prime's I Know What You Did Last Summer Is Based On Lois Duncan's 1973 Novel, Which Also Inspired The 1997 Film
Though it was never a critical darling, 1997's I Know What You Did Last Summer had no trouble scaring up an audience, resulting in two sequels and the burgeoning stardom of its four lead actors. Certainly, Amazon Prime knows that their show will have some lofty expectations, so they're not crediting it as a reboot or remake. Rather, Amazon Prime's upcoming slasher series is considered a new adaptation of Lois Duncan's 1973 novel.
Certainly, as a retelling of the text, the showrunners have more leeway to play with fan expectations and not simply tell the same story twice over. As we'll discuss in more detail later, the writers are keen to produce several unexpected twists and turns, and we should expect a horror-thriller that's respectful of the past adaptation but willing to do its own thing and try something different. Hopefully, the series finds its own success.
It Comes From Executive Producer James Wan And It's Written And Developed By Sara Goodman
Over the course of nearly two decades, James Wan has established himself as one of the most defining horror filmmakers of the early 21st century. At the helm of Saw, The Conjuring 1 & 2, Insidious 1 & 2, and September's Malignant, while also producing their respective sequels and spin-offs, plus Lights Out, Wan's influence in indies and studio films alike has shaped the genre as it is seen today. So, it should come as no surprise to know that he also worked on Amazon Prime's I Know What You Did Last Summer.
Additionally, this upcoming horror reboot is written and developed by Sara Goodman, who isn't as prominent as this producer, though she's certainly established. Specifically, she worked behind the scenes on The CW's Gossip Girl, WGN's Outsiders, and AMC's Preacher. Also, it's worth noting that the pilot is directed by executive producer Craig William Macneil, who directed 2018's Lizzie starring Kristen Stewart and Chloe Sevigny.
I Know What You Did Last Summer Was Shot In Oahu Earlier This Year
With the pandemic still in full effect, especially with the Delta variant, productions have needed to acclimate to the dangerous circumstances. Extra precautions need to be put in place, assuring that the cast and crew are as safe as possible in this uncertain time.
When it comes to Amazon Prime's I Know What You Did Last Summer, the production didn't start until earlier this year, even though the project was first announced in 2019. Shot in Oahu, it, thankfully, sounds like everything went smoothly and safely, which is the most we can hope for when you're shooting something as massive as a TV series.
Sara Goodman Made A Show 'Of This Time' Where Characters 'Are Really Layered' And 'Much More Diverse' And 'Complicated'
When you make a reboot, especially one based (in part) on a beloved '90s favorite, there's always the simple question of, well, "why?" Or, more accurately, what will they do that makes this material fresh compared to the original. According to showrunner Sara Goodman, Amazon Prime's I Know What You Did Last Summer will distinguish itself from the previous films by being a show that reflects the lives of young people today.
As Sara Goodman said during Amazon's Comic-Con@Home panel, I Know What You Did Last Summer: The Series will feature characters who are "much more diverse" and "complicated," complete with "really layered" stories that justify the show length vs. the movie's condensed narrative:
Sara Goodman Promises A 'Completely Unpredictable' Show Filled With 'Blood, Violence' And 'Little Easter Eggs' For The Fans
When Amazon Prime's I Know What You Did Last Summer premieres later this fall, you should expect one thing: blood. And lots of it, too. "There will be blood," showrunner Sara Goodman promised us. But that's not all, of course. There will also be "drama," 'violence," "psychological stuff," and "little Easter eggs throughout the season for those diehard fans." With that said, Goodman wants to make it clear that audiences won't need to see the original film in order to get hooked to this streaming reboot. Plus, even if you love the movie and/or the book, Goodman noted that Amazon Prime's I Know What You Did Last Summer will be "real, dysfunctional, and completely unpredictable."
Here's what Sarah Goodman said during Amazon's Comic-Con@Home panel (via Bloody Disgusting):
You can stream I Know What You Did Last Summer (1997) on Paramount+ and Epix. And the new Amazon series debuts in October.
Will is an entertainment writer based in Pittsburgh, PA. His writing can also be found in The Playlist, Cut Print Film, We Got This Covered, The Young Folks, Slate and other outlets. He also co-hosts the weekly film/TV podcast Cinemaholics with Jon Negroni and he likes to think he's a professional Garfield enthusiast.
Your Daily Blend of Entertainment News
Thank you for signing up to CinemaBlend. You will receive a verification email shortly.
There was a problem. Please refresh the page and try again.