Apparently Real Housewives Of Beverly Hills' Erika Jayne Doesn't Recognize Some Lingerie Items In Tom Girardi's Auction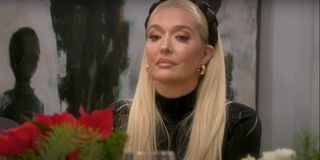 (Image credit: Bravo)
Erika Jayne has shared a lot of shocking things about her husband Tom Girardi on the current season of The Real Housewives of Beverly Hills. Amidst the show capturing the rollout of embezzlement allegations against him, the reality star has said Girardi has been on a mental health decline since 2017 and that she herself never even had a debit card in the entirety of their 20-year marriage. Of late, Girardi is auctioning off the couple's personal items in an effort to pay off the exorbitant amount allegedly owed to creditors and former clients. Among the items included is some sexy lingerie and, apparently, Erika Jayne doesn't know who they belong to.
Tom Girardi's auction lot has a red Agent Provocateur lingerie set and a see-through black top that are supposedly smaller than Erika Jayne's size, according to TMZ. Their source alleges that they aren't Erika Jayne's and she, as a matter of fact, has no idea where they came from. After the Real Housewives of Beverly Hills star shared on an episode that Girardi has cheated on her in the past, many are speculating that the delicates in question might belong to a third party.
According to court documents obtained by The Los Angeles Times, Tom Girardi reportedly owes more than $56 million in misplaced funds. (Erika Jayne has been accused of owing near $25 million, due to the loans and items she received from the Girardi Keese law firm.) That's a lot of zeroes that, likely, lingerie of unknown origin can't cover on its own.
But the auction also has furniture, office equipment and various memorabilia items up for grabs. (Most notably, Tom Girardi's selling a Julia Roberts-autographed poster for Erin Brockovich, a film that's based on his now-defunct law firm.) US Weekly reported that even Erika Jayne's autographed mementoes and 2009 Billboard plaque are available at the starting bid of $350. According to their source, all of the items were "seized," and Erika Jayne had "no approval" over what stays and goes. They revealed:
Despite being publicly accused of otherwise, Erika Jayne has maintained her innocence, both in court and on The Real Housewives of Beverly Hills. Her castmates, particularly Sutton Stracke, started to question the legal situation more deeply in the most recent episode. Co-star Lisa Rinna actually claimed that a huge argument between Erika Jayne and a producer was cut out and allegedly concerned Bravo needling for information.
I guess, on top of all the other questions lingering about Erika Jayne, we can add, "Who's panties are these?" to the wacky Scooby-Doo investigation. I know someone who can figure out the mystery.
I am a vegan feminist. I'm fascinated by all things space/stars. I love film history, reality television, and my cat Bubbe.
Your Daily Blend of Entertainment News
Thank you for signing up to CinemaBlend. You will receive a verification email shortly.
There was a problem. Please refresh the page and try again.