Chris Pratt, Robert Downey Jr. And More Are Reportedly Earning Massive Salaries For New TV And Streaming Shows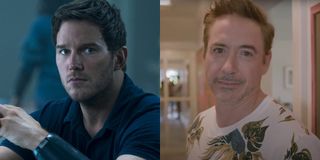 It was once a rarity to see big name movie stars making the jump from film to television, but that has become all the more the rage in recent years, with the trend becoming increasingly popular thanks to critical hits like HBO's star-studded Big Little Lies. Now, more and more A-list stars are appearing on TV series that can release either via traditional broadcast or a streaming service, and big stars mean big salaries to draw them in, to the benefit of celebrities like Chris Pratt, Robert Downey Jr., and more.
Competition is heating up more and more for networks, streamers, and series, so recruiting stars with name and face recognition to attract audiences is more important than ever. Some stars, like Robert Downey Jr. for HBO's The Sympathizer, are reportedly earning around $2 million, according to Variety, with Chris Pratt earning $1.4 million for Amazon's The Terminal List.
There are more reasons for the enormous salaries even beyond the sizable paychecks getting the attention of major stars when it comes to television. Robert Downey Jr. landing a big payday for an HBO series that will presumably release weekly, like Big Little Lies and Mare of Easttown (starring Kate Winslet) did, makes sense for his level of stardom, but there's a more complicated explanation for the big streaming paydays.
Hit television shows that aired on traditional broadcast networks traditionally headed to syndication in years past, with back-end deals meaning that anybody with a good enough deal could make a lot of money with reruns. In fact, the cost of syndication for The Big Bang Theory was once rumored to be high enough that the show would be too expensive for CBS, and it was just a few years later that reports surfaced of how much the Big Bang cast, fronted by Johnny Galecki, Jim Parsons, and Kaley Cuoco (who herself has made the jump to streaming television for HBO Max) could make from syndication.
Past episodes of series are often sold to streamers now, such as what The CW has done to great success with several shows, and what paid off in a big way for Manifest going to Netflix, but also cuts off any syndication perks. So, without the perk of back-end deals potentially resulting in ongoing paydays thanks to syndication, salaries for streaming have begun being paid up front and in large amounts.
As a result of all of these developments in recent years up until now, big stars whose shows release on traditional broadcast networks, premium cable networks, or streaming services are seeing larger paydays. Just check out some of the names:
Those are only some of the names, but they represent how big paydays have become a part of just about every platform of the television industry. Even series that are ongoing on broadcast networks, like 9-1-1 and The Conners, are shelling out big bucks for stars, and Netflix's The Witcher could run for several more years with Henry Cavill at the forefront if the show follows the source material. Limited series aren't the only ones offering the big salaries, and streaming services certainly aren't going anywhere, so the landscape of television likely won't go back to what it was before.
That does mean that viewers will have plenty of TV options to choose from moving forward, to the point that the bigger problem might be having too many shows to want to watch rather than not enough that look interesting. For some shows that are on the way sooner rather than later, be sure to check out our 2021 fall TV premiere schedule!
Resident of One Chicago, Bachelor Nation, and Cleveland. Has opinions about crossovers, Star Wars, and superheroes. Will not time travel.
Your Daily Blend of Entertainment News
Thank you for signing up to CinemaBlend. You will receive a verification email shortly.
There was a problem. Please refresh the page and try again.