The Funny Way Kaley Cuoco's Flight Attendant Kept Having To Reuse People To Film During Covid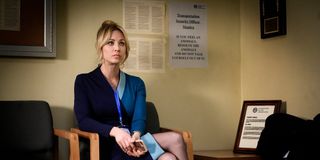 Mild spoilers ahead for the season finale of The Flight Attendant.
Kaley Cuoco has been busy since wrapping up her 12-season run on The Big Bang Theory last year. She made a name for herself voicing the animated Harley Quinn and most recently took to the skies as the titular character in The Flight Attendant, a thrilling murder mystery on HBO Max. The series returned to filming in the midst of the ongoing pandemic, which led to a funny scenario that had The Flight Attendant reusing people to film a crucial scene with Buckley.
New restrictions have changed the way movie and TV productions have gone about filming. There are likely less crew members on set, a limited number of extras in the background, and less cast members crowding any given scene. All of these restrictions are obviously in place to protect the cast and crew from contracting the virus, but Kaley Cuoco says that it made one particular scene in The Flight Attendant a bit harder to film. Here's what she told the New York Times:
The Flight Attendant's attempts to make it work are pretty funny (wigs and all), and the cast and crew did the best they could with what they had, especially considering the circumstances. That said, having eight extras who were also playing the plane's crew sounds rather complicated, but I'm sure it turned out much better than what Kaley Cuoco imagined.
Showrunner Steve Yockey adds that they wanted Buckley's presence to be felt even when the audience didn't know that he was Cassie and Alex's stalker at first. However, filming the plane scene during COVID made it harder, since it couldn't be filled to capacity. In addition to adjustments made to the big plane scene with Buckley, Yockey says that The Flight Attendant had to nix one scene completely. In his words:
Despite the adjustments made due to the pandemic's restrictions, I'd say that The Flight Attendant did a pretty good job in handling the changes and making the plot and its reveals work, regardless.
The Flight Attendant is currently available to stream on HBO Max. For more on what to watch in the coming months, be sure to check out our 2021 winter and spring schedule.
Your Daily Blend of Entertainment News
Your Daily Blend of Entertainment News
Thank you for signing up to CinemaBlend. You will receive a verification email shortly.
There was a problem. Please refresh the page and try again.