Why Britney Spears' Choice To Replace Jamie Spears As Conservator Was Once Denied Role For His Own Mother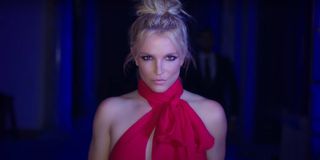 (Image credit: Britney Spears YouTube)
Thanks in large part to the "Free Britney" movement and its resulting documentary on Hulu, the battle over Britney Spears's conservatorship has seen several forward developments. The pop singer was allowed to choose her own lawyer, Matthew Rosengart, for the first time. Rosengart in turn successfully pushed for the removal of her father, Jamie Spears, as conservator. But in another strange turn of events, their replacement conservator choice was apparently denied the role for his own mother in the past.
Britney Spears' legal team officially requested that Jason Rubin, an accountant based in California, replace Jamie Spears as conservator over her estate. However, Page Six reports that Rubin had filed for a similar role as temporary guardian over his mother's person and estate in 2020. In the court documents they obtained, Rubin claimed that she was suffering from "delusions" and a mental health decline. Ultimately, the court denied his petition because the physician he chose to evaluate her, Dr. Gregory Brown, supposedly never did an in-person examination. The documents also noted:
The documents indicated that Jason Rubin could refile his petition regarding his mother, albeit with a new physician's certificate. Despite the loss, though, Rubin supposedly has extensive experience in the world of conservatorships. On LinkedIn, he states that his company, Certified Strategies Inc., has been "entrusted to administer over $250 million of assets."
The estate of Britney Spears itself is extremely lucrative. According to court documents by Newsweek, she has $2.7 million in liquid assets and $56.3 million in investments and real estate, which has been managed by her dad Jamie Spears so far. When he announced that he was stepping down from his conservator role, he clearly noted that there would be a transition period until such time they could agree upon a suitable replacement. It's possible that Jason Rubin's nomination for the role could be complicated by his failed guardianship petition over his mother.
In the interim, Britney Spears has been making the most of her newfound "freedom." Though her conservatorship is still in place, she has been allowed to drive her car once again and has been more outspoken on social media. The latter of which has ignited a bit of a feud with younger sister Jamie Lynn Spears.
It is unclear at this time if Britney Spears's conservatorship will, in fact, be removed entirely, as her legal counsel has stated profusely. Of late, Spears has been embroiled in some drama involving her pets. According to the New York Daily News, the Ventura County Sheriff Office confirmed that they are investigating Spears allegedly striking a housekeeper's phone out of her hands after the woman reportedly had her dogs taken away for neglect.
As can be seen, conservatorships are complex matters. They juggle the needs for safety, as well as for free will and autonomy. In the case of Britney Spears, we can only wait to see if there is a solution that finds the necessary middle ground.
I am a vegan feminist. I'm fascinated by all things space/stars. I love film history, reality television, and my cat Bubbe.
Your Daily Blend of Entertainment News
Thank you for signing up to CinemaBlend. You will receive a verification email shortly.
There was a problem. Please refresh the page and try again.