Buffy The Vampire Slayer Vet Nicholas Brendon's Latest Arrest Is Over Prescription Drugs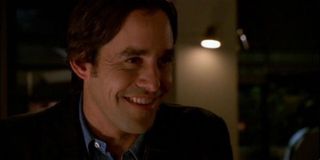 Former Buffy the Vampire Slayer star Nicholas Brendon is in trouble with the law again. After previous arrests over the past 10+ years that have involved, among others, charges for domestic violence, criminal mischief, and damage to property, Brendon has once again been arrested. This time, the actor allegedly fraudulently obtained some prescription drugs.
According to an affidavit cited by TMZ, Nicholas Brendon, known as Xander Harris on the original Buffy the Vampire Slayer series, was pulled over in Vigo County, Indiana when law enforcement officers saw him driving erratically in his silver Dodge. According to police, he swerved, failed to signal, and upon being pulled over, was sweating and "appeared nervous due to a visibly racing pulse on his neck and shaking hands."
Nicholas Brendon reportedly gave police an ID that belonged to his twin brother Kelton. Police evidently also found a small plastic bag that contained "crystal/powder residue" as well as a pill bottle. Cops believed that the Criminal Minds alum was either abusing or selling the pills, which could explain the fake ID. Brendon was arrested for failure to identify and obtaining a prescription by fraud.
Nicholas Brendon's troubles with the law are nothing new. Shortly after Buffy came to an end, the actor announced at a convention he had voluntarily entered rehab for alcoholism. In 2010 he started abusing alcohol again and after pleading no contest to the four charges that year, he received a one-year suspended jail sentence, as well as 36 months of probation.
In 2014, Nicholas Brendon was arrested for misdemeanor charges in a hotel lobby while in Idaho for a fan convention, and was arrested in 2015 for suspicion of grand theft while attending another convention. The following month he faced charges for damage to property and criminal mischief while in Tallahassee for yet another convention. Back in 2017, Brendon was arrested for allegedly pulling his girlfriend down by the hair during a fight.
As for his status as a Buffy the Vampire Slayer veteran who played a beloved character, he didn't speak much about the situation surrounding Charisma Carpenter's accusations regarding her time working with Buffy boss Joss Whedon. He did reunite with his former castmates back in 2019, however, including Carpenter.
Despite Nicholas Brendon's struggles with the law, many Buffy the Vampire Slayer fans are undoubtedly able to separate the actor from the character and still enjoy his run as Xander Harris on the iconic series. All seven seasons of Buffy are currently available streaming on both Hulu and Amazon Prime.
A reboot has been in the works for some time, but it's not expected to feature Sarah Michelle Gellar, Nicholas Brendon, or other original series stars if it moves forward and becomes a series, but Gellar has applauded that fans still care enough about the story to call for more.
Passionate writer. Obsessed with anything and everything entertainment, specifically movies and television. Can get easily attached to fictional characters.
Your Daily Blend of Entertainment News
Thank you for signing up to CinemaBlend. You will receive a verification email shortly.
There was a problem. Please refresh the page and try again.