Seinfeld: The Cast Then And Now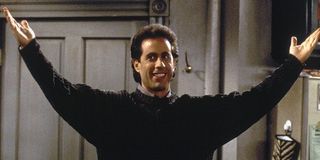 In the pantheon of classic sitcoms, there are arguably few TV shows that can compare to Seinfeld. The hit NBC sitcom had a notoriously good run through the 1990s, and it became even more notorious for going out on its own terms. Of everything that the show did right, the cast of delightfully bizarre characters that it assembled has to rank near the top of the list. With that in mind, we have compiled a list of some of our favorite Seinfeld performers to see what they've been up to since the show went off the air. Let's dive in with the star of the show.
Jerry Seinfeld - Jerry Seinfeld
Before Seinfeld propelled him to stardom in the 1990s, Jerry Seinfeld was already known as a well-established stand-up comedian. Following the end of the show's run, he returned to that corner of the entertainment world (albeit far more financially secure than when he started the show), and he continues to tour to this day. Beyond that, he has also remained busy with his show Comedians in Cars Getting Coffee, and his work on 2007's Bee Movie has developed a rabid cult following as well.
Jason Alexander - George Costanza
In the years since Jason Alexander achieved fame as the perpetually angry George Costanza, he has gone on to a number of roles in film, television, and theater -- although arguably none of them are quite as beloved as George. In fact, his post-Seinfeld career is notably different from the rest of the members of the Seinfeld quartet because he has spent much of his time working as an actor on Broadway in productions like Sweeney Todd and A Christmas Carol.
Michael Richards - Cosmo Kramer
Easily the most animated member of the core Seinfeld ensemble, Michael Richards retreated from the public eye following an unfortunate incident in 2007 in which he yelled racial slurs in an attempt to shut down loud audience members at a stand-up show. He has since made sporadic appearances in film and television roles (even spoofing the incident on Curb Your Enthusiasm), but his stint as Jerry Seinfeld's perpetually slick and energetic neighbor in many ways remains his most well-known, popular, and famous character to this day.
Julia Louis-Dreyfus - Elaine Benes
Of the four core members of the Seinfeld cast, SNL alumni Julia Louis-Dreyfus arguably did the best job of sidestepping the "Seinfeld Curse" as an actor. Following her stint as Elaine Benes, she went on to star in The New Adventures of Old Christine from 2005 to 2010, and she has seen even more renewed success in her Emmy-winning role as Selina Meyer on HBO's Veep -- a role that has kept her busy ever since the biting political satire premiered in 2012.
Patrick Warburton - David Puddy
After his stint as the delightfully deadpan David Puddy on the hit NBC series, Seinfeld's Patrick Warburton went on to become a prolific character actor, as well as the star of his own sitcom in Rules of Engagement from 2007 to 2013. As of right now, arguably his two biggest current roles are his recurrent voice work as Joe Swanson on Family Guy, as well as the role of Lemony Snicket on Netflix's A Series of Unfortunate Events adaptation.
Bryan Cranston - Dr. Tim Whatley
If you consider yourself an avid television viewer, then Bryan Cranston has probably become an actor who needs no introduction for you. Known on Seinfeld for his role as Dr. Tim Whatley, Cranston eventually went on to achieve even greater stardom on Malcolm in the Middle, as well as AMC's Breaking Bad. These days he remains busy with silver screen work, providing the voice of Zordon in 2017's Power Rangers, as well as making a cameo in The Disaster Artist.
Wayne Knight - Newman
Hello, Newman. As one of Seinfeld's most frequent recurring actors (not to mention one of its most entertaining), Wayne Knight has gone on to an incredibly eclectic career, with roles ranging from The Punisher: War Zone (in which he played the first live-action Micro Chip) to the Kung-Fu Panda series. More recently, you can catch his work on the Netflix series Narcos, as well as in the background of The Coen Brothers' 2016 Hollywood love letter Hail, Caesar!
Steve Hytner - Kenny Bania
After becoming a Seinfeld fan-favorite for portraying Jerry's stand-up comedy rival, Steve Hytner retired the Ovaltine jokes (why don't they call it Round-tine?) but has stayed active as a TV performer, with a few film roles thrown in for good measure. Over the course of the last few years, his credits have included: The CW's iZombie, ABC's Modern Family, and the recently-cancelled Mike and Molly on CBS. Every time he's been gold, Jerry! Gold!
Jerry Stiller - Frank Costanza
Already Hollywood and comedy royalty at the time of his casting as Frank Costanza, Jerry Stiller (the father of Ben Stiller) has remained active since Seinfeld ended, but he has slowed down considerably compared to the earlier years of his career. In fact, his most recently credited role is his reprisal of Maury Ballstein in his son's 2016 Zoolander sequel. Nevertheless, the guy hasn't lost his ability to scream like an unhinged maniac. Serenity now!
Larry David - George Steinbrenner
Although Larry David technically played several different characters over the course of Seinfeld's run, his most famous role on the series has to be the voice of New York Yankees owner George Steinbrenner. However, in the years since he stopped playing the hot tub-obsessed tycoon, David has spent far more time in front of the camera with his wildly successful HBO show Curb Your Enthusiasm, as well as his spot-on Bernie Sanders impression on Saturday Night Live during the 2016 election.
Richard Fancy - Mr. Lippman
Elaine Benes had plenty of insane bosses over the course of Seinfeld's run, but Richard Fany's Mr. Lippman (of Lippman Publishing fame) stands out as one of the most frequent, as well as one of the most consistently hilarious. Following his time on Seinfeld, Richard Fancy has remained active as a TV performer -- predominantly using the last few years for guest spots on shows like Ray Donovan, The Mentalist, Stuck in the Middle, and Your Pretty Face is Going To Hell.
Tim Dekay - Bizarro Jerry
Although Bizarro Superman is a villain to the Man of Steel, Tom Dekay's Bizarro Jerry was quite the contrary. Nice, generous, and intellectual, he was objectively the hero to Jerry's villain. The post-Seinfeld years have been good to Dekay as well, as he has remained incredibly busy as an actor (mostly in the realm of television) with roles on shows like White Collar, Agents of S.H.I.E.L.D., Lucifer, and American Crime. However, we will always remember him as the somewhat off-kilter (yet profoundly better) version of Jerry.
Brenda Strong - The Braless Wonder
The frequent rival of Elaine Benes (not to mention the heiress to the Oh Henry! candy bar fortune) Brenda Strong's Sue Ellen Mischke is perhaps better known by the provocative nickname ascribed to her by the Seinfeld gang: The Braless Wonder. In the years since Seinfeld ended, Strong has gone on to have a prolific career -- starring on Supergirl (as Luthor Family matriarch Lillian Luthor), Fear the Walking Dead, and The 100 all within the last few years.
John O'Hurley - J. Peterman
Another one of Elaine Benes' eccentric Seinfeld bosses, John O'Hurley's J. Peterman became an easy fan-favorite Seinfeld character for his smooth-talking sensibilities and outlandish stories. In the years since Seinfeld ended, O'Hurley put those very particular chops to good use as the host of Family Feud from 2006 to 2010, and he has remained incredibly active as a vocal performer -- perhaps most notably lending his voice to King Neptune on Spongebob Squarepants, among many other movies and TV shows.
Estelle Harris - Estelle Costanza
Oddly enough, in terms of sheer numbers, there's an argument to be made that Estelle Harris has become one of the most successful Seinfeld alumni in her post sitcom years. The reason for this is simple: since Seinfeld ended she has primarily worked as a voice actress, most notably working on Mrs. Potato Head in Toy Story 2 and Toy Story 3 -- not to mention the long-awaited Toy Story 4, which will make its theatrical debut in 2019.
Originally from Connecticut, Conner grew up in San Diego and graduated from Chapman University in 2014. He now lives in Los Angeles working in and around the entertainment industry and can mostly be found binging horror movies and chugging coffee.