Real Housewives' Ashley Darby Calls Out Wendy Osefo For 'Trollish' Reaction In Recent Potomac Episode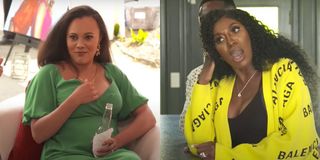 (Image credit: Bravo)
The Real Housewives of Potomac has hit the point fans have been waiting on. In the most recent episode, Gizelle Bryant (via co-star Ashley Darby) brought up rumors that Wendy Osefo's husband has been unfaithful to her in the past. They suggested that the rumors are the root cause of Osefo's drastic change of style and numerous plastic surgery procedures of late. Osefo, in turn, popped off on her co-stars in spectacular fashion, which Darby is now labeling a "trollish" reaction to the two of them.
Wendy "Zen Wen" Osefo clearly interpreted Gizelle Bryant and Ashley Darby as attacking her husband's character in the last Real Housewives of Potomac episode. It seemed like things might get physical at one point when Osefo said, "Fuck these motherfucking cameras" and that they had "low self-esteem" and things could get "poppin'." In an interview with ET Online, Darby claimed Osefo's "trollish" reaction was misdirected because she was "not coming from a messy place this time." In fact, she doubled down on the decision to bring up the situation, saying,
In Ashley Darby's viewpoint, she asks questions that "no one wants to hear" on the show. Yet it seemed to Wendy Osefo in the moment and also by fans watching that Darby was just doing Gizelle Bryant's dirty work to get a reaction. Though Darby freely admits that she and Bryant have put their "little chef hats on" to stir the pot in the past, they supposedly wanted to genuinely check in on where Osefo was emotionally. She said, based on the "rockiness" of Osefo's marriage problems playing out on the Real Housewives of Potomac, it wasn't "too much of a shot in the dark" to bring it up in the first place.
Prior to the dramatic argument airing on Bravo, Wendy Osefo herself publicly called out Gizelle Bryant for bringing up these Eddie rumors. As a matter of fact, she said Bryant must "get off on" doing so. Bryant, in response, retaliated that she could mention anything she wants to on the Real Housewives of Potomac.
The Wendy Osefo/Ashley Darby/Gizelle Bryant trollish trifecta wasn't the only thing to pop off in the last Real Housewives of Potomac episode. Co-star Candiace Dillard Bassett also got into it with Darby about her motivations for bringing up Osefo's marriage. They went back and forth, as Housewives tend to do, before Darby (and her breast milk) were thrown out of the vacation rental (though not literally).
Still, the drama at the heart of the Real Housewives of Potomac never fails to astonish and impress me. All they needed was Wendy Osefo's recent boob job and whispers of a "side baby" for things to go from 0 to 100 real quick. Other, older spinoffs in the Real Housewives franchise might want to take some notes…
Movies and TV News Writer
Freelance writer. Favs: film history, reality TV, astronomy, French fries.
Your Daily Blend of Entertainment News
Thank you for signing up to CinemaBlend. You will receive a verification email shortly.
There was a problem. Please refresh the page and try again.