How Does Kevin Hart Even Find The Time To Be A Host On Shark Tank?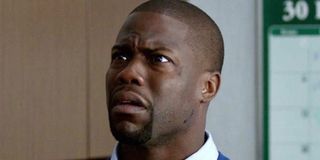 Kevin Hart never ceases to amaze me. The man literally had to relearn how to walk after a pretty serious car accident in 2019, and has since put out content that is already available to us, such as Fatherhood. He's also got so many upcoming projects, both those finished with filming and not, that I'm already tired just looking at all the titles. Apparently the comedic actor has no problem juggling everything, though, because he's adding to his long list of engagements by taking on a guest-hosting spot on Shark Tank in Season 13. I just don't know how he does it all.
Kevin Hart is constantly just doing, and it seems like the actor and talk show host's Instagram profile is always full of activity - and not just the social media kind. His feed is a reflection of the ever-busy life that he lives, along with the people he experiences it with, and the projects he is keen to be promoting. While it should be surprising that he is adding yet another project to his plate on top of Hart to Heart, his Netflix deal and more, his fans have come to expect nothing but action from Hart. So the reveal that he will be one of several new guest hosts popping up in Shark Tank this upcoming season is just accepted as another amazing thing the actor is doing with his life.
As recently revealed by ABC, Kevin Hart will be stopping by for at least one episode of Shark Tank Season 13, and he's arguably the most widely known name in the group. Other guest hosts will include Emma Grede, the founding partner of Kim Kardashian's SKIMS; Peter Jones, original star of the BBC's Dragon's Den; and Nirav Tolia, co-founder of the neighborhood sales app Nextdoor,
Not to say that any of the other guests hosts are slackers, but Kevin Hart seems like he shouldn't have time to add any further TV or film projects to his slate. Not even counting the work that has been released since his accident, Kevin Hart has three major productions that have finished with filming and are on their way to release, two other projects he is filming currently, and a whopping five major projects announced that he will be acting in. Important to note, that these are just his acting credits in both live-action and animation. Hart also has a big hand in producing, which doesn't always require him to show his face, or voice, as it were.
As for what Kevin Hart is currently busy with, his project My Own Worst Enemy is getting started on production, in which he'll be serving as both producer and star. Hart will share those dual duties for the TV Mini Series True Story, which is in its final stages of production. He is currently voice-acting for DC League of Super Pets and is filming The Laff House Stories and Real Husbands of Hollywood 2021, appearing as himself in both.
All that said, Kevin Hart appearing on Shark Tank totally makes sense when you think about how entrepreneurial he is, since he has his hands in many different avenues of income and has turned himself into something of a brand. The actor was even approached about going to space and filming his experience - like, what?! Even though he's totally not doing that, I wouldn't put it past him to be able to fit literally going into space into his crazy busy schedule of spending time with his brood of kids, completing some Navy SEALS level work outs, and completing high dollar productions.
While waiting for Kevin Hart's next 17 projects, remember to tune into Shark Tank Season 13 when it debuts on Friday, October 8, at 8:00 p.m. ET. And stay tuned for all the other big shows hitting the 2021 Fall TV schedule!
Your Daily Blend of Entertainment News
Thank you for signing up to CinemaBlend. You will receive a verification email shortly.
There was a problem. Please refresh the page and try again.