Kevin Hart Has All The Jokes When Asked About Whether He'll Add To His Brood Of 4 Kids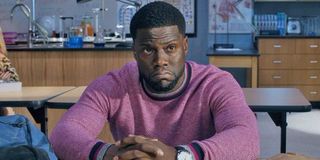 While audiences love Kevin Hart for his comedy and films, he shines the brightest as a father of four children. Family has always been important to Hart even as his career skyrocketed. Despite having four children of varying ages, whether he'll have more children is still something the comedian is asked. As usual, Hart was all jokes when asked about adding to his brood of six.
Even with a booming movie career, Kevin Hart is all about his kids. From time to time, his kids have even a source of material for his multiple comedy specials. So, expanding his family might seem logical, but the comedian has other thoughts. Hart said the following about the prospect of having more children:
Given the events of the past year, Kevin Hart might be in the right headspace. Having children spanning different age ranges is already a job, along with all the extra effort of raising children today. So growing his family may be the furthest thing from Hart's mind. Plus, he has current and upcoming projects pushing his career forward. Like Hart mentioned, more children might be in the future when the time works out. That's the best approach for him given his ever-expanding career.
While speaking with Entertainment Tonight, the Jumanji star explained why his family dynamic is perfect right now. Kevin Hart revealed he and his wife are currently in love with being the parents of two toddlers. Along with two toddlers, Hart has a teenaged son and daughter from his first marriage. Being the father of teenagers and toddlers, Hart called the situation "the perfect separation in age." He seemed happy with being a father of four at this time.
Dealing with toddlers and teenagers in the same household sounds like all the fun and excitement Kevin Hart can handle right now. Each age group comes with a particular set of wants, needs, desires and issues. So when Hart mentioned having a loud house, the comedian meant it. But that loudness might hint at his kids wanting to follow him as seen in various videos and social media posts.
While the family has always been a top priority for Kevin Hart, it appears his 2019 car accident and the pandemic put things in perspective. The comedic actor was forced to rest and take time away from his busy career. Even after re-prioritizing his family time, that hasn't stopped him and his family from complaining. Hart joked about what it's really like quarantining with his children. So more children aren't necessary with an already full house.
Having more children isn't just something to take lightly, and Kevin Hart is okay with his current situation. At the end of the day, Hart is a huge advocate for highlighting and showcasing Black fatherhood. That's why the actor chose to start in Fatherhood, which arrives on Netflix June 18.
Your Daily Blend of Entertainment News
Movie and TV obsessive. A good Heist movie is the way to my heart. Enjoyer of everything from Marvel Movies to Rom-coms.
Your Daily Blend of Entertainment News
Thank you for signing up to CinemaBlend. You will receive a verification email shortly.
There was a problem. Please refresh the page and try again.