5 Things Green Arrow Is Bringing To The Table In Season 4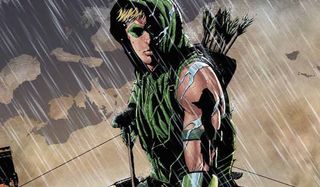 Big changes are coming for Arrow Season 4, especially for main protagonist Oliver Queen. When he's fighting new bad guys and delving into strange phenomena later this year, he won't be doing it as The Hood/Arrow. After three seasons, he is finally embracing his comic book roots and becoming Green Arrow. Whether you're a comic book fan who is happy that he's finally using a comic book identity or a regular viewer who doesn't quite know what to make of it, this is by far the biggest adjustment to Oliver's crimefighting identity in the three years Arrow has been on the air.
Although a name change might not sound like it means that much, there will be noticeable changes when Oliver becomes the Green Arrow in the Season 4 premiere, from the name change itself to adjustments in his attitude. Here are the most new things fans will see regarding Oliver as a result of Green Arrow hitting the scene when Arrow returns in the fall.
Brand New Name
It's obvious, but yes, the 'Green' added to Oliver's crimefighting identity will make a difference. After going by The Hood/Arrow for over two seasons, Oliver's vigilante life was exposed to the public in the Season 3 episode "Public Enemy" after Ra's al Ghul clued Quentin Lance in on what Oliver does in his spare time. For a whole day, everyone in Starling City (now Star City) knew that Oliver was The Arrow, and a manhunt was issued for him. Eventually Oliver decided to give himself up, but while he was being transported to prison, Roy decided to take the fall and unmask himself as The Arrow in front of a large crowd. Add in Roy's faked death, and almost everyone in the city now thinks that the vigilante is dead. In order to keep operating, this is why Oliver is now Green Arrow. However, it's going to take more than a simple name change to make sure people don't learn his secret identity, but we'll explore that later.
Costume Change
With a name change comes a new costume. At San Diego Comic-Con, The CW released the first look at Oliver's Green Arrow suit, and not long after, Stephen Amell was seen wearing the suit on stage at the DC TV panel. The biggest change from the last costume is Oliver's arms being partly exposed, thus showing off his muscles (which no doubt pleases many fans). The Green Arrow suit is also more padded and a brighter shade of green, the latter of which makes it look closer to what Oliver wears in the comics. What has been retained are the hood and domino mask, but this new costume is a welcome evolution from the dark green suit he's worn over the last three seasons. Just don't expect to see Oliver rocking a goatee while wearing his new outfit.
Better Technology
Each season on Arrow, Team Arrow's digs get slightly cooler, and Season 4 will be no different. Concept art has been released of the new Arrow Cave (now known as the Arrow Bunker), and this is the most high-tech and state of the art it's ever looked. Granted, most of that is due to Felicity's computer savviness and what the team's money can buy, but one would imagine that much of their resources will be used to improve Oliver's arsenal. It's also possible that new Palmer Industries employee Curtis Holt (a.k.a. the future Mr. Terrific) may inadvertently aid Felicity in sprucing up the team's gadgets. Either way, let's cross our fingers that this means we'll see more Oliver use more types of trick arrows out in the field.
Lighter Attitude
One frequent criticism of Arrow is that Oliver acts more like Batman than the comic book Green Arrow. While some might consider that an exaggeration, there's no denying that Oliver has been extremely serious over the last three seasons, rarely allowing himself to feel joy. Admittedly, a lot of might be this way after going through "five years in hell," but considering how dark things got in Season 3 (sometimes feeling downright depressing), it's time for Oliver to step out of the shadows. Both Amell and the showrunners have said Arrow will be lighter in Season 4, and this includes Oliver being happier. No doubt much of that has to do with him finally being romantically involved with Felicity and having a new perspective on life. Ideally this means he'll start dropping quips and one-liners like he does in the comics, though not to the point that he resembles Spider-Man. Obviously he still needs to be able to intimidate the bad guys.
Altered Tactics
Unlike the rest of the entries, this one hasn't been clearly stated, but it's logical to assume that Oliver is going to have to make some adjustments to his mission to save his city. Amell has already gone on record saying that Oliver will still be punching criminals in the face like before, which is fine. If it ain't broke, don't fix it. That said, Oliver's crime fighting methods are going to have to change somewhat in order for people not to deduce who he really is. Keeping the green color scheme and the bow and arrow is already pushing things. How he'll change, that has yet to be seen. At minimum, he may need to stop saying, "You have failed this city." Maybe he should get a new electronic voice disguiser while he's at it.
Whether you are excited about the new suit or digs, you can see them soon enough. Arrow Season 4 will premiere on Wednesday, October 7 at 8 p.m. ET.
Connoisseur of Marvel, DC, Star Wars, John Wick, MonsterVerse and Doctor Who lore. He's aware he looks like Harry Potter and Clark Kent.
Your Daily Blend of Entertainment News
Thank you for signing up to CinemaBlend. You will receive a verification email shortly.
There was a problem. Please refresh the page and try again.