8 Comics Fans Of Supergirl Should Check Out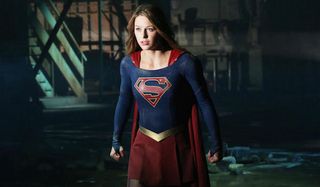 It hasn't even been two full months since Supergirl debuted on CBS, but the Girl of Steel's show has gotten off to an impressive start. In the past several weeks, a lot of cool moments have occurred, from Kara Zor-El fighting Red Tornado to the surprising reveal of Hank Henshaw's true identity. Next week the show will air its midseason finale and take a small break, but the latter half of the season (which has been extended) will see more characters from the DC universe be introduced, including Toyman and Silver Banshee. In the meantime, fans don't have to go without Supergirl adventures in their life.
Just like we did last year for The Flash and Arrow, we've compiled a list of Supergirl comics fans can read during the hiatus, be it in a physical collection or on websites like Comixology. Supergirl has been around for nearly six decades, which means there are plenty of options to choose from, including titles from her early years or something from the New 52. So if you're itching to learn about Supergirl's history on the printed page or learn where some of the show's elements came from, these are the stories you should check out.
The Silver Age Stories
When in doubt, it never hurts to go back to the beginning. Although a few characters had already served as female Superman counterparts briefly (including Lois Lane), Kara Zor-El was introduced in 1959 as Superman's cousin and, wanting to keep her safe, the Man of Steel set her up with the "Linda Lee" identity and told her to lay low. After earning positive reception, Kara was then featured in backup stories, and three years later, her existence was made public in the DC universe. Aside from her cousin, Supergirl also fought bad guys with the Legion of Superheroes during this time. The tone of these stories is cheesy and wholesome when compared to most comics nowadays, so don't look for anything too deep while reading them. That said, they're great to delve into if you want to learn about her early days and learn where the basics of the character originated. Her adventures in the '60s can be found in the black and white paper Showcase collections, while her short-lived 1970s series can be found on Comixology.
Superman/Batman Vol. 2: Supergirl
Almost 20 years after Crisis on Infinite Earths wiped her from existence (we'll get to that storyline later), Kara Zor-El was officially brought back into the DC universe in 2004 in Superman/Batman series storyline "The Supergirl from Krypton." Although she was still Kal-El's cousin, she was chronologically older than him while on Krypton, but because her ship got stuck in a Kryptonite meteor storm, she didn't arrive on Earth until much later (a concept familiar to fans of the show). In this version, getting used to being among the humans wasn't as smooth for Kara as it had been in the '50s, and on top of that, she also dealt with distrust from Batman, unexpected interest from Wonder Woman and trouble from Darkseid. If you like this story, you should also check out its 2010 animated movie adaptation Superman/Batman: Apocalypse, the sequel to Superman/Batman: Public Enemies.
Supergirl Vol. 1: Power
Following her reintroduction, DC gave Supergirl a new series written by Jeph Loeb and illustrated by Ian Churchill & Norm Rapmund. In the first story arc, Kara is still getting the hang of being a superhero, and while teaming up with the likes of the Justice Society of America, the Teen Titans and other heroes, readers also learn more about what her life on Krypton was like in flashbacks. The main "conflict", however, comes from her interactions with Power Girl, who at the time was Superman's cousin from Earth-Two, leading to a peculiar dynamic between the girls. Kara also learns she isn't the first Supergirl to exist (more on one of her predecessors in the next section). This story kicked off Kara's first batch of solo adventures in the modern era, so if you're looking to see how she got back on her feet after being gone for decades, this is the story to start on.
Supergirl Vol. 1 (Peter David)
During the interim period when Kara Zor-El was taken off the table, there were a number of other Supergirl characters active. One of these characters was Linda Danvers, who, despite sharing the same civilian identity as Kara, was not a version of her predecessor. Originally a normal human who was stuck on the wrong side of the law, Linda got stuck in a demonic ritual led by her boyfriend. After Linda was slashed for a blood sacrifice, the previous Supergirl Matrix arrived to stop the ritual, and seeing Linda in danger, she tried to seal the wounds by plugging them in her protoplasmic form. This process ended up fusing the two together, and Linda later discovered she could transform into a new Supergirl. Determined to correct her life path, she decided to fight crime as the new Girl of Steel, though her fusion with Matrix later led to unexpected problems. If you want to learn about another version of Supergirl, the series is available online, but if you're a fan of trade paperbacks and are willing to wait, DC will begin reprinting writer Peter David and artist Gary Franks's run next May.
Supergirl Vol. 1: Last Daughter of Krypton
When the New 52 began in 2011, Supergirl was one of the 52 books to kick off the rebooted universe. Just like with the previously mentioned Superman/Batman storyline, this series starts with Kara crash-landing on Earth for the first time, only in this continuity, she lost her memories of Krypton's destruction. After fighting Superman when he arrived on the scene (she didn't believe that he was her cousin), Kara eventually came across a wormhole that led back to Argo City, thus confirming what Kal-El said about Krypton dying. Unfortunately, she also came across the supervillain Reign and her subservient Worldkiller, and when the duo decided to turn their attention on enslaving Earth, Kara had to use her new powers to stop them, thus kicking off her superhero life in the New 52. The series went on to last 40 issues, and Kara is still roaming the new DC universe, so this is the volume to read if you're wanting to learn about the most current version of the Girl of Steel. Side note: if you want to see the New 52 Supergirl in a team dynamic, you should also check out Justice League United.
Crisis on Infinite Earths
Back when DC Comics' continuity started to get convoluted and unmanageable, the company released Crisis on Infinite Earths, the 12-issue miniseries that rebooted their universe. The story saw the Anti-Monitor attempting to destroy all the Earths across the multiverse, and while we've talked before about how Barry Allen, a.k.a. The Flash, gave his life to stop the god-like being, but he wasn't the only hero to make the ultimate sacrifice. During one of the battles, Kara rushed to save Superman and was struck by a lethal energy blast. If that wasn't bad enough, the rewriting of reality by merging all of the Earths into just one Earth also retconned her out of existence, and she wouldn't appear again for nearly 20 years. Even knowing her death, you should still read the story to see her final moments in the Pre-Crisis universe and see her contribute to making sure the universe wasn't destroyed.
Supergirl Vol. 6: Who is Superwoman?
Following the Superman: New Krypton story arc, writer Sterling Gates took over the Supergirl book and kicked off one of the Girl of Steel's best runs. In the aftermath of thousands of Kryptonians from the bottle city of Kandor (which had been merged with Supergirl's home Argo City) being returned to normal size, this tale followed Kara trying to figure out the identity of the mysterious Superwoman (don't worry, we won't spoil who she is). After all, when someone is flying around wearing your family crest, you'd obviously want to learn what she's up to. In addition, these issues also saw Kara dealing with her mother Alura, who is New Krypton's leader and angry with Earth after the supervillain Reactron killed her husband Zor-El, along with some instances of discrimination against her people. Although Supergirl's Alura is dead, her less-than-stellar actions in this story and beyond are clearly what inspired the creation of Kara's aunt Astra.
Smallville Season 11 Vol. 4: Argo
If you watched Smallville, then Supergirl wasn't your first time seeing Kara Zor-El portrayed in live action on television. Played by Laura Vandervoort, Kara was a key player in Season 7, and returned for guest appearances in Seasons 8 and 10. The last time fans saw her on the small screen, she had been given a Legion of Superheroes ring and and traveled to the future to embark on her own path, but that wasn't her last appearance in this continuity. As part of the Smallville Season 11 comic series, Clark Kent traveled to the 31st century during the Argo storyline and reunited with his cousin Kara. However, this reunion was anything but calm, as they had to deal with a war between Earth and New Krypton, and this complicated conflict eventually leads to an intense argument between the cousins. Those eager to see what happened to Kara after the show concluded should definitely check out the Argo storyline, and if you enjoy that, also read Smallville: Alien, which sees the character in the present day.
Connoisseur of Marvel, DC, Star Wars, John Wick, MonsterVerse and Doctor Who lore. He's aware he looks like Harry Potter and Clark Kent.
Your Daily Blend of Entertainment News
Thank you for signing up to CinemaBlend. You will receive a verification email shortly.
There was a problem. Please refresh the page and try again.