8 Actors You Probably Forgot Were On The Sopranos
Some true "blink and you'll miss it" guests here.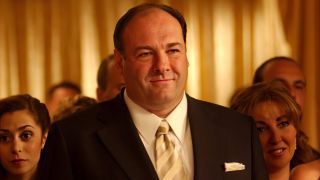 (Image credit: HBO)
When you think of some of the best television shows of all time, what are the ones that instantly come to your mind? For me, there are a solid three – Breaking Bad, the phenomenal Game of Thrones (and its wonderful cast), and last but not least, The Sopranos.
The famous HBO series seriously changed television forever, and The Sopranos cast has gone on to do many things in the world of Hollywood and beyond. But today, we're going to go over the guest cameos that you might have forgotten about – that's right, the "blink and you'll miss it" kind, because believe it or not, there have been many big stars that we know of now who started off small and appeared in guest roles on The Sopranos. Let's get into it.
Lady Gaga (Classmate)
Lady Gaga is primarily known for her singing career, as she has had several number one hits and even performed at the Super Bowl like many other pop stars such as Rihanna, The Weeknd, and more. However, she's also now known for her acting career, which really started taking off in the last several years, with roles in movies such as A Star is Born and TV shows like the Ryan Murphy-created American Horror Story.
But, Lady Gaga had humble beginnings in the world of television and had a small guest role in The Sopranos during the episode "The Telltale Moozadell." She isn't even credited in the role, but any die-hard Gaga fan can see her from a mile away. This was way before she was famous, so it's so cool to see her in something such as this.
Cristin Milioti (Catherine Sacrimoni)
Cristin Milioti has certainly made a name for herself over the last several years. In terms of movies, she's appeared in the hilarious rom-com, Palm Springs, as well as the Leonardo DiCaprio-led film, The Wolf of Wall Street, among others. She also portrayed Tracey McConnell in How I Met Your Mother, and had the main role on Made for Love on HBO Max, and many more.
Before all this, she portrayed Catherine Sacrimoni for three episodes of The Sopranos during the last season of the show. She has done so much since then, that it might be hard to recall her role, but she was a pretty important part of the last season, and it's so cool to see what she has done since then.
Will Arnett (Mike Waldrup)
Before Will Arnett starred in the casts of big shows such as Arrested Development, and voiced a main character in The Lego Movie, its sequel, and led The Lego Batman Movie, he was also among the people who guest starred on The Sopranos. During Season 4, he played Mike Waldrup, who was actually a serious character in comparison to many of his other comedic roles.
It's a bit strange to see him in such a dramatic role, but it shows that Arnett has some great range, and I'd be down to see him in more serious parts in the future.
Michael B. Jordan (Rideland Kid)
Before he was kicking butts and taking names in the Creed franchise, or becoming one of everyone's favorite villains in the Marvel Cinematic Universe as Killmonger, Michael B. Jordan began his career as a young child actor. Like many people, he ended up having small roles in TV shows – and one of his first was this one in The Sopranos, Season 1, during the episode, "Down Neck."
His character doesn't even have a name, simply known as "Rideland Kid," and he appears in a flashback to Tony's past as one of the only people who went head to head with Tony before he became what he became. He barely has any lines but it's so funny to see him so young in a role such as this after seeing what he has done since.
Chandra Wilson (Evelyn Greenwood)
Out of every single medical drama out there, I'm pretty sure there isn't one quite as popular as Grey's Anatomy. The show has gone on for several seasons and many cast members have come and gone, but Chandra Wilson has remained one of the few who has been on the show since Season 1 – that's right, Dr. Miranda Bailey has stuck it out for this long.
But, before she was on the hit medical series that has earned her several award nominations, Wilson had a small guest role on The Sopranos during Season 5, where she played Evelyn Greenwood. It's not particularly memorable, but it's cool all the same to see her before Grey's.
Lin-Manuel Miranda (Bellman)
Before he took the world by storm through his musicals In the Heights and Hamilton, and ended up working on the soundtracks for movies such as Moana and Encanto, Lin-Manuel Miranda did plenty of small roles in television. He was once a guest star on Modern Family, and was also a guest star on The Sopranos, during the episode, "Remember When."
It's, again, a very small guest role, where all he plays is a bellman who helps with luggage in a hotel and has very few speaking lines, but to see him before In the Heights blew up and then, of course, Hamilton, is so much fun.
Perez Hilton (Male Student)
If you don't know who Perez Hilton is, then you definitely have never paid attention to celebrity gossip. Hilton has run one of the most popular celebrity gossip sites since back in the early 2000s, but he started as an actor, too. And, he had a tiny guest role in The Sopranos during the episode, "Fortunate Son."
Again, all he's credited as is "Male Student," and he wasn't credited as Perez Hilton but rather under his real name, Mario Lavanderia, but this was before he even took on the name of the gossip maven, so it makes sense.
Paul Dano (Patrick Whalen)
Last but not least, we need to talk about Paul Dano, who was on The Sopranos for a few episodes, more than many of the others on this list.
Dano is primarily known for his great character acting, and he's appeared in big movies such as The Batman, 12 Years A Slave, Prisoners, The Fabelmans in 2022, and so many more, but he also had the role of Patrick Whalen in The Sopranos during Seasons 4 and 5. The character appeared in three episodes before he was never seen again.
Truly, these are the "before they were famous" roles for these stars, and it's so awesome to see how far they have come in comparison to their small beginnings. I can't wait to see what they do next.
Your Daily Blend of Entertainment News
Big nerd and lover of Game of Thrones/A Song of Ice and Fire. Will forever hate season eight. Superhero and horror geek. And please don't debate me on The Last of Us 2, it was amazing!