What The Sopranos Cast Is Doing Now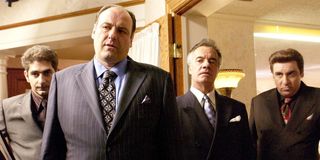 Back in 1999, there was a TV show that ruled HBO until its end in 2007: The Sopranos. The hit crime drama revolved around Tony Soprano, an Italian-American mobster, and his family, and the difficulties of trying to keep his role as the leader of a criminal organization while also trying to stay a family man.
The Sopranos is regarded as one of the best TV shows of all time, and became a huge part of pop culture. Big careers were launched, from James Gandolfini to Edie Falco, and many more. Fans might wonder where the stars of this famous show have gone. This is what The Sopranos cast has been up to.
James Gandolfini (Tony Soprano)
As the patriarch of the Soprano family, anyone who watched The Sopranos could relate to how he would try to constantly keep his own life in check, and the story of Tony Soprano will live on forever due to the amazing performance of James Gandolfini, for which he won an Emmy multiple times.
Sadly, Gandolfini passed away in 2013, at age 51, from a heart attack. Before his death, he had parts such as a voice role in Where The Wild Things Are, as well as in Zero Dark Thirty and The Incredible Burt Wonderstone. Two posthumous releases came out in Enough Said and The Drop, but even so, no one will quite grace screens again like Gandolfini.
Lorraine Bracco (Jennifer Melfi)
Before The Sopranos, she was known as Karen Hill from Goodfellas, but she took over as the therapist who seemed to see into our own lives from the TV screen. Jennifer Melfi ruled, and the reason for that was Lorraine Bracco and her amazing performance.
After the show, Bracco didn't do much movie work, but as of 2021, she does have a thriller coming out titled The Birthday Cake, and another film, Jacir, so the next year is looking really good for the former The Sopranos actress.
In regards to television, one of her more recent roles has been portraying Mayor Margaery Button on the CBS drama Blue Bloods. Bracco has also had a couple of guest appearances on multiple hit crime shows, such as Law and Order. But, besides that, she's appeared on reality TV shows, too, such as Top Chef. For fans of crime drama, she returned to the mob scene as the narrator of the series I Married a Mobster, back in 2011.
Edie Falco (Carmela Soprano)
I feel like everyone can relate to Carmela Soprano at certain points on The Sopranos. And Edie Falco did an excellent job of showing what it's like to be a mother to two children of a mob boss.
Since her role in The Sopranos, Falco took on another big-time role which led to multiple awards, in Nurse Jackie on Showtime. In 2016, she portrayed a defense attorney in Law & Order: True Crime and was nominated for another Emmy – talk about talented.
Falco has also had some film roles, such as in The Comedian and The Viper Club, but she is going to be stepping into the big-time cinema light soon, as she will have a part in the next two Avatar sequels as General Ardmore. The next few years will likely be good for the Emmy-winning actress.
Michael Imperioli (Christopher Moltisanti)
Christopher was someone that you wanted to root for but also lowkey hated at the same time. Even so, that doesn't mean that Michael Imperioli didn't do a great job portraying the protégé of Tony Soprano.
Imperioli actually had a role in Goodfellas (the same movie as Lorraine Bracco) as Spider, but after his role on The Sopranos, Imperioli received plenty of work.
Imperioli had a part in the animated Dreamworks film Shark Tale as Frankie, as well as a dramatic role in The Lovely Bones. Some of his more recent work has seen him playing Jay Ford in The Last Full Measure, Alan Denado in The Call, and Angelo Dundee in the 2020 Amazon Studios film One Night in Miami. Imperioli has also had a couple of guest appearances on TV shows, like the NBC comedy The Office, and Chopped, the reality cooking show.
Dominic Chianese (Corrado "Junior" Soprano)
I feel like Junior was one of those characters we hated in Season 1, but shared a kinship for his sudden compassion in the later seasons. Dominic Chianese was the man behind it.
At the beginning of his career, Chianese actually had a minor role in The Godfather Part II as Johnny Ola, but he got famous due to the popularity of The Sopranos.
Chianese has been in some mainstream films since the end of The Sopranos, including Mr. Popper's Penguins back in 2011, but he hasn't done any film work since 2017. Even so, Chianese has had a couple of guest appearances on TV, on shows such as Blue Bloods and The Secret Life of the American Teenager. Now that's a range in acting.
Chianese had even more prominent recurring roles in the hit TV shows Boardwalk Empire and The Good Wife, so it's not like he was gone from TV for very long.
The actor does have a movie coming out titled Umberto D., a remake of the classic film of the same name, but there isn't any set release date yet. Even then, it's good to see Junior still active, especially on our TV screens.
Vincent Pastore (Salvatore "Big Pussy" Bonpensiero)
Another member of the DiMeo crime family in The Sopranos, Salvatore (in my opinion) was one of the good guys on this show who was unfortunately taken too soon.
Vincent Pastore, the man behind "Big Pussy," has had a relatively lowkey career since his time on The Sopranos. He also had a part in Shark Tale, but most of his films have been indie titles. However, Pastore has had plenty of other ventures in the entertainment world. He participated in big reality shows on TV, such as Celebrity Fit Club and Celebrity Apprentice, as well as the entrepreneur show, Shark Tank, where he investing in a contestant's product.
One of his most recent ventures has been the launch of a tomato sauce, "Vincent Pastore's Italian Sauce." So, if you're planning on making a pizza anytime soon, maybe check out Pastore's new sauce.
(Fun fact: Pastore also had a very minor role in Goodfellas as well. I'm beginning to see a trend here.)
Steven Van Zandt (Silvio Dante)
Another long-timer on the show, Silvio Dante's story was a roller coaster from beginning to end. Music legend Steven Van Zandt kept the same amount of awesomeness throughout his whole tenure on the show, and the actor has been keeping himself busy post-The Sopranos.
Van Zandt was actually inducted into the Rock and Roll Hall of Fame as a member of the E Street Band, the backing band to Bruce Springsteen. Even so, while Van Zandt is known more for his music than his acting, he's had a couple of really good parts since The Sopranos.
He starred in Lilyhammer, a show which he produced, about a former NY gangster who is trying to start a new life in Lillehammer, Norway. He's also done the Netflix films, The Christmas Chronicles, and The Irishman (another return to mob stories).
Van Zandt has also released two albums since the end of The Sopranos, "Soulfire" and "Summer of Sorcery." Currently, Van Zandt is working on a film called Iron Terry Malone, which is in pre-production, but not much is known about this venture yet. Hopefully, it will be just as good as some of his more recent work in the acting world.
Robert Iler (Anthony "A.J." Soprano Jr.)
While A.J. did have a prominent role in The Sopranos, actor, Robert Iler, mostly left Hollywood after the show ended.
Iler had a bit of film work during his time on the show, such as in Daredevil and Tadpole, and some guest appearances on Law & Order: SUV, and the original Law & Order. Other than that, he's all but retired from acting.
Iler moved to Vegas at one point to try and become a professional poker player, and then, in 2019, moved to L.A. and began a podcast called Pajama Pants (opens in new tab) with his Sopranos co-star, Jamie-Lynn Sigler, and YouTube comedian, Kassem G. So, while he's stepped away from the spotlight, he's still keeping busy.
Jaime-Lynn Sigler (Meadow Soprano)
Meadow Soprano changed much throughout her time on The Sopranos, and Jamie-Lynn Sigler helped make the character memorable for the entire run of the series.
Sigler has stayed relatively under the radar with her films, starring in many lower-budget or indie movies, as many of the actors and actresses here have done. But, she has had some TV appearances, mainly in voice work, such as voicing Princess Rebeca on Elena of Avalor and Ms. Fern in Higglytown Heroes. Sigler also had a recurring role as herself on the hit show Entourage, for a time.
Her main venture has been doing the podcast, Pajama Pants, with her Sopranos co-star. Sigler does, however, have a couple of projects coming up that are either in post-production or filming, so there's no doubt that the daughter of the famous mob boss is staying on her toes in Hollywood.
Tony Sirico (Peter "Paulie Walnuts" Gualtieri)
Peter was one of those characters that you want to have on your side in this world. While he was violent, he was fiercely loyal. Tony Sirico signed up for the show on one condition – saying that he didn't want his character to become a "rat," and that's exactly what he got.
Sirico's list of popular movie credits post-The Sopranos have been in films by Woody Allen, Café Society, and the drama Wonder Wheel, but other than those two big ones he's stuck to smaller parts. In regards to television, Sirico has had multiple guest appearances on big shows like The Fairly OddParents and Family Guy, where he had recurring voice roles. Sirico also appeared in Lilyhammer. Since 2017, though, he hasn't had any TV appearances.
Sirico has a couple of films coming up, but none have set dates for release yet, so we're going to have to wait to find out what's going on with this member of the mob family.
Drea de Matteo (Adriana La Cerva)
It really is a shame what happened to Adriana La Cerva. Drea de Matteo, who stayed in the role until the show's final season, even won an Emmy for her work, so there's no doubt she's a great actress.
Matteo has had a couple of film roles since the ending of The Sopranos, but most are hard to find if you'd like to watch, due to them being indies. In regards to TV, however, Matteo has had multiple parts, such as playing one of Joey's sisters in the Friends spinoff, Joey, and a recurring role (which later turned into a leading part) in the AMC hit Sons of Anarchy.
Currently, Matteo has a recurring role in A Million Little Things on ABC, but has a couple of other projects that are in post-production and currently filming – a TV series titled Paradise City, and a film called The Latin in Manhattan.
It's amazing what one TV series can do for its cast. What are you excited to see that has stars of The Sopranos in it?
Big nerd and lover of Game of Thrones/A Song of Ice and Fire. Will forever hate season eight. Superhero and horror geek. And please don't debate me on The Last of Us 2, it was amazing!
Your Daily Blend of Entertainment News
Thank you for signing up to CinemaBlend. You will receive a verification email shortly.
There was a problem. Please refresh the page and try again.