Angie Tribeca Review: TBS' Hilarious New Comedy Is The Naked Gun For A New Generation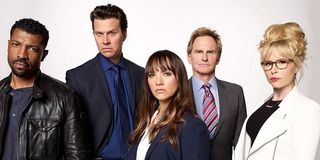 Until recently, I never thought I would see a genuine, bona fide resurrection take place – that's something typically reserved for myths and legends. However, sitting through Angie Tribeca, I couldn't help but realize something incredible had happened. The late, great Leslie Nielsen had somehow magically risen from the grave and inhabited every fiber of Rashida Jones' being, allowing her to headline one of the best new comedies of the year. TBS does not have a strong track record when it comes to the shelf life of their original programming, but Steve and Nancy Carell's Angie Tribeca could easily prove to be the network's breakout series.
Within moments of the first frame rolling, audiences immediately will recognize the sort of comedy that's in store for them. Opening on her increasingly ridiculous early morning training montage – complete with obvious body doubles and rampant furniture destruction – LAPD detective Angie Tribeca (Jones) soon learns that Lieutenant Atkins (Jere Burns) has assigned her a new partner in the form of Jay Geils (Hayes MacArther). While they initially butt heads, a deeper bond begins to form between the two partners as they go undercover in brothels, take down illegal ferret-trafficking rings and confiscate cocaine-filled wedding cakes.
Throughout their adventures, Tribeca and Geils enlist the assistance of numerous other LAPD staff members, such as K-9 officers Tanner (Deon Cole) and Hoffman (Jagger, the same German Shepard from Max), as well as forensic scientists Dr. Edelweiss (Alfred Molina) and Scholls (Andree Vermeulen). Every member of the cast represents some sort of modern police procedural cliché and inhabits their own identity: Edelweiss is the ambiguously crippled forensic scientist from every CSI series you've ever seen, Tanner is the street-wise muscle, and Scholls represents some sort of amalgam between Arrow's Felicity Smoak and Abby Sciuto from NCIS. While the show overall relies on a fairly consistent style of humor, each of these characters brings a different underlying emotion and mentality that gives Angie Tribeca's satire a good balance. In all honesty, the whole ensemble works so well that any of them could get a spinoff of their own at some point – particularly Officers Tanner and Hoffman.
However, while not enough can be said about the contributions of the supporting cast, it's the titular detective who shoulders the weight of the entire series. Despite a strong resume of portraying the "straight" character on programs like The Office and Parks and Recreation, Rashida Jones seems to have found her niche playing this stoic yet inherently goofy detective.
The series invites endless comparisons to the iconic Naked Gun franchise, but it seems to do so willingly. It maintains the same sort of irreverent, deadpan approach to utterly absurd humor that turned Leslie Nielsen into a comedy icon. Of course, this isn't the first series to pick up the torch where Naked Gun left it. Shows such as Adult Swim's Children's Hospital, or NTSF: SD: SUV have also tapped into this inscrutable style of humor, but with a decidedly darker, more mature tone to the proceedings. Angie Tribeca takes the fanciful lightness of the iconic 1980s films series and channels it through the lens of the dime-a-dozen police procedural. From performing an autopsy on a wooden ventriloquist dummy to perfectly parodying Roger Daltrey's scream that preceded every episode of CSI: Miami, Angie Tribeca expertly walks the line between razor sharp satire and offbeat fun.
Although it's easy to heap praise upon the new show, that doesn't mean it's perfect. As previously mentioned, every episode of the series pretty much boils down to an unrelenting blitzkrieg of offbeat comedy, and while most of the jokes land with impeccable poise, the ones that flop often drag on for far longer than they have any right to. Also, some of the humor does at times come off as a bit too infantile for the show's own good. One episode sees Tribeca and Geils go up against a villain whose name sounds like "front butt," and as one can imagine, the show spends far longer than necessary milking that one.
At the end of the day, Angie Tribeca is a comedy that does exactly what comedy is meant to do: incite laughter. Although the trope of funny cops has been more or less beaten into the ground over the last couple of decades, this show finds its niche by embracing an older, somewhat forgotten style of comedy. It's an exercise in whimsical absurdity that honors the spoof style antics of Mel Brooks and Leslie Nielsen.
Rating:
TBS will premiere Angie Tribeca on Sunday, January 17, airing the first 10 episodes of the series in an undeniably hilarious 25-hour marathon.
Your Daily Blend of Entertainment News
Originally from Connecticut, Conner grew up in San Diego and graduated from Chapman University in 2014. He now lives in Los Angeles working in and around the entertainment industry and can mostly be found binging horror movies and chugging coffee.