Anne Hathaway's Full Wrecking Ball Lip Sync Video Is Outrageous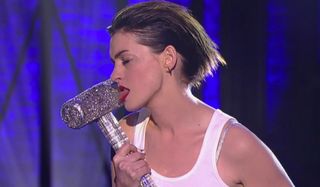 Early previews from Spike's Lip Sync Battle showed Anne Hathaway stripped down and jumping onto a giant wrecking ball—just like Miley Cyrus does in her now-infamous video. Last night, Hathaway just crushed fellow competitor Emily Blunt with the epic performance. If you want to see the full—and unbelievable—performance, you can check it out, below.
We've all seen Miley Cyrus do outlandish things on stages and in music videos before, but to see Anne Hathaway give the same outfits and dance moves a shot makes Cyrus' behavior only seem more absurd. The Academy Award-winning actress is more prone to taking roles in indie movies than gyrating around on a stage, but she certainly manages to make a statement with "Wrecking Ball." Just look at how hard she goes onstage while wearing revealing underwear and flicking the bird. At one point, she even actually jumps on a wrecking ball and flicks the bird at competitor Emily Blunt. Seriously.
Anne Hathaway's performance starts around the 2:17 mark, but Emily Blunt's also pretty good on Lip Sync Battle, throwing on a giant fur coat and some big sunglasses to channel her inner Janis Joplin. She even hands out flowers to the audience, but thanks in part to song choice, it pales in comparison to the big Hathaway performance, although I love the heart-shaped balloons that cascade down during her rendition of "Piece Of My Heart."
The Joplin/Cyrus battle was the final round, and while Blunt did pretty well in the first round, performing "No Diggity," Hathaway came out in the lead, and won this week's battle, although it's Spike that's probably coming up with the real win, as the series has dominated in the ratings since it premiered a week ago. Let's just hope the a-list starring Lip Sync Battle continues to engage big audiences as it moves forward on the cable network.
If you don't know what all of the hullabaloo is about, you can check out last week's battle, which included Dwayne "The Rock" Johnson performing a Taylor Swift song, as well as "Stayin' Alive." You can catch new episodes of Spikes Lip Sync Battle on Thursdays at 10 p.m. ET. In the meantime, there's also an excellent Betty White "Wrecking Ball" spoof and we suggest you check it out.
Reality TV fan with a pinch of Disney fairy dust thrown in. Theme park junkie. If you've created a rom-com I've probably watched it.
Your Daily Blend of Entertainment News
Thank you for signing up to CinemaBlend. You will receive a verification email shortly.
There was a problem. Please refresh the page and try again.