Arrow Season 2, Episode 12 - Tremors: 5 DCU Tie-Ins And Easter Eggs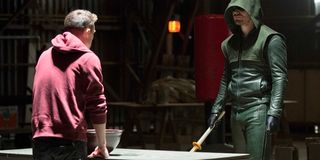 Arrow returned from its brief holiday hiatus with a renewed focus on the battle involving the season long villain and a recently revealed even bigger bad. "Blast Radius" and then "Blind Spot" not only dug deeper into the dastardly plans of the man in the skull mask and his boss in the eye-patch (or one-eyed helmet), but last week also offered one of the best installments for Katie Cassidy's Laurel since the comic-book series began. A lot of heroes hit rock bottom before (or even during, Tony Stark) the time in their respective suits and "Tremors" continued to shake things up in the (potentially former) lawyer's life with Laurel hitting the bottle and prompting the reappearance of her sister Sara in Starling City. Of course, it was a different reappearance that provided the episode with its villain of the week.
5. Bronze Tiger
The last time Ollie's Arrow ran into Michael Jai White's Ben Turner was early in the second season ("Identity") when the mercenary with Wolverine envy showed up in Starling City to aid China White in her villainous pursuits. This time Bronze Tiger is broken out of Iron Heights to help a mysterious figure named Milo Armitage (a potentially huge inclusion if it somehow leads to Connor Hawke but more likely a simple DC name-drop) who himself is working for an unnamed party from Markovia. Their name is probably Markov. Maybe Terra? The mission also brings up a lot of bad memories because of the quake machine's part in 'The Undertaking.'
4. Walter Steele
Oh, since we're on the topic of 'The Undertaking,' it's worth talking about the reappearance of former Queen Industries C.E.O. Walter Steele (a lot of reappearances this week with Walter, Tiger, the quake machine and Sara, sort of) who comes bearing odd news. Some news that could cause some tremors. Get it? There's a lot of shake ups happening, the title is so deep. The news? Walter, with the help of Nicholas Lea's Mark Francis, wants Moira to run for mayor against the man in the skull mask. It seems Sebastian 'Brother' Blood has more enemies than 'Team Arrow.' The 1% doesn't like his policies and are worried that his election would bring Starling City to its financial knees. They don't know the half of it... or does this Francis? They must be desperate if they want a woman almost sentenced to death in "State v. Queen. Remember, it took the help of Malcolm Merlyn to save her life. Is Thea's dad behind this?
3. The Sidekick
Another one of the driving storylines for Season 2 has been Roy Harper's transformation into Red Arrow. What I didn't initially anticipate, you know, since Arrow was famous for its realistic delivery, was that the kid would literally transform and obtain special powers. Unfortunately, being special isn't all it's cracked up to be when the source of the powers is the Japanese super-serum Mirakuru. Sure, the strength and tissue regeneration are nice but Roy could do without the psychosis, especially since he's starting to hurt Speedy. They didn't give Thea that nick-name for no reason. Ollie is doing his best to ensure that the 'miracle' doesn't turn Roy into a monster and, when the Mr. Miyagi training doesn't sink in, even ends up letting the sidekick into the Secret Society. How exciting! How long before Speedy finds out?
2. Still Slade Wilson
While Deathstroke didn't make an appearance in the present storyline, the flashbacks on Lian Yu continue to be devoted to showing his transformation from Slade into the supervillain. And guess what we can thank for the ongoing mental deterioration? The mirakuru, obviously, and the serum has now made Slade threaten Ollie's life countless times. This time, while the crazed merc plans to use Eddie Fyers' old missiles to sink the Amazo and Ivo with it, it's only the memory of Shado that keeps him from going through with the assault. Of course, we still know that Oliver will eventually put an arrow through his former friend's eye so this may be the last time that cooler heads prevail in the past. And who knows, maybe Deathstroke will team up with his old pal Arrow to combat the 'squad.' Although, I'm sure they'll try to recruit him.
1. Agent Amanda Waller
I'd say it's a pretty safe bet that the 'squad' A.R.G.U.S. Agent Amanda Waller was referring to when recruiting Bronze Tiger is the Suicide Squad which means Ollie and Team Arrow are in for some big trouble. Well, some even bigger trouble. It's a good thing that Arrow's sidekick has those superpowers. And that they recently made friends with a certain Central City forensic scientist. The last time that Cynthia Addai-Robinson's Agent Waller was poking around Starling City she name dropped H.I.V.E. and now the Squad. This women is dangerous. Expect her to continue recruiting former Arrow villains. They called her Mockingbird for a reason.
Arrow returns with Episode 13, "Heir to the Demon," next Wednesday at 8 p.m. ET on The CW. Created by Marc Guggenheim, Andrew Kreisberg and Greg Berlanti, the DC Comics inspired series stars Stephen Amell, Katie Cassidy, David Ramsey, Emily Bett Rickards, Willa Holland, Colton Haynes, Manu Bennett, Paul Blackthorne and Susanna Thompson.
Your Daily Blend of Entertainment News
Thank you for signing up to CinemaBlend. You will receive a verification email shortly.
There was a problem. Please refresh the page and try again.