Big Bang Theory: This Is How Much The Leads Will Get Paid Now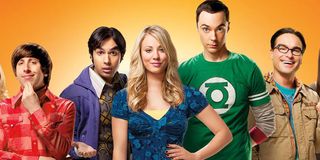 It's been a good year for the cast of CBS' hit television comedy The Big Bang Theory. Back in March, we learned the popular series was renewed for not one but three new seasons. Along with the crazy renewal order, the show's leads were all up for contract renewals this year. It took the weekend to negotiate, but leads Jim Parsons, Johnny Galecki and Kaley Cuoco have finally worked out new deals for a whole lot of money.
On Monday, news broke that the trio of hit actors collaborated together on the new deals, each securing $1 million dollars per episode, similar to the famous deal the cast of Friends made more than a decade ago. According to THR, that's a huge salary jump per episode, as The Big Bang Theory leads have until recently only made $325,000 per episode. It proves there is negotiating strength in numbers, as well, since Parson, Galecki and Cuoco all worked together to make the new deal.
The salary jump also goes a long way to explain why production had to be halted while the negotiations continued along. Initially, there was not expected to be any stoppage while 5 of the show's leads negotiated new contracts. Then, WBTV made a statement that production had been halted last Wednesday, with deals still in limbo for Parsons, Galecki, Cuoco, Simon Helberg and Kunal Nayyar. Unfortunately, Helberg and Nayyar still haven't signed official deals for the new season; regardless, they are also expected to work out their contracts over the next several days, and I wouldn't be surprised to see a hefty pay increase for those actors, as well.
It's easy to see why it took quite some time for WBTV and The Big Bang Theory cast to come to an agreement. While The Big Bang Theory does extraordinarily well in the ratings and does excessively well in syndication repeats, it's also easy to see WBTV would be hesitant about tripling the cast's fees per episode and adding other signing bonuses and back-end fees to the contracts. If you are just counting $1 million per episode, that's $22 million per actor per year for the next three years, and that's not including all of the added stuff the actors likely worked into their contracts.
Still, it should be worth the payout. WBTV should be making money hand over fist from The Big Bang Theory. The show is the most popular comedy on television, regularly earning more than 20 million total viewers each week (and when it doesn't hit that milestone mark, it still does in the high teens). People love watching old episodes on TBS, and the overall popularity of the series is not waning in the slightest. It's only natural that the cast would push for more money and it's great that WBTV would get the deal closed pretty quickly for Galecki, Cuoco and Parsons so that production can get moving again. Here's hoping the company does the same for Helberg and Nayyar.
The Big Bang Theory is expected to premiere Monday, September 22 at 8 p.m. ET before jumping to Thursdays later in the season.
Reality TV fan with a pinch of Disney fairy dust thrown in. Theme park junkie. If you've created a rom-com I've probably watched it.
Your Daily Blend of Entertainment News
Thank you for signing up to CinemaBlend. You will receive a verification email shortly.
There was a problem. Please refresh the page and try again.