Biggest Loser Watch: Season 11 Finale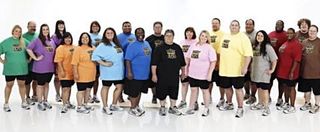 Five months ago, twenty grossly overweight or morbidly obese contestants waddled onto the Ranch to begin the eleventh season of The Biggest Loser. Teams were then given the opportunity to volunteer, in exchange for receiving four weeks of immunity, to forgo training with Bob and Jillian in favor of two brand-new but unknown trainers, who turned out to be the very competent Brett and Cara. At first, there was tension between the Ranchers and the Unknowns, but that eventually went away when all the contestants ended up together on the Ranch. Then the teams were shuffled practically on a weekly basis, making previous allegiances practically irrelevant.
There has been a lot of drama (Arthur went into "game mode" early on, and it got him sent home on pure bad luck) and a lot of surprise eliminations (Justin, Jennifer, Courtney). A couple of contestants actually reached their goal weight before being eliminated (Marci, Kaylee), and one (former Olympic gold-medal winner Rulon) left of his own accord, another Biggest Loser first.
In the end, four remained to battle it out for the three spots in the Finals. The Purple Team, composed of sisters Hannah and Olivia, started off slow but picked up speed at the end of the season, and they became the first sisters to make it to the Finals together. They will be joined by either Irene, the diminutive 26-year-old who has been by far the most consistent player of the season, never failing to lose at least two pounds every single week, and father-of-three Jay, who could conceivably become the first person to win the show after having once been eliminated and sent home.
Whichever way the vote goes, Olivia and Hannah have their work cut out for them. According to my source, as of their last weigh-in, both sisters have a BMI (Body Mass Index) of around 22, which puts them square in the middle of the "normal" classification. If Irene wins the national vote, she has a leg up on victory because although she's also "normal", her BMI is 24.7, which means that she could conceivably drop a few more pounds, on top of the fact that she's already lost a greater percentage of her original weight than Hannah and Olivia. If Jay is voted into the finals, he could be the favorite to win as well, for though his loss-percentage as of last week's episode was behind that of the sisters, he need only lose about 20 pounds in three months at home in order to pretty much guarantee victory… and he pledged to lose 60 pounds in that time.
After the camera zooms in on Alison and the live studio audience attending the finale, we get a brief season recap, which I won't try to sum up in a few sentences. I mean, if you haven't been reading my recaps, then why should I do your work for you? (Evil grin.) This has been the longest season (21 weeks) thus far, with more challenges than ever before, more contestants (22, not including the White Team who joined the group briefly in Week 12), and even included a trip to lush New Zealand.
The first order of business is, of course, the results of the at-home vote between Irene and Jay. First out on stage is Jay, and he looks fantastic. I can't tell just by looking, but I would wager that he didn't quite lose the 60 pounds at home that he wanted to. But it does look like he's dropped at least 20 more, which may be enough to win the game if he wins this vote. I have to hand it to him… this modest-looking, bespectacled man really turned himself around. He went from looking to an overweight history professor to… well, a much thinner history professor. He had a habit of writing his goal weight on his left arm in black marker until he reached it, and now, he is sporting a tattoo that says "What you're for strengthens you," followed by today's date in Roman numerals. Bravo, sir. Bravo.
Next out is Irene and… my god, she's a toothpick! I mean, she even looks skinny compared to last week's episode, and if she wins the vote, I immediately pick her to win. Of course, I haven't seen Hannah or Olivia yet, and for all I know, they may have both continued to drop weight, but my God, Irene is HOT. So, after a dramatic commercial break, Alison announces that the winner of last week's viewer vote is… Irene. Which means that Jay will vie for the at-home prize of $100,000, while Irene will join Olivia and Hannah in the Final Three for the $250,000 prize. It's an all-girl finale for the first time in Biggest Loser history.
How the finale usually works is: the eliminated contestants are brought out 3-4 at a time in formal attire, they get a minute of questions from Alison, we get a few minutes of recap, and then, after a commercial break, the contestants change into their BL gym duds and ascend the scale for the final time. There are 22 contestants to get through, so I'll try to keep it as brief as possible (one paragraph per contestants).
But first, the four trainers come out, nattily dressed. It's got to be a bittersweet moment for Jillian, for this will be her last time on the Biggest Loser stage. But she'll always be there in spirit. Brett and Cara seem more than capable of filling her shoes, though, and I look forward to seeing them back next season... assuming they are coming back, because Alison also announces that there will be ANOTHER trainer coming aboard next season, and they will announce that trainer's identity tonight. Jillian tearfully states that it's been an honor to have been part of the show since the beginning, and looks forward to beginning the next chapter in her life. Good luck, Jill. Ya done real good.
And now it's time to begin the final weigh-ins, and the first three contestants out of the gate are Irene's mother Ana, as well as the Aqua Team, Marci and Courtney.
Ana, like her daughter, is a woman of few words, but she lets her beaming smile do all the talking for her. SW (Starting Weight): 255 pounds. CW (Current Weight): 146 pounds. TWL (Total Weight Lost): 109 pounds. WLP (Weight Loss Percentage): 42.75%. To put it in perspective, anything over 30% is terrific, 40% is outstanding, and 50% is miraculous. Considering she spent all of one week on The Ranch, that number is tremendous.
Courtney, if you remember, lost over 100 pounds before she even started the show, and though she doesn't look like she's near done yet, she looks so much healthier. SW: 323 pounds. CW: 213 pounds. TWL: 110 pounds. WLP: 34.06%. On the one hand, I'm so proud of her, for that means that her current weight is now less than half of what it was before she started her journey, and she totally deserves the standing ovation she gets. But on the other hand, I find myself a little disappointed, because the last time we saw her, she was actually down to 210, which means she actually gained weight in the last four-plus months. I can only hope she keeps going.
For Marci, it wasn't just about weight loss, but about making lifestyle changes, and she has helped implement these changes in her community. She has implemented several programs at her gym to help people on their journeys. This does not surprise me, as she is one of the most natural leaders the show has ever seen. SW: 238 pounds. CW: 152 pounds. TWL: 86 pounds. WLP: 36.13%. This also does not surprise me. She was near her ideal weight when she left in Week 11, and has still managed to lose an additional ten pounds. Since she came in as the least overweight person in the field, I figured she didn't have much chance to win, but then, the show's not all about that. And holy moly, she's sporting some guns!
With Ana in the lead, Alison brings out the next four contestants: the Black Team twin brothers/cops Dan and Don, whose month at the Ranch was maybe the biggest roller-coaster in the show's history, as well as married couple Q and Larialmy, who comprised the Red Team.
Dan left the Ranch under poor circumstances, stating that The Ranch just wasn't for him. But he really made it work at home, and that's terrific. After losing his son to an overdose, he now says he has a new lease on life. SW: 287 pounds. CW: 163 pounds. TWL: 124 pounds. WLP: 43.21%. Just barely ahead of Ana, which now puts him in the lead!
Don, I'm happy to say, has completely mended the fences that kept he and his son apart for years. He cites the show for healing his fractured family, and points to his grinning son in the audience. Awww. SW: 309 pounds. CW: 179 pounds. TWL: 130 pounds. WLP: 42.07%. Not quite enough to beat his brother, but at least they can stop being that "fat cop" stereotype now.
Q was criticized for his lack of work ethic, and he and his wife were the first members of the Unknowns to be voted out of the game. He looks better, but not compared to most of the other contestants. SW: 437 pounds. CW: 344 pounds. TWL: 93 pounds. WLP: 21.28%. Wow, that's IT? More than six months since he started, and he's not even at 100 pounds yet? Not good enough, sir. That WLP is less than half that of Dan's, which makes me think that maybe that criticism was right on the money.
Larialmy also looks like she still has work to do, and, without her glasses, looks like a slightly-thinner version of Frenchie Davis (currently on The Voice.) SW: 301 pounds. CW: 217 pounds. TWL: 84 pounds. WLP: 27.91%. I can't be as mad at her as I am at her husband, but I do wish them well, and I hope they are able to start that family I know they want.
Next out on stage are the Gray Team, father/daughter Moses and Kaylee, and the Brown Team, father/son Ken and Austin, all of which got the brunt of their training from Brett and Cara.
Moses credits Cara as his chief source of motivation (apart from his family), as she was able to find a way for him to continue to lose weight even after a knee injury. He was the first contestant in the show's history to lose 100 pounds in only six weeks, including a whopping 41 pounds in Week One. SW: 440 pounds. CW: 287 pounds. TWL: 153 pounds. WLP: 34.77%. Again, I'm disappointed, as he is actually one pound heavier than he was when he was voted off in Week 15. But then, not everyone can make it work at home as readily as on The Ranch, and that's a fact.
Kaylee lasted a long time despite gaining weight no fewer than three times before being voted out in Week 17. SW: 233 pounds. CW: 179 pounds. TWL: 54 pounds. WLP: 23.18%. WTF?! Kaylee PUT ON 14 pounds since leaving the show, and is now exactly where she was in Week 9! What has she been doing? I mean, I hope she's happy in her life, but these are not the results we want to be seeing! I am now officially worried again for both her and her father.
The highlight of the season for Ken was in New Zealand, when he faced his fear of heights by plummeting off a building… and encouraging Bob to do the same thing. He is the pastor of his local church, and delights in now being healthy enough to be the spiritual leader that his community deserves. SW: 377 pounds. CW: 219 pounds. TWL: 158 pounds. WLP: 41.91%. Ooh, just missed. Still very proud of you, Daddy-O.
Austin was the last person voted off on the Ranch, and his transformation was one of the more remarkable ones of the season. Gone is the unconfident, gloomy ex-teenager, in its place is a strong, independent 21-year-old man. SW: 396 pounds. CW: 222 pounds. TWL: 174 pounds. WLP: 43.94%. And just like that, Austin takes the lead. Woo-hoo!
Out next are the Blue and Pink teams: mother/daughter Deni and Sarah, and father/son Jesse and Arthur. They all said goodbye in Weeks 8-10, and they all look significantly better than they did when they left, especially the ladies.
I remember Sarah being told at the start of the season that her metabolism had slowed down so much, as a result of years of lethargy following a car accident, that she would have to exercise at least 90 minutes a day for the rest of her life. That's a harsh truth, but she seems to have risen to the challenge, because she looks gorgeous. SW: 261 pounds. CW: 155 pounds. TWL: 106 pounds. WLP: 40.61%. That's okay, because she looks like a runway model now.
Deni, the oldest woman in the competition… my God, I didn't even recognize her, she's so thin! The 59-year-old mom has a slinky little waist, and I'm amazed by her transformation. SW: 256 pounds. CW: 131 pounds. TWL: 125 pounds. WLP: 48.83%. Good golly, Miss Molly. That is unbelievable. She not only beats Austin's percentage, she wallops it. Pink Power strikes again! That will be nearly impossible to beat!
Arthur sashays and dances onto the stage, and it's good to see that he's still got that swagger in his step. Arthur was the heaviest person at the start of the season, and it looks like he still is, but I can't tell you how much better and happier he looks. Remember, at one point, he was at 646 pounds, and now looks about half that. SW: 507 pounds. CW: 344 pounds. TWL: 163 pounds. WLP: 32.15%. How about that, he weighs exactly the same as Q. I have no doubt Arthur will keep going, though.
Jesse, the oldest man in the competition, looks decades younger. Gone is the grizzled white beard, and his smile is infectious. He whoops and hollers, both out of pride for his son as well as himself. How can you not love these two? SW: 293 pounds. CW: 210 pounds. TWL: 83 pounds. WLP: 28.33%. Well, as the only man the season that started under 300 pounds, his chances of victory were next to nil, but I am no longer worried about Jesse or his family.
The last three contestants vying for the at-home prize are then introduced: the Green Team, Jay and Jennifer, as well as Justin from the Yellow Team. And just when I begin to wonder just where the hell Rulon is, Alison announces that the White Team, Leann and Vance, are also in attendance, and that they lost a combined total of 138 pounds between them. Here's the breakdown: Leann went from 315 to 251 (-64), while Vance went from 379 to 305 (-74). Not too shabby, considering they only spend an hour or so at The Ranch.
Justin has ditched the goatee and he slightly-unkempt hair makes him looks like a country singer. He, too, was a natural leader, and he looks great. SW: 365 pounds. CW: 192 pounds. TWL: 173 pounds. WLP: 47.40%. Holy schnikes, that was close! Like, only six pounds more and he would have beat Deni. He flashes his grin and his gunboats, and takes a seat with the others.
Jen is now a blonde bombshell. Long, flowing hair and a great figure, she is positively glowing with energy. Her significant other has got to be so happy, that's for sure. SW: 278 pounds. CW: 164 pounds. TWL: 114 pounds. WLP: 41.01%. No prize for her, but she won her life back, which is a nice consolation.
Jay, who we saw earlier, still looks amazing. But how close to his goal did he come? SW: 400 pounds. CW: 219 pounds. TWL: 181 pounds. WLP: 45.25%. So while Jay did, in fact, drop more weight than any other person on the show this season, it's not enough. He is a testament to perseverance, however, and with that tat on his arm, he'll never be encouraged to slip back into his old ways ever again.
I expected some kind of update on Rulon, but apart from about ten seconds of video, no mention is made of him at all. Whatever personal issues he had to resolve that caused him to walk off the show must have been doozies. I don't disrespect him for not showing up, because family is more important, but I can only imagine that the reason the show refused to even mention his name was that Rulon and the producers must have had some kind of falling out. Which, if true, causes him to lose a lot of respect in my eyes. Maybe that's unreasonable of me, but I expect more from Olympians.
And, oh yeah, Deni wins. The oldest woman wins the $100,000 prize, so let that be a lesson – and an inspiration – to all you older women out there who think they are too far gone to make a change.
Okay, finally, time for the main event. After commercial, Irene has rejoined Alison on stage. Hannah is introduced, and… wow. Remember what I said about the sisters not having a chance to win? I take it all back. Hannah is 5'8", and whatever fat she still had on her body last week is now GONE. She says that she's still getting used to her new body, and having men hit on her is now a daily thing. Welcome to Hottie-ville, Hannah. Population: one more!
Um, make that two more. Because Olivia looks even thinner, if that's even possible! Can we work the old operatic saying to now read: "It ain't over until the thin lady sings"? Of course, the one proudest of her is her husband Ben, who has lost 113 pounds on his own. That is just remarkable. Olivia adds that her operatic career has taken off again, since she is no longer relegated to "fat lady" roles, and I couldn't be happier for her. Believe me, her voice is as beautiful as her figure is now.
While the ladies change for the final weigh-in, Alison announces that next year's guest trainer will be none other than Anna Kournikova. That's right, the lady named after the computer virus, one of the sexiest athletes ever to put on tennis shoes. While it's true that her sex appeal always seemed to outshine her ability as a tennis pro, at least at singles. (Though she reached #8 in the world as a singles player, she never won a single WTA event, though she did once reach the semis at Wimbledon. Her strength was definitely doubles, and she and her partner Martina Hingis were able to cop two Australian Open wins together.) She had to retire from professional tennis at only 22 years old because of injuries, but has continued to play exhibitions for charities since then. Born in Russia and now an American citizen, she still looks incredible. Don't know about her expertise as a trainer, but she'll be fun to look at for a season! (Hope next season's men will be able to keep their focus on their workouts…)
Time to end this puppy. Many of Hannah's funny moments are shown in a montage, including her drooling over Curtis Stone and doing a pretty fair Jillian impersonation. Her smile is radiant as she steps on the scale. SW: 248 pounds. CW: 128 pounds. TWL: 120 pounds. WLP: 48.39%. Holy Hannah, Hannah! 5'8" and 120 pounds?! This puts her BMI at 19.5, and I am flabbergasted. She lost an additional 18 pounds since leaving the Ranch, which I truly was not expecting.
Up next is Irene, who will need to be at 131 or less in order to beat Hannah. She left the Ranch at 144, so that seems possible. She was easily the most consistent player of the season, so, as she steps on the scale, I wonder if she was able to keep her focus at home. SW: 255 pounds. CW: 139 pounds. TWL: 116 pounds. WLP: 45.49%. Good thing I'm not a gambling man, I'd have lost my shirt. Still, to go from the 250's to the 130's is nothing short of stupendous.
So it comes down to Hannah and her sister (insert Woody Allen joke here), Olivia. In order to beat Hannah and win the title, her weight has to be no greater than 134. For the money, she steps on the scale. SW: 261 pounds. CW: 132 pounds. TWL: 129 pounds. WLP: 49.43%. She did it! The thin lady has sung!!
And there you have it, folks. Olivia Ward is now the eleventh person to win the title of The Biggest Loser. She is the fourth woman to do so (and the first since Season 7), and the first victor to wear the color Purple. Congratulations to her and to all of this season's contestants.
Personal Journey. At the start of this year, I weighed 262 pounds and was not happy about it. I found myself, a lifetime asthma sufferer, struggling for breath on a daily basis. I had no energy, and felt twenty years old than I was. I have watched The Biggest Loser since its inception, but I never felt inspired to get off my caboose and do something about it until this year. Enough was finally enough. So I decided to use my gym membership – which I had had for years and never saw fit to either use or cancel – to full advantage. I hit the treadmill on an almost daily basis, mixing in some biking, swimming and weight-training in for good measure. I cut fast food from my diet by almost 90%, choosing to eat at Subway rather than opt for burgers and pizza.
And almost immediately I began noticing – and feeling – a change. I dropped ten pounds in January, and nine more in February. Things slowed down a little after that: I suffered a foot injury and began to burn out a little bit. But I never lost sight of my goal for more than a day or two, and now, nearly five months into the year, I am down to 229 pounds, 33 pounds less than I started. I feel so much better than I did before, and everyone I know tells me how much healthier I look. Folks, if you feel the same way I did, I beg you, get off the couch and get active. It will add years to your life, and you only get one of those. Diet and exercise are simple mantras, and you can do it if you have the heart and the willpower to give those that you love a happier you, a fitter you, many more years of you. Whether you need to drop 20 pounds or 200, the time for excuses is over. I do not plan to stop losing weight until I am below 200 pounds, something I haven't been since I was a teenager (more than two decades ago).
Thanks to all of you for continuing to read my recaps. This summer, I will be doing both So You Think You Can Dance and America's Got Talent, so stay tuned for that. Bye for now!
Your Daily Blend of Entertainment News
Thank you for signing up to CinemaBlend. You will receive a verification email shortly.
There was a problem. Please refresh the page and try again.