Black Jesus Season Premiere Watch: Holy Hell, This Is One Hilarious Adult Swim Series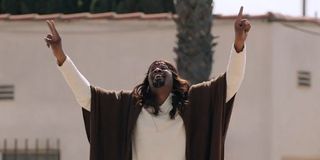 "I'm finally putting a life of controversy and troublemaking behind me with my upcoming Adult Swim show Black Jesus."
That was the expectedly misleading quote placed just before Adult Swim's newest live-action comedy, Black Jesus, as spoken by series creator Aaron McGruder. He's best known for offending the masses with his comic strip/cartoon The Boondocks, and while Black Jesus is a similarly raucous and oddly surreal take on black culture, it's on a completely different comedic cloud. And yes, it's a weed cloud.
Black Jesus has already been given the blasphemous pariah treatment by humorless conservatives and devout Christians alike, but those people never make TV shows that I care about anyway, so their overreactions just made me all the more rabid for this show. Thankfully, the series premiere, "Smokin', Drinkin' and Chillin'," is a riot from start to finish, assuming you don't mind a premise that runs extremely hard with a single gimmick. There is nothing to dislike about Gerald "Slink" Johnson's kind-hearted, mooching, miracle-working Jesus. Is he a role model that children, black or otherwise, should look up to? No, but anyone expecting to find real messiahs on Cartoon Network is at odds with reality anyway. Plus, this series doesn't make fun of religion so much as it just uses it as a conduit for a specific humor platform.
The episode begins with Jesus "helping" a fellow parishioner by throwing all of his trash into the street, soon stopping to hug a homeless man played by John Witherspoon (Friday). And here's where the swearing and racial epithets begin, and few jokes hit as solid as Witherspoon making fun of Jesus' drab brown robe by calling him "Nigga Wan Kenobi." High brow, low brow; it's whatever works, and I'm a sucker for stereotypes being taken to spoof-worthy levels like they are here.
The main drive of this episode is getting Jesus to drive the central group out to pick up a pound of weed from a drug dealer that came highly recommended on Instagram. Why does Jesus have to drive another person's car? Because his friends agree that he smokes ALL the weed and doesn't even put up money for anything. That should be okay, since he's able to turn water into cognac (or yid nac, if you want to yell about it) and perform little miracles to help things turn out for the best.
Still, Jesus' line of miracle credit only runs so far, and things don't turn out for the best. The group gets hoodwinked by a couple of white kids selling fake bricks of herbage, while Jesus gets thrown in jail. One miracle later, he's back out on the street with his homies, getting ready to start up a community garden that he'd been preaching about earlier in the episode. It all works out in the end when Jesus has your back, and new adventures can start anew next week.
Watching a show like this, you realize just how few black comedies there are on TV, much less ones that dabble in silliness this heavily. It's the mash-up of the reverent with the irreverent, hearing Jesus tell Fish (Andra Fuller) to back off of a street cop with the line, "Stall him out, for he know not what the fuck he do, man." Simpler sentences, like "Is this wonderful basket of shit for me?" just don't get said on TV outside of something like It's Always Sunny in Philadelphia. And once you bring in a homemade marble-shooting pistol, there's no turning back from the bizarre hilarity.
As if Johnson weren't good enough by himself, he's surrounded by a stellar cast that includes Corey Holcomb, King Bach, Kali Hawk, Antwon Tanner, Valenzia Algarin and Charlie Murphy as a dickhead apartment complex owner. Now, I'm not your Lord and savior, but I can be honest with you: Black Jesus is the funniest new comedy so far of 2014, cross my heart and hope to get a pound of that good.
Accept Black Jesus and the rest of its 10-episode first season into your heart every Thursday night on Cartoon Network's Adult Swim.
Nick is a Cajun Country native, and is often asked why he doesn't sound like that's the case. His love for his wife and daughters is almost equaled by his love of gasp-for-breath laughter and gasp-for-breath horror. A lifetime spent in the vicinity of a television screen led to his current dream job, as well as his knowledge of too many TV themes and ad jingles.