Comic Con 2011: Watch The Walking Dead Season 2 Trailer Here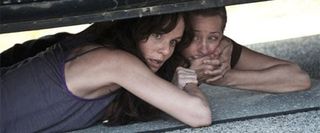 A new trailer for The Walking Dead season 2 debuted today at the San Diego Comic Con, and AMC has wasted no time in making it available to those of us watching from afar online.
The video you'll find embedded below is more than just a trailer really, it's too long, too epic to be defined in those terms. What you'll see is heartache and suffering, hope and family, desperation and a small group of people clinging to increasingly slim chances. It's all about slim chances now for the characters of The Walking Dead, and the trailer picks up where last season left off, with them on the road and running out of hope. Watch:
It seems clear from the trailer that this season we'll see the group start to splinter, odds are we'll lose a few characters along the way too. Things aren't about to get any easier.
Season 2 of The Walking Dead premieres on AMC October 16th at 9 p.m.
Your Daily Blend of Entertainment News
Thank you for signing up to CinemaBlend. You will receive a verification email shortly.
There was a problem. Please refresh the page and try again.