The Fall Season 2 Gets A Netflix Premiere Date And A Chilling Teaser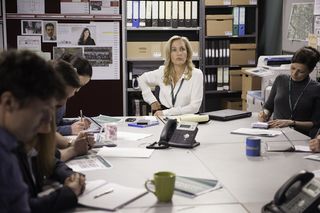 While the second season of The Fall finally gets going over in the UK, those of us on the other side of the pond must wait patiently to see the next six episodes of the gripping Northern Ireland serial killer drama, which stars Gillian Anderson and Jamie Dornan. The bad news is, expect to wait a couple more months. The good news is, Netflix has officially set a January 2015 premiere date for Season 2 of The Fall and they've released this creepy teaser along with it.
It's a disturbing sight, to see Gillian Anderson's Stella looking dead in a bed, while Jamie Dornan's Paul Spector lingers nearby. But it's a relatively familiar sight if you've seen the similar -- but not identical -- BBC Two trailer that circulated a few months back.
According to Netflix, The Fall will make its Season 2 debut in the U.S. and Latin America exclusively on Netflix on January 16, 2015 at 12:01 a.m. PT. Netflix's official synopsis for Season 2 notes the intense chemistry between Gillian Anderson's Detective Superintendent Stella Gibson, and Jamie Dornan's grief counseling, occasionally stalking-murdering character Paul Spector. The two never actually cross direct paths on screen in Season 1, but their growing connection is evident nonetheless. Here's the description for Series 2...
Sounds like the tension between Stella and Spector will be escalating even more! While Netflix's teaser reminds us of the dark and chilling tone of the excellent drama, this BBC Two trailer will give you a better peek at what's ahead...
While we wait for Season 2 to make its way to the US, Season 1 is currently available streaming on Netflix in all of its 5-episode entirety. It might be time to revisit the dark introduction to this excellent story ahead of the January debut of Season 2.
And if it's Jamie Dornan you crave, there's also Fifty Shades of Grey to anticipate. That's set to arrive in theaters in time for Valentine's Day.