The Flash Is Getting A Brand New Love Interest In Season 2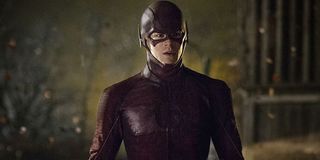 Over at the CW, The Flash's Barry Allen has pined over Iris and flirted with Arrow's Felicity, but we haven't yet seen him engage in a real relationship with anyone on the show. However, all that seems as if it will change during Season 2 of The Flash. On Wednesday, news broke that The Flash is casting a major romantic interest for Barry named Wendy, who will appear in a recurring capacity sometime after the show hits the schedule next fall.
No actress has been signed on to play Wendy, yet, but we do know a little bit about the character. First and foremost, she's described as "spunky, fun and funny" by TV Line. She's also supposed to be a science whiz, and should fit right in with Caitlin, Cisco and the rest of the gang on The Flash. Unfortunately, the casting call doesn't reveal whether or not Wendy is a character DC Comics fans might recognize. There are several Wendy's in the DC universe, including Wendy White and Wendy Jones, although neither of those characters are super notable. Presumably Wendy could be a brand new character, as well. We'll find out soon enough, as we'll first get to meet Wendy during Episode 2.
Regardless, it'll be exciting to see Barry Allen finally get a real love interest on The Flash. While the CW superhero series is really at its best when it is messing with timelines and zipping through action sequences, Barry really hasn't gotten the chance to be anything but awkward with women. He spent most of the first season pining after Iris, who was practically the only person on the series who wasn't aware of Barry's alternate identity. In addition, the romance was an even worse pair-up, since Iris had already embarked on a relationship with Eddie Thawne. Basically, we got to see a lot of ogling and hurt feelings on Barry's end, along with a lot of Iris keeping Barry on the hook while she dated someone else.
Spoilers if you haven't caught The Flash Season 1 finale. At the end of Season 1, Eddie ended up sacrificing himself for the greater good, killing himself so that his ancestor Eobard Thawne would not be born. Obviously, unless the timelines the Flash has been messing with come into play, Iris probably won't exactly be in the mood to start dating at the beginning of Season 2. She's going to need some time to mourn and get her emotional self together. And during that time, Wendy's going to swoop in and Barry will presumably be smitten.
The Flash may not have made any big casting announcements for Season 2, yet, but we do know a thing or five about the upcoming episodes. We've learned that Barry will be changing during Season 2, growing a little closer to the version of the Flash fans know from the comics. More importantly, the concept of multiple timelines is going to be explored, which could have ramifications for a lot of our characters, including the dead ones. In terms of the other characters, we know Firestorm will be back for the first episode, and that Killer Frost might suit up sooner rather than later.
The Flash is expected to air in the same timeslot over at the CW next season, but it won't hit the schedule until the fall. In the meantime, you can see what the network has coming up this summer here.
Your Daily Blend of Entertainment News
Reality TV fan with a pinch of Disney fairy dust thrown in. Theme park junkie. If you've created a rom-com I've probably watched it.