Flowers In The Attic Sequel Petals On The Wind Finds Its New Cathy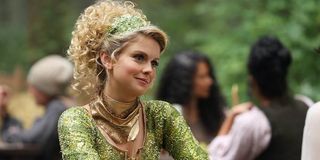 Lifetime's Flowers in the Attic sequel Petals on the Wind has found its new Cathy Dollanganger, and fittingly enough, she's a Rose! Taking over the starring role from Mad Men's Kiernan Shipka, who starred in the TV movie based on VC Andrews' novel, is Rose McIver, whose recent credits include the part of Tinker Bell in Once Upon a Time and Vivian Scully in Showtime's Masters of Sex. Those fans of Andrews' Dollanganger series will be pleased to know that McIver has ballet experience in her background!
Exactly how much ballet experience is unclear, however, her Facebook Fan Page does mention that she once studied jazz dance and ballet. Those skills may come in handy for Petals on the Wind, assuming Cathy's pursuit of a dancing career is worked into the plot of the followup. THR makes no mention of that in their report of the news that McIver has signed on to play Cathy in the followup TV movie, but it's promising that there is some dance experience in her background. McIver joins returning actors Heather Graham and Ellen Burstyn, who played Cathy's mother and grandmother respectively in Flowers in the Attic. In addition to the mentioned TV shows, McIver's credits include the part of Lindsey Salmon in the feature adaptation of The Lovely Bones and Summer (and Yellow Bear RPM Ranger) in Power Rangers R.P.M..
We've known since January that Lifetime was looking to develop the second novel in Andrews' Dollanganger series for a followup movie, and that Shipka would not be reprising the role of Cathy. Given Shipka's young age and the fact that Petals on the Wind will jump forward a decade past the events of the first movie, a recast isn't all that surprising. \
And I doubt I'm alone in hoping that the followup will play up Cathy's love of ballet a bit more than Lifetime's first adaptation did. In terms of its efforts to remain close to the source material, Lifetime's recent adaptation of Flowers in the Attic was far superior to the 1987 feature film starring Kristy Swanson. But one area where it fell short was showcasing Cathy's love of dance. Shipka is seen practicing her ballet a bit, but there isn't much emphasis on her perfecting her craft.
In the book, ballet is Cathy's biggest outlet while she's trapped in the attic, and it's something she becomes really good at, leading her to pursue a career in dance in her post-attic life. In Petals on the Wind, Cathy plots her revenge against her mother, but also pushes herself to become a successful professional ballerina. I always liked that this personal and professional success is part of what sets her apart from her mother as a character. While Corrine relied on her husband and then her family's money to get by, Cathy is determined to be more than just a wife and heiress. She rises up in every way she can, both as a dancer and in other ways. With that in mind, I'm hopeful McIver has a dark side she's willing to show off. for this part In the book, Cathy is hellbent on making her mother pay for what she did, and she goes to some extreme lengths to exact her vengeance. Without delving into spoilers, I'll just say that this sequel could be really dramatic, to say the least. Like, Lifetime movie dramatic. Hopefully McIver's up for the challenge of making Cathy as fierce and determined as she is in the book.
Once again, I'm curious to know if they're planning on factoring Julian and Paul into the followup. Both men are prominent figures in Cathy's life, but with the ten-year jump forward, one or both of those relationships could be condensed or written out completely. We'll be sure to update you if and when either roles are cast. Dylan Bruce is expected to return to the role of Bart Winslow, who should hopefully figure more prominently into the sequel. And we should also be hearing some casting news about who's taking over the parts of Chris and Carrie, as both are also expected to be recast.
Your Daily Blend of Entertainment News
Assistant Managing Editor
Kelly joined CinemaBlend as a freelance TV news writer in 2006 and went on to serve as the site's TV Editor before moving over to other roles on the site. At present, she's an Assistant Managing Editor who spends much of her time brainstorming and editing feature content on the site.