Game Of Thrones: The Cersei Shame Costume Is A Thing Now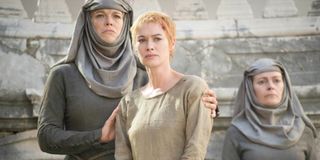 Halloween is no longer a holiday just for the kids. Adult costumes have been getting more and more elaborate in recent years as the grownups decide to get more creative than the masks and hats available at the local drugstore. Now, with HBO juggernaut Game of Thrones fresh off of its win as Outstanding Drama Series at the 67th Primetime Emmy Awards, there may well be an influx of Dornish and Dothraki and men of the Night's Watch at Halloween parties everywhere. For the truly daring, however, a costume paying tribute to Cersei's walk of shame from the Season 5 finale could really turn heads. Fortunately, there just so happens to be one such costume available.
Well, sort of. The Cersei costume isn't available for purchase (yet), but a handy do-it-yourself cheat sheet (opens in new tab) to create a surprisingly modest costume for Cersei from her walk of shame could change everything.
Fans of the show will know that "modest" is not exactly a word that should be used to describe Lena Headey (or, rather, her body double) for the walk of shame. Stripped naked and barefoot, the most coverage that Cersei got throughout the entire ordeal was from her own blood and the filth flung at her. While such a costume would be inexpensive and certain to be a conversation-starter, naked attendance to a Halloween party probably isn't the best idea.
A flesh-colored body suit is a simple enough fix to cover up the most nether of regions. Daub on some fake blood and don a blonde wig hacked to pieces, and the costume of Cersei's walk of shame will be anything but shameful.
Of course, the Cersei look could be made even better with a partner. Almost as memorable as Cersei from the scene in Game of Thrones is the septa who walked behind her for the entire trek proclaiming "Shame, shame, shame." Plus, playing the part of the septa would allow for a lot more coverage. Clad head to toe in garb that combines a nun's habit, a monk's robes, and a Salvation Army holiday volunteer's bell, a septa costume at least would make it a whole lot easier to carry a cell phone and steal some candy to take home.
Besides, who doesn't love ringing a bell? For that wonderful interval of time before somebody gets sick of the bell and steals it, there's much fun to be had in shaming other costumes that are perhaps not as creatively assembled as Cersei or her septa.
Best of all, the Cersei and septa costumes open the door for a whole slew of other topical Game of Thrones costumes. What better ensemble for the lover of somebody wearing the Cersei costume than white armor and a golden hand as Jaime? Or a brunette in a gravity-defying flowery corset top for Margaery Tyrell? Or a purple-faced Joffrey? The possibilities are endless.
Resident of One Chicago, Bachelor Nation, and Cleveland. Has opinions about crossovers, Star Wars, and superheroes. Will not time travel.
Your Daily Blend of Entertainment News
Thank you for signing up to CinemaBlend. You will receive a verification email shortly.
There was a problem. Please refresh the page and try again.